This is AI generated summarization, which may have errors. For context, always refer to the full article.
Filipina long jumper Marestella Torres-Sunang has overcome injuries and child birth to prove she can still make it to the world stage for her third Olympics
This compilation was migrated from our archives
Visit the archived version to read the full article.
MANILA, Philippines – On the sunbeaten track at De La Salle University-Dasmariñas, Marestella Torres-Sunang jogs lightly around to warm her body up. She's alone on this sunrise training session, accompanied only by her coach Joebert Delicano, who dutifully prepares the white sand where this soon-to-be 3-time Olympian will land on her jump attempts. 
There's little fanfare that accompanies training sessions for long jumping, which Delicano himself describes as a "boring sport." But it's in these quiet surroundings that Torres gets to be alone with her thoughts. Her focus is solitary and there's little banter, save for a brief exhortation about her form. Several minutes pass between each jump attempt, but when she begins her sprint and propels herself at top speed through the air, something special happens. 
"When I'm in the air, I don't think of anything. It's like you're just thinking of how you'll execute it well, to hang, extend. That's what I think about because it's very sudden. You think it takes long in the air but for us that's so fast," says Torres. 
Perhaps the appeal of long jumping is the ability to get from Point A to Point B through the air, an atypical mode of transportation for humans. Perhaps her leaps create distances between herself and doubters who say that at age 35 and as a mother of a two-year-old son, she has no business being back in the Olympics. And with each jump, her face develops the suggestion of a smile through her squinty eyes. 
"People say that 'When you get pregnant you have no chance, you have no hope.' I want to prove them wrong, if your dedication is still there you can still do it," says Torres.
If she had listened to detractors, she'd never have gotten to where she is now.
The pride of Barangay San Roque in San Jose, Negros Oriental first started running when she was 10 years old, joining provincial and regional meets before taking her talents to Palarong Pambansa. She started excelling by age 12 when her coach convinced her that she'd be better focusing on long jumping.
It paid off as she earned gold medals at the Southeast Asian Games in 2005, 2007, 2009 and 2011 (setting a SEA Games record of 6.71 meters), and gold at the 2009 Asian Championships.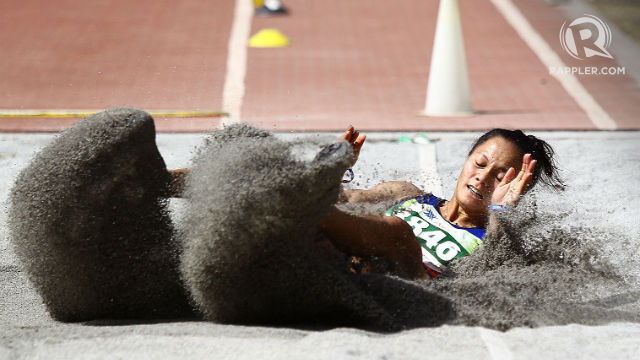 In 2008, she made her debut at the Beijing Olympics as a wild card entry. Despite her prior international experience, the world stage was a reality check. 
"My first Olympics was in Beijing and of course as it was my first time I was really nervous. And then of course I wasn't matured yet in competition although I already competed in the SEA Games," admits Torres.  
"When you join the Olympics, it's very different. The crowd was different, your opponents are different, their jumps are different because they're really far. The people, they are tall while I am small (Torres stands 5-foot-4) so it was a little difficult but I came through it, I was able to overcome the pressure." 
Her SEA Games record mark met the Olympic qualifying bar of 6.65 meters, but London would bring new difficulties. 
"In London, I was able to adjust already, but of course the weather, sometimes it is a big factor during competition," Torres says of the 2012 Games, where she jumped 6.22 meters for a 22nd place finish out of 28 competitors. It was another lesson learned, and one she values. 
"I don't have regrets, all the hardships that I went through especially in the Olympics, which is a big competition. Before I reach the Olympics I'm ready and I worked hard for it. So whatever happens during my competition that's just how it's going to be."
Torres' journey to the 2016 Olympics was far more complicated, marked by injuries and recovering from the birth of her son, Elemar Matvie. She had originally been entered for the Rio Games through the universality clause when hurdler Eric Cray qualified and no female had yet qualified in track and field. That was until Mary Joy Tabal made the Olympic-qualifying mark in the women's marathon event. 
"When Tabal qualified, I was like 'Uy!' Like 'Oh no, I'll be removed,'" says Torres. Slowly her mindset adjusted from being the best she could be in Rio to being her best right now. 
"I was challenged and the challenge alone helps me. That's my motivation to strive for the standard." 
After falling short in two previous attempts to hit the qualifying mark of 6.7 meters, Torres was down to one final shot in July at the Kazakhstan Open. Not only did she meet the mark, her 6.72 meter jump set a new national record.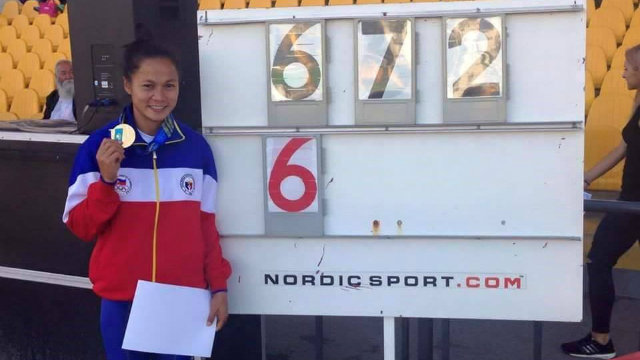 Just like in Kazakhstan, Torres may be down to her final shot at making a mark at the Olympics. But she has a new inspiration in life, her son Elemar Matvie. Her husband Eliezer Sunang, himself a former national shotput athlete, sacrificed his career to allow Torres to pursue her own. 
"There are major changes now that I'm married and now that I have a son. I persevere more than I did before. I'm doing this for my son, I'm doing this for the people who trust me," says Torres.
"At first I had low morale [after giving birth], I lost hope but there are people who believe in me. So if they believe in me, why wouldn't I believe in myself?"
Honor to country
Torres has been dedicated in the gym to give her the best shot in Rio. She spends hours in the weight room building her strength and training through injuries. She avoids rice, a Filipino diet staple, in favor of quinoa, a source of higher quality carbohydrates. And when she can't afford quinoa she substitutes boiled bananas. 
Since January, Torres has worked with Delicano to give her the best shot in Rio. Delicano, himself a national record holder in the triple jump, has studied her approach and takeoff to limit her fouls. He says she's ready for her best showing yet. 
"During the competition…the adrenaline she has when she wants to increase her jumps would cause her to foul. What I do is that we adjust her approach and we change her takeoff. She needs to involve what you call the penultimate, which is the one step before the take off. She needs to flatten her feet so that she can convert her speed – as the takeoff comes – to flight, so her flight will be higher," says Delicano. 
"My last jumps are all good. So in [the] last National Open…all 6 of my jumps are good. I don't have fouls," Torres says of the April meet where she leapt 6.6 meters. 
Torres has realistic expectations for Rio. She knows she's facing taller opponents with superior training methods, though her chances look a bit brighter after Russia, which accounted for 3 of the top 6 spots at the 2012 women's long jump event, had its track and field team banned due to systemic doping. Her goal is to be one of the 12 who make it to the finals, which take place August 17, a day after the qualifying round. 
"It's like they say that I will go there [in the Olympics] but I don't dream. For me it is really difficult to win a medal in the Olympics because if you're going to compare my opponents and how they train with us, and to how we are and my training, they're far better. They have everything while we only have half of what they have," says Torres. 
"So for me, my target is to qualify in the finals. So if I qualify in the finals we'll see what happens."
To do so, Delicano estimates she'll have to jump 6.7 meters to get to the finals, where he says anything can happen. 
Whatever does happen, Torres says she's just proud to be back on the world stage representing her country. That, more than money and fame, means something to her. 
"I would be very proud of bringing honor to my country. I'm not rich with money, but I'm rich with honor," says Torres. – Rappler.com
---