Could BJJ find a place among the country's premier sports? At least one practitioner thinks so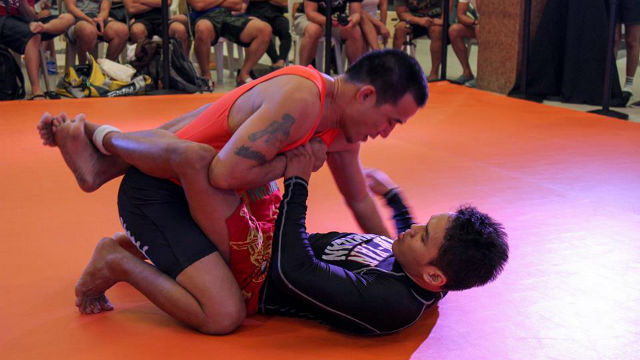 MANILA, Philippines – Though country is heavily engrossed with basketball, boxing, billiards, and currently volleyball, one Filipino promoter believes that Brazilian Jiu-Jitsu could find a foothold in Philippine sports in the future.
Brazilian Jiu-Jitsu is a combat sport system that focuses on grappling and ground fighting, and it was formed from Kodokan Judo fundamentals that were taught by a number of individuals including pioneers Takeo Yano, Mitsuyo Maeda and Soshihiro Satake.
The martial art eventually came to be its own discipline through the experiments, practices, and adaptation of Judo through Carlos and Helio Gracie in the 1900s.
For a basketball-adoring nation like the Philippines, Triumvirate Fighting Championship president Franco Rulloda sees a bright future for Filipinos to shine in the field of Brazilian Jiu-Jitsu as the sport does not require height.
Brazilian Jiu-Jitsu promotes the concept that a smaller person can successfully defend against a bigger and heavier assailant by using proper technique, leverage, and taking the fight to the ground before applying joint-locks and chokeholds to subdue the opponent.
"The martial art's main emphasis is learning, mastering and applying the concept of leverage. It is honing one's physical attributes and using acquired knowledge to his or her advantage. It does not require too much strength, height and athleticism," Rulloda told Rappler.
Rulloda believes that Filipinos are tailor-made for martial arts because most of the recognized and successful Pinoy athletes come from combat sports.
"Martial arts have deep roots in Filipino culture. History has proven that Filipinos have that warrior spirit. Fighting has been ingrained in every Pinoy's DNA that most of the recognized Filipino athletes are the ones in combat sports like Manny Pacquiao, Nonito Donaire, Mark Muñoz and John Dodson," he stated. 
There are only a handful of Filipino practitioners who have made a niche on an international Brazilian Jiu-Jitsu stage, which included Meggie Ochoa and May Masuda.
Ochoa is on a winning roll at the World Jiu-Jitsu Championship or commonly known as Mundials, capturing 3-straight gold medals from 2014 to 2016.
Meanwhile, Masuda became the maiden Filipina to snare a gold medal at the Mundials in 2009.
In the male category, Eros Baluyot had his career-defining moment in 2010 by bagging the gold medal at the Mundials at the age of 17.
Other male competitors such as JR Rulloda, Dwight Lloyd Tallo and Jan Hao likewise brought home laurels for their respective stints in different overseas tourneys.
"Filipinos learn fast. We somehow have this gene attributed to absorbing techniques quick and applying them right away. Filipinos are dedicated athletes. We put our heart and soul into whatever it is we are doing. We invest so much in our endeavors, and we are passionate about what we believe in," Rulloda shared.
Difficulties in spreading awareness
Despite the success of a few homegrown talents in Brazilian Jiu-Jitsu, Rulloda admitted that it still has a long way to go to adapt to Filipino taste.
Rulloda pointed out that there are many handicaps in sending the word out to the general public, including its benefits in terms of self-defense.
"The biggest hindrance to the growth of the art is the lack of awareness of the general public of what really happens in an actual self defense situation and how Jiu-Jitsu can be a very effective tool for it. The sporting aspect has a slow progress because the low awareness level leads to low exposure and that results to difficulty in getting sponsorships for deserving athletes," he explained.
According to Rulloda, there are only 9 clubs in the country that have been duly recognized by the International Brazilian Jiu-Jitsu Federation, including DEFTAC-Ribeiro, Atos Philippines, KMA and John Baylon BJJ.
With the viable intention to further promote Brazilian Jiu-Jitsu in the Philippines, Rulloda stages a yearly tournament dubbed "Arte Suave Manila."
Arte Suave Manila started in 2015, which aims to cultivate the future of the sport in the country and serve as a grassroots platform to discover up-and-comers in a local level.
The two-day tourney originally focused on white and blue belters, but Arte Suave Manila will be adding a major twist at this year's event as it opens its doors to purple belts.
"My goal is to create noise and awareness to the art and the sport. Whatever noise this event will create is going to help the future athletes. I want them to get exposed. I want them to be discovered. I want them to get sponsors," he disclosed.
Arte Suave Manila is set to hold its second annual card from October 29 to 30 at the CommerCenter Alabang in Muntinlupa City, and Rulloda is expecting a promising turnout.
"Arte Suave Manila is a league by fighters, for fighters. The sport is growing in the country, and so we're expecting to see high-level Jiu-Jitsu displayed on the mats again this year," he said. – Rappler.com