Westbrook posts the first 50-point triple double since Kareem Abdul-Jabbar during the 1974-75 NBA season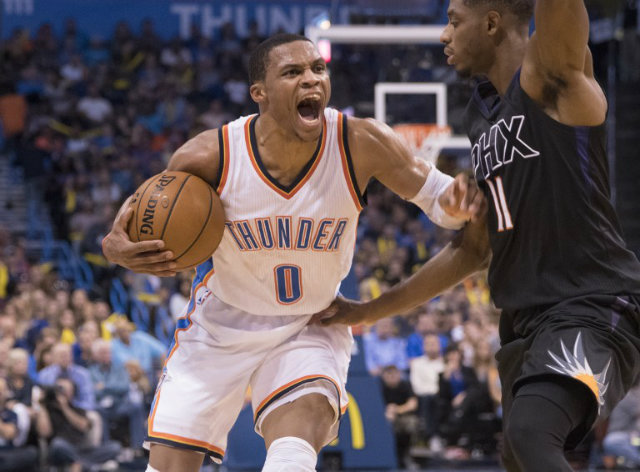 OKLAHOMA CITY, USA – Russell Westbrook doesn't appear to be missing the one-two punch he formed with ex-teammate Kevin Durant as the Oklahoma City Thunder guard exploded Friday, October 28 (Saturday in Manila) for a 51-point triple double against Phoenix.
Westbrook posted the first 50-point triple double since Kareem Abdul-Jabbar during the 1974-75 NBA season as he began the post-Durant era by powering the Thunder to back-to-back wins.
Westbrook, who just missed a triple double in the season opener against Philadelphia, lit Phoenix up for 51 points, 13 rebounds and 10 assists as the Thunder won 113-110 in overtime in front of a crowd of 18,200 at the Chesapeake Energy Arena.
"You have to want to win," said Westbrook, who made 17-of-44 shots from the field. "Very simple. If you want to win, you don't think about being tired. Being tired is a mind thing. It's all in your mind. You have to go out and compete at a high level and leave it on the floor."
After 8 seasons together in Oklahoma City, Westbrook is playing without Durant who signed with the Golden State Warriors in the offseason.
Durant or no Durant, over the last two seasons no player has recorded more triple-doubles than Westbrook. He tallied 18 last season and now has 38 in his career.
Thunder guard Victor Oladipo added 21 points as no other Oklahoma City player scored in double figures.
Westbrook's teammates don't seem to mind if he takes over a game.
"Just looking in his eyes and talking to him, you see how smart he is, what type of basketball player he is. He'll do anything to win," said Oladipo.
The Suns were led by guard TJ Warren's 30 points and 9 rebounds. Guard Devin Booker scored 21 points and Eric Bledsoe added 17.
With 1:11 left in the extra period, Oklahoma City went ahead 109-108. But Phoenix guard Bledsoe hit a layup over a leaping Westbrook to put the Suns up 110-109.
With 13 seconds left, Oklahoma City had the ball. Westbrook drove the lane for a layup that put the Thunder ahead by one with 7 seconds left.
Booker got the ball and tried to go baseline. But Andre Roberson came up with a clutch block at the rim. Westbrook got the rebound and was fouled. He hit both free throws to seal the game.
After allowing the Suns to shoot almost 70 percent from the field in the first quarter, the Thunder got going in the second quarter and held Phoenix to 5-of-26 shooting.
Westbrook tried to single-handedly get the Thunder back into the game. He scored 23 points in the third quarter, but Oklahoma City still trailed 83-77 heading into the fourth.
"That's what he does," the Suns' Booker said. "He is an aggressive scorer, one of the best players in the league. We knew that coming in. I think he took, like, 45 shots.
"We know he is going to get his shots." – Rappler.com