John Henson makes up for two late turnovers with the game-winning basket as time expires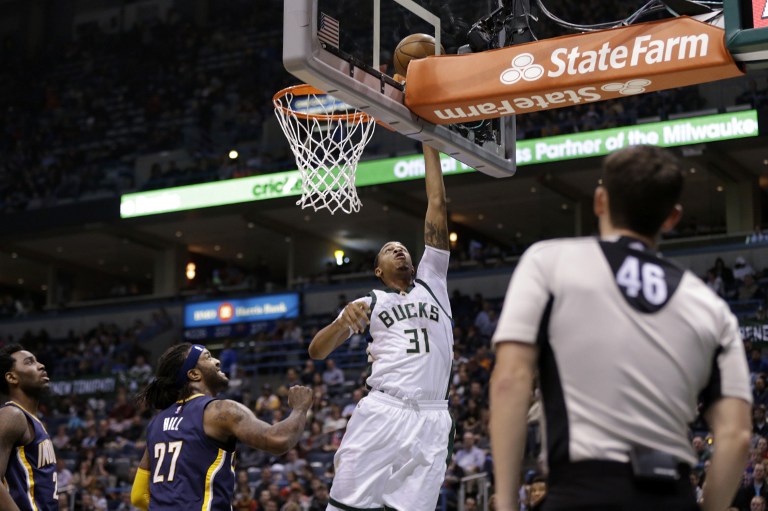 LOS ANGELES, USA – Milwaukee's John Henson tipped in a Jabari Parker miss as time expired to lift the Bucks to a 110-108 NBA victory over the visiting Brooklyn Nets on Saturday, October 29 (Sunday Manila time).
The Bucks led by 7 with 3:18 to play after Rashad Vaughn hit the third of his 3 3-pointers in the final quarter.
But Brooklyn produced a 7-0 scoring run to knot the score at 108-108 on Bojan Bogdanovic's 3-pointer with 11.6 seconds remaining.
Milwaukee coach Jason Kidd drew up an isolation play for Parker, who drove to the basket but missed. Henson was there to tip in a buzzer-beating shot collapsing to the court as he was mobbed by teammates.
"Jabari made a great drive," Henson said. "(I) got a good tip, a good feel for it, so it went in."
It was a measure of redemption for Henson, who had one of the two late turnovers that helped the Nets erase a 6-point deficit.
"We just had to fight," he said. "We made some bad plays at the end, man. We didn't talk on defense, but we lived to fight another day. We've got to get better (but) we found a way."
Vaughn finished with six three-pointers and led the Bucks with a career-high 22 points.
Giannis Antetokounmpo added 21 points on 10-of-18 shooting with 11 rebounds while Parker and Matthew Dellavadova scored 14 apiece for the Bucks.
Bogdanovic finished with 26 points to pace the Nets, who also got 15 from Sean Kilpatrick and 14 each from Luis Scola and Trevor Booker. The Nets were hurt by 18 turnovers that the Bucks parlayed into 19 points.
Bucks shooting guard Tony Snell was in the starting lineup in his first appearance for Milwaukee since he was acquired from Chicago on October 17.
Snell had been sidelined since the trade with a sprained left ankle.
The Nets, playing the second game of a back-to-back, rested center Brook Lopez. Coach Kenny Atkinson is trying to limit Lopez's minutes early in the season.
"This doesn't mean he won't play back-to-backs the rest of the year," Atkinson said. 
"We will look at each back-to-back and see what is best for him and the team." – Rappler.com