Sacred Heart School-Ateneo de Cebu is the CESAFI secondary girls champion while University of Southern Philippines Foundation claims the secondary boys crown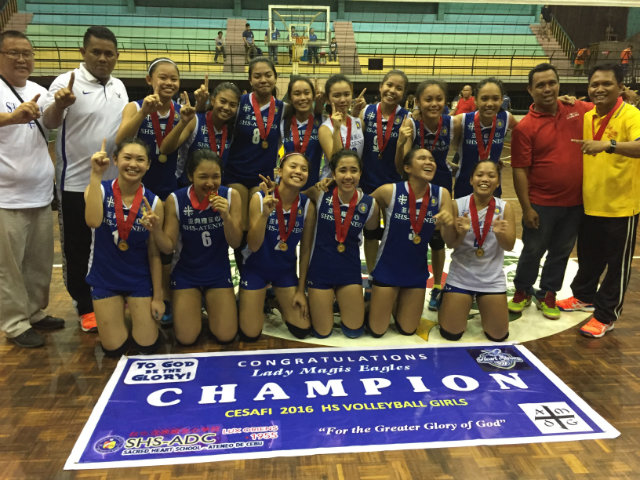 CEBU CITY, Philippines – For the first time since seeing action, the Sacred Heart School-Ateneo de Cebu (SHS-AdC) Lady Magis Eagles clinched the secondary girls volleyball title of the Cebu Schools Athletic Foundation, Incorporated (CESAFI) after surviving a last-minute challenge put up by the resilient University of San Jose Recoletos (USJ-R) Baby Jaguars.
The Lady Magis Eagles outlasted the Baby Jaguars 3 sets to 1, 25-16, 25-11, 22-25, 25-23, late Sunday afternoon, October 30, in their best-of-3 finals series.
SHS-AdC had won Game 1 last Friday, October 28, but failed to sweep the series when USJ-R forged a rubber match Saturday, October 29. All matches were held at the University of San Carlos (USC) gym.
Meanwhile, the secondary boys title went to the University of Southern Philippines Foundation (USP-F) Baby Panthers, who ended an 8-year drought with a straight-sets victory over the USC Baby Warriors, 27-15, 25-19, 27-25.
Just like the Lady Magis Eagles, USP-F also won Game 1 and USC stayed in contention by forging a deciding Game 3 last Saturday.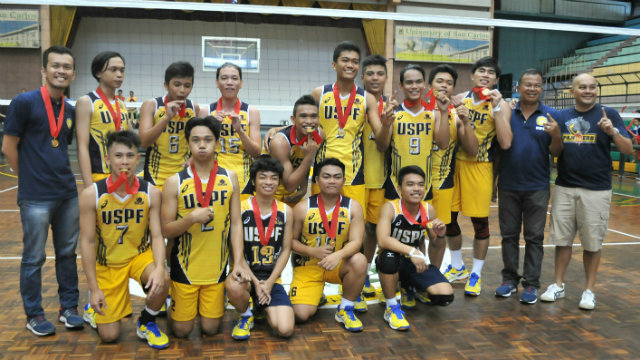 This year has been a great one for SHS-AdC, as it also bagged the secondary boys title in basketball and football earlier this month.
SHS-AdC athletic director Rico Navarro said that in all 3 sports, their aim was just to reach the finals. He added that they were expecting their basketball team to really win as they were gunning for their 4th straight title.
In football, they knew they just had a 50-50 chance because they mostly had new players. Their volleyball victory was unexpected, however, despite a finals appearance last year.
"This one we never expected it because we know how Southwestern and USJ-R are so strong but the girls did it themselves, they are the ones who wanted to win it so much, after they lost 3-0 they were so down but they said na kaya man (we can do it)," said Navarro.
"This is all the effort and the hard work of the coaches, the athletes themselves, the sacrifices that they have been putting in for the past 5 years," he added.
SHS-AdC started its volleyball program 5 years ago, about the same time it also started competing in the CESAFI. Last year, the girls' volleyball team made it to the finals but lost the title to the Southwestern University Baby Cobras, who placed 3rd this year.
Lady Magis Eagles head coach Mario Sala said he had no specific instructions for the girls even when the Baby Jaguars made a comeback to win the third set.
"I told them to just have fun. I had no specific instructions for them. I just let them play. We've been wanting this for so long, they already knew what to do," said Sala.
SHS-AdC's Kaye Santos, one of the pioneering members of the team, bagged the coveted Most Valuable Player award. She was also named Best Setter.
Three of her teammates also received special awards with Danielle Marie Malazarte being named Best Blocker, Jennifer Delos Santos as Best Attacker, and Paula Canete as Best Libero.
USJ-R's Chriszelle Anne Caasi was named Best Server.
In the boys division, bringing home the MVP award was USP-F's Pol Gringo Salvador, who was also named Best Server. His teammate Alechan Absuelo was aptly named Best Blocker after his block against Gwyn Dharell Guy handed USP-F the title. Ruel Sarnejo, also of USP-F, was named Best Setter.
USC's Guy, who was last year's MVP, got named Best Attacker this year. Mitch Suba of USJ-R was named Best Libero. – Rappler.com