The Caped Crusader puts the pigskin between the uprights and all is right with Gotham City again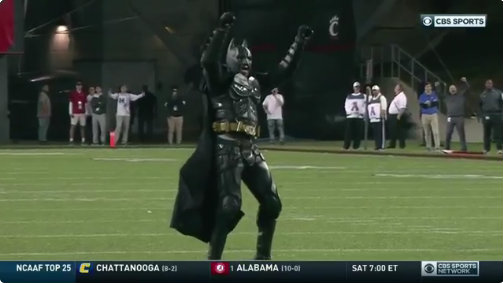 MANILA, Philippines – What do you do when the home team is getting blown out? Run DC Comics heroes onto the field to bring some levity.
That's what the Cincinnati Bearcats did during the second quarter of their 34-7 loss to the Memphis Tigers in their NCAA College Football American Athletic Conference (AAC) game on Friday, November 18 (Saturday Manila time).
The Caped Crusader, equipped with utility belt and all, booted the pigskin just over the uprights to the uproarious applause of the Cincinnati fans. It was the greatest sporting achievement by Batman since he defeated The Riddler by technical knockout after Riddler ran from the boxing ring back in Season 3 in 1967.
Afterwards, the commentator calling the game for CBS Sports Network put the moment in perspective,
"When your team's down 20-0 and you're in this slide, they've lost 3 straight, 5 of 6, you'll cheer for anything if you're a Bearcat fan right now," 
Ouch. – Rappler.com