On a possible rematch with Marquez, Pacquiao says it's up to the promoter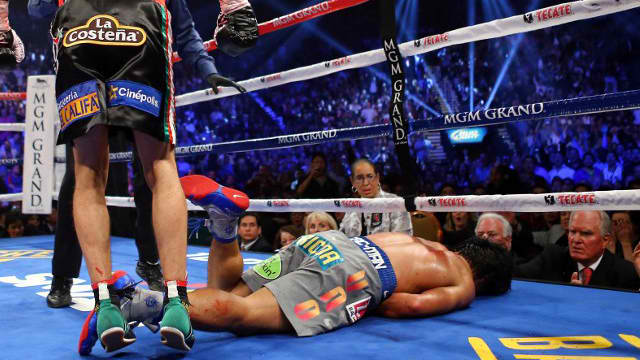 MANILA, Philippines – "It's a lucky punch," Filipino boxer Manny Pacquiao told ABS-CBN's TV Patrol Sunday evening (Manila time), December 9.
Pacquiao suffered one of the biggest losses of his life after he was knocked out by arch rival Juan Manuel Marquez. It punctuated what has been an epic rivalry between the two.
Pacquiao said he was happy with his performance. He claimed he was always ahead in the scorecard.
Is there going to be another match between Pacquiao and Marquez? "I don't know. I don't know. It's up to the promoter," Pacquiao said in the TV Patrol interview.
"It depends. We had a good match. My aggressiveness returned," Pacquiao added.
It's not true that he was not focused during his training, he added. "Kung kulang ako sa training, hindi ako agressive kasi mauubusan ako ng stamina," Pacquiao said.

"I did my best. We have to accept that we cannot win all the time," he added.
Pacquiao was hospitalized after the match. But he said he's okay and that the hospital didn't find anything wrong with him.
Pacquiao also dismissed talks that his defeat on Sunday means he should retire from boxing. – Rappler.com