Even after losing stars Ben Mbala and Ricci Rivero, the Green Archers display their mettle after surviving UAAP title favorites Fighting Maroons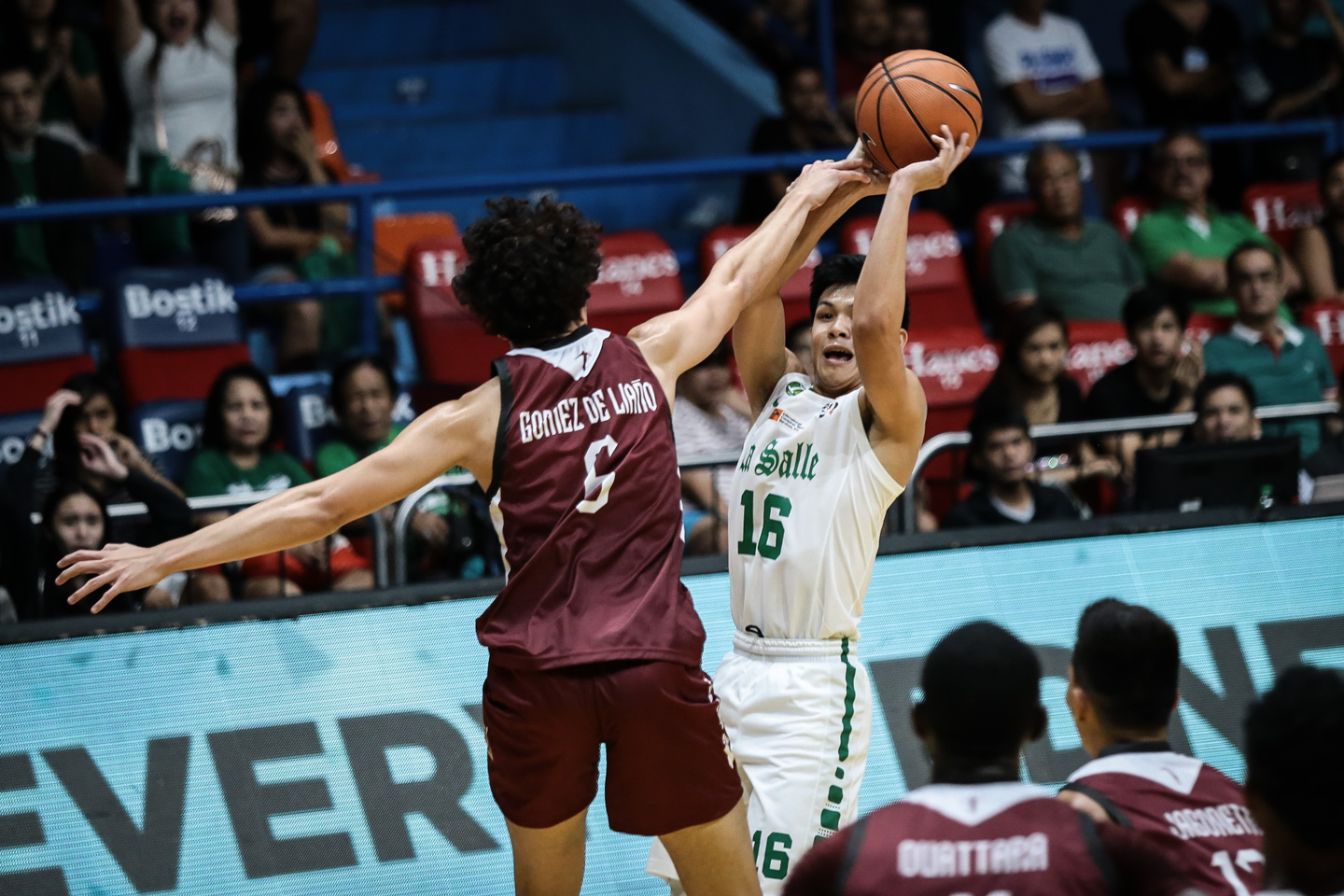 MANILA, Philippines – The De La Salle University Green Archers avoided a monumental collapse and survived the University of the Philippines Fighting Maroons, 82-79, to bag the opener of the Filoil Flying V Premier Cup at the Arena in San Juan on Saturday, April 21. 
La Salle barely looked like a team that recently lost stars Ben Mbala and Ricci Rivero as it held a 10-point lead with less than 3 minutes remaining, 78-68, until the Fighting Maroons fought their way back into the game. 
Thanks to two consecutive La Salle turnovers, UP unloaded an 8-0 run, highlighted by back-to-back triples from Juan Gomez de Liano and Paul Desiderio, within 30 seconds to cut its deficit to two points, 76-78.
Three straight Green Archer misses kept the comeback door ajar for the Fighting Maroons but Gomez de Liano airballed his trey, paving the way for Kib Montalbo, who was fouled in the next possession, to drill both his freebies for an 80-76 La Salle lead.
A Diego Dario triple with 4.5 seconds remaining breathed life on UP's chances, 79-80, before Kira Samuel's charities pushed the Green Archers' lead to 3. Desiderio launched a halfcourt heave but to no avail. 
Justine Baltazar paced the Green Archers with 16 points, 6 rebounds, 3 assists and two blocks while Kira, who replaces Mbala as the team's foreign student-athlete, chipped in 12 points and 7 rebounds. 
Andrei Caracut chalked up 11 points and 6 boards and Montalbo, Santi Santillan, and Brandon Bates churned out 9 points apiece in the win. 
"Sa akin, bonus lang ['yung win] e kasi it's still a work in progress," said La Salle head coach Louie Gonzales. 
(For me, it is just a bonus to get the win because the team is still a work in progress.)
Gomez de Liano paced the Fighting Maroons with 21 points, 6 assists and 3 rebounds while Dario added 16 markers. 
Bright Akhueti, who transferred from the University of Perpetual Help to join UP, had a double-double of 12 points and 15 rebounds against 7 turnovers.
The Scores:
La Salle (82): Baltazar 16, Samuel 12, Caracut 11, Santillan 9, Montalbo 9, Bates 9, Melecio 8, Corteza 4, Go 3, Dyke 1, Capacio 0
UP (79): Gomez de Liano Ju 21, Dario 16, Akhuetie 12, Desiderio 9, Vito 8, Gomez de Liano Ja 7, Jaboneta 3, Manzo 2, Murrell 1, Prado 0, Tungcab 0, Gozum 0, Lim 0
Quarter scores: 20-15, 36-36, 58-52, 82-79 – Rappler.com