What do all the suspensions handed by the UAAP commissioner mean to the league?
MANILA, Philippines — The UAAP has always been known not only for its highly competitive brand of college hoops, but also for all the debates, disagreements and controversies that it spews each and every season.
There's always something to talk—even bicker—about when it comes to the UAAP. And when you're in the heat of the race to the Final Four, player suspensions aren't nearly all that surprising.
What is surprising, however, is the strict discipline the league is displaying this season in implementing the rules and, subsequently, the consequences.
On Tuesday night, August 27, UAAP Commissioner Chito Loyzaga slapped suspensions on 3 cagers. A one-game suspension was meted on De La Salle University's Thomas Torres while University of the East's Charles Mammie and Lord Casajeros face two-game suspensions each. For Mammie, the suspension means that he would be missing his 3rd game of the season after receiving a similar sanction for one game in the first round.
Commissioner Loyzaga has been keeping a watchful eye on the games, ensuring that fair play and sportsmanship are never compromised despite tight competition. Monitoring games live and reviewing game videos to assess any questionable calls or non-calls have been the norm for the commissioner this season. As a result, teams were jolted by an onslaught of memos and awakened to the reality that everything would be under scrutiny from then on.
However, just how good or bad are these suspensions for the teams? Does it take away anything from the game or the brand of play? Does it hurt teams more than it helps them?
The Bad
Some would say that the suspensions are handed out rather hastily, considering the number of memos given since the first round.
Early in the season, Jeron Teng, Charles Mammie and Joeffrey Javillonar all received warnings for committing unsportsmanlike fouls with "intention to hurt." All were given after Commissioner Loyzaga reviewed recorded videos of the games. And the UAAP rule states that committing two unsportsmanlike fouls in a season merits an automatic one-game suspension.
This first wave proved the commissioner meant business and nobody was exempted from the rules.
Mammie became the first to taste the bitter pill of discipline when he was suspended for "confronting, pushing and kicking" Roider Cabrera of Adamson University.
Far Eastern University star guard RR Garcia also had to endure missing a classic match against the Warriors due to a one-game ban he incurred for committing his second unsportsmanlike foul against La Salle's Tampus.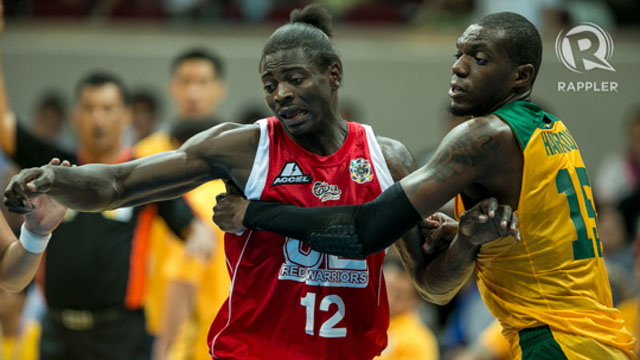 In that classic FEU-UE game, Casajeros and Mammie—after losing a heartbreaker against FEU—now have to lick more wounds with the two-game ban spanning crucial play dates against National University and De La Salle University.
With a team's entire season possibly on the line, backlash against the announcement was imminent. And it was understandable.
UE's Roi Sumang couldn't help but air his sentiment via Twitter, "Tanggalin niyo na lang kaya kami sa uaap."
Casajeros, though, tried to accept the decision. The foul he committed was considered as a disqualifying foul, which, along with an unsportsmanlike foul, merits a two-game suspension. "Accept na natin ang hatol ng ng magaling na comm.. Wala tayong magagawa! guys im okay! Thankyou sa lahat ng ue supporters! ‪#labanUE."
Looking at it from the sanctioned team's standpoint, the suspensions are no doubt a handicap and a deterrent to a team's chances of winning games. Vital players suddenly become unavailable to a team and so it easily comes off as illogical and unfair. Some might also argue that the suspensions might cause players to be a little too wary of physical play, effectively diminishing an important aspect of the game.
But perhaps the worst result of these suspensions is the undeniable fact that competition will no longer be as balanced between teams missing key players. The playing field will be different and teams probably won't be able to showcase their full potential. In effect, suspensions can directly influence a team's fate in the win-loss column and even their season.
The Good
On the other hand, the best result of the strict implementation of the rule is the fact that sportsmanship and fair play will no longer be compromised for a victory. UAAP student-athletes will learn early on to value discipline, right conduct and honesty in every game.
Players will learn to respect one another on the court despite their differences and learn that winning doesn't have to come from unnecessary actions.
And from the UAAP's perspective, the careful and meticulous attention given to each of the games along with fair judgment for sanctions fully upholds the league's integrity. Its commitment to being objective, promoting healthy competition for athletic and personal growth, and teaching important values through sports is also preserved.
More than anything, it solidifies the role of the commissioner in standardizing the league and raising its standards to become much more reliable and concretized. In a way, it is a step toward fully eliminating misjudgments, errors or lapses in officiating too.
As a matter of fact, players aren't the only ones receiving sanctions. Even referees such as referee Francisco Olivar were put under the microscope to eradicate sloppy officiating. He was given a six-game suspension after a controversial end-game call in the first round.
Depending on which perspective you choose, the suspensions can admittedly be beneficial yet it can also be a liability. Much like anything else, there are always two sides to a story. And it is up to you to decide which side you're on.
Regardless, the UAAP seems to be determined to stand its ground in the matter of these suspensions no matter what. – Rappler.com