They say that imitation is the greatest form of flattery. NBA players have been flattering their idols ever since the ball began bouncing, as columnist Bert Ramirez analyzes
MANILA, Philippines – Young players almost always model themselves after a favorite player of theirs. It's a fact of life that aspiring hoopsters took to the game after having been enamored with it because of one player who has impacted their life and stirred their dreams, driving them to entertain ambitions of one day wearing the shoes of their idol.  
It's not a highly-kept secret that Kobe Bryant, possibly the greatest player of his generation alongside Tim Duncan (now, don't make me produce a comparison and start an argument here), modeled his game after Michael Jordan, including the tongue-wagging that he later had to discard probably because it really wasn't natural to him, and even Jordan, bless him, idolized David Thompson as a child and Julius Erving when the latter performed his stuff in the old American Basketball Association. Fact is, Jordan, an avid University of North Carolina alumnus, used to hate North Carolina because Thompson, the man with the 44-inch vertical leap who once played an exhibition game in the Philippines as a member of the Wolfpack in 1974, played for in-state rival North Carolina State.  
"Growing up, I hated North Carolina," Jordan says. "I was a State fan; David Thompson was the man. My mom liked (North Carolina star) Phil Ford, but I couldn't stand him or any of them Carolina guys. I rooted for Marquette in the '77 championship game. My mom got mad."
That changed, of course, when Jordan eventually became a Tar Heel, winning a first championship for coach Dean Smith with the 1982 team while playing alongside such guys as James Worthy, Sam Perkins and Matt Doherty.
Local basketball also has its players idolizing older counterparts when they were younger. There are, for example, the Teng brothers – Rain or Shine's Jeric and La Salle's Jeron – who pattern their game after another shooting guard, two-time PBA MVP James Yap, knowing that the San Mig Super Coffee star became who he is because of how he played, and how he developed his game.
And this year's NBA rookies have their own favorite players, too. In a poll conducted by slamonline.com, the league's first-year players chose Bryant, who is out for the season with an injury, as their top favorite. Bryant garnered 21.2 percent of the votes, followed by second-placer LeBron James of reigning champion Miami with 15.2 percent.
"(It's) worth noting (that) LeBron won his second straight championship, but couldn't retain his spot as the rookies' favorite player," slamonline.com notes.  "As Kobe nears the end of his career, he still gets love from the kids."
Kevin Durant of Oklahoma City and Dirk Nowitzki of Dallas were tied as the rookies' favorites at third, with each of them getting 12.1 percent of the votes, while sharing fifth place were Kevin Garnett of Brooklyn and Chris Paul of the LA Clippers with 9.1 percent each.
Also getting votes from the first-year players were Carmelo Anthony of New York, Vince Carter of Dallas, Tim Duncan of San Antonio, James Harden of Houston, Kawhi Leonard of the Spurs, Steve Nash of the Lakers, and Dwyane Wade of the Heat.
It's not a surprise that some of these rookies have modeled their game after a favorite player as well.  In certain cases, however, they have to detach themselves and look at the other players to pick up certain things that they can use when they get their chance on the floor, or when they come face to face with the players that they're supposed to defend.
Kelly Olynyk, one of the youngsters whom the Boston Celtics intend to build a contender with, at least for now, is a seven-foot, 238-pound forward who averages 7.7 points, 4.9 rebounds and 1.5 assists in 19.3 minutes of average playing time while shooting .446 from the floor (.330 from three-point range) and .814 from the line. Used mostly by Celtics coach Brad Stevens as a stretch forward of sorts with his ability to shoot outside and pass the ball, it's just logical that Olynyk patterns his game after Dallas superstar Dirk Nowitzki's.
"I love watching Dirk and what he can do," Olynyk says. "He's a guy I've watched since I was really little… He's really skilled in a lot of facets of the game.  He's a big-time player."
Tim Hardaway Jr. of the New York Knicks, the son of his namesake five-time All-Star father who was best known as one-third of the Run TMC gang at Golden State and later starred for Miami, is surprisingly oblivious of his illustrious father's game and instead looks at fellow big guards' own brand of play.  This may not really be a surprise though considering that while his dad was a point guard, the 6-6, 205-pound Tim Jr. is an off guard, having shown a lot of promise as one of only five Knicks averaging in double figures with a norm of 10.1 points (on .431, .361 and .818 shooting clips), 1.5 rebounds and almost one assist in 22.9 minutes of action.
"I just try to watch a lot of my position," Tim Jr. says. "Either it's Dwyane Wade or Ray Allen, a lot of 'two' guards that know how to come off screens. I watch a little bit of Reggie Miller here and there, a lot of guys that know how to control the break, and that's just what I try to focus in on."
Trey Burke of Utah understandably also uses today's top point guards as his model as he tries to provide the Jazz a worthy link to the lineage started by John Stockton and continued by Deron Williams before he was traded to Brooklyn in February 2011.  The 6-1, 190-pound Burke averages 12.6 points and 5.3 assists but he shoots just .379 from the floor (.334 from long range) while making .890 of his foul shots.
"(I look at) pretty much all of the top point guards. This is my first year in the NBA, so before I got here I studied Chris Paul, Tony Parker, some of the older guards that's been in the league that have experience," Burke says. "I studied them because they've been through what I'm going through right now: they've been through adversity, they've been able to overcome that. You see where their career is right now, and that's where I want to be someday… The Chris Pauls and Tony Parkers, those are smaller guards, they plan, they roam, they're not super athletic or explosive but they know how to play. They're crafty enough to get in the paint and make plays for their team."
Alex Len, a little-used center (8.6 minutes) for Phoenix despite being picked fifth overall, nevertheless learns while he sits on the bench. The 7-foot-1, 255-pound Ukrainian out of Maryland, who averages just 2.2 points and 2.4 rebounds, looks up to Tim Duncan of San Antonio.
"Tim Duncan has always been one of my favorite players," the 20-year-old big man says. "Playing against him was a great experience.  When you watch film and then actually play against this guy, it's a different feeling… You learn a lot when you don't play. When I don't get minutes I'm trying to sit on the bench and watch other players, what they do, the little things. Sometimes in the field you can't see some stuff that you see from the bench."
Top rookie candidate Michael Carter-Williams of sad-sack Philadelphia has a different method of learning, on the other hand. He watches more footage of himself during the season and studies other players' ways during the offseason.  
"To be honest, I don't really watch too many other people. I'm watching a lot of clips of myself and my mistakes and how I can improve," says the 6-6, 185-pound guard, who is averaging 16.5 points, 6.3 assists, 6.1 rebounds and 2.0 steals but is shooting just .393 from the field (.259 from long range) and .696 from the stripes.  "Probably during the offseason I may watch some of the older guys and just try to pick what I can, pick from them.  Just some old Jason Kidd clips, some Gary Payton clips, just try to emulate and take some stuff from there."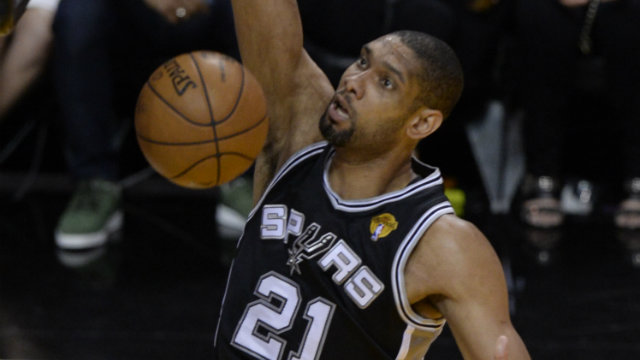 Giannis Antetokounmpo (pronounced YAWN-nie Ah-DAY-tow-KUN-bo) of Milwaukee, meanwhile, patterns his game after tall swingmen like Nicolas Batum and Scottie Pippen, being the 6-9, 205-pound big guard that he is.  Plucked from Greece with the 15th pick just at 19, Antetokounmpo is submitting decent norms of 7.0 points (on .421, .330 and .696 shooting), 4.4 rebounds and 1.9 assists in 24.4 minutes of action.
"I study a lot of players. I study players that I can play like them, I can be like them," Antetokounmpo says. "For sure Batum, Scottie Pippen, a lot of tall guards that can handle the ball and do a lot of things on the court. I just try to study them a little bit so that maybe one day I can be like them… Sometimes I look at film. I ask a lot of coaches about them, especially my coaches. When I play against them, I look at what they're doing – if they're serious in warmups, all the little things like that."
Shane Larkin, another little-used player, this time in Dallas, still finds the wisdom of watching different players to learn how he can be a better player.  An undersized player even for a point guard at 5-11, 176 pounds, Larkin has seen plenty of footage of an undersized guard who helped the Mavericks to their lone championship in 2011, current Minnesota Timberwolf J.J. Barea.
"(The Mavs) have shown me a lot of J.J. Barea, actually, because of what he did here in 2011. He was one of the key pieces to the championship team," says Larkin, who was a co-Atlantic Coast Conference Player of the Year with the Miami Hurricanes but is norming just 2.8 points and 1.6 assists in 10.7 minutes of spot duty for the Mavs. "I've watched some Ty Lawson and Tony Parker, too.  I would say those are pretty good guys to play like. If I could get to the level of those players it would be good. There's no point watching Russell Westbrook playing unless I'm about to play against him. I'm not 6-foot-4, extremely athletic and dunking on people whenever I want to. The guys who (the Mavs) picked are the ones who use their speed and quickness in the pick-and-roll to affect the game."
Indeed, there's no doubt that young players have to first watch and admire certain role models, then try to learn how they're able to do what they do, and perhaps improve on their template, if that's possible at all.  It's how some of the most transcendent players were able to develop their games, and there's no doubt it's a blueprint for success and a key to sustaining the quality and standards being observed by any league, the NBA included.
SHORTSHOTS: The San Antonio Spurs set a franchise record by winning their 18th straight game, blowing out Indiana 103-77 at the Pacers' homecourt yesterday, March 31 (April 1 in Manila).  Tony Parker scored 22 points while Kawhi Leonard had a double-double (13 points, 11 rebounds) and held Pacers star Paul George to 5-of-13 shooting as the Spurs won going away in the battle of division leaders. The owners of the league's best record at 58-16, the Spurs served notice of their bid for another championship after last year's seven-game finals defeat to Miami. The Spurs, who also had an 11-game winning streak in November and were unbeaten in 16 games in March, gun for their 19th straight win tomorrow against Golden State… Conversely, the Pacers have been in a horrendous slide, having lost 10 of their last 16 games and being just 12-10 since the All-Star break.  The Pacers' offense has really struggled in that stretch, averaging only 99 points per 100 possessions, which is second-worst in the NBA and ahead of only the Philadelphia 76ers, who are 1-18 since the break…
The Brooklyn Nets extended their own record by winning their 14th straight game at home with a 105-96 victory over Houston this morning, snapping a 14-game losing streak against the Rockets with their first win over them since March 13, 2006. The home streak is also the longest in the league this season and is two wins better than the previous Nets record set in 2006 when coach Jason Kidd was still playing the point for them. With the victory, Brooklyn actually clinched a playoff spot and moved to within 1½ games of Toronto and Chicago for the third seed in the East.  The Nets are 30-12 overall since January 1 and haven't lost at Barclays Center since January 31. – Rappler.com  
Bert A. Ramirez has been a freelance sportswriter/columnist since the '80s, writing mostly about the NBA and once serving as consultant and editor for Tower Sports Magazine, the longest-running locally published NBA magazine, from 1999 to 2008.  He has also written columns and articles for such publications as Malaya, Sports Digest, Winners Sports Weekly, Pro Guide, Sports Weekly, Sports Flash, Sports World, Basketball Weekly and the FIBA's International Basketball, and currently writes a fortnightly column for QC Life and a weekly blog for BostonSports Desk. A former corporate manager, Bert has breathed, drunk and slept sports most of his life.