PBA writer Levi Verora thinks Talk N' Text's Ranidel De Ocampo has been the most impactful player of the conference after four weeks. Read on to see who rounds out the top ten.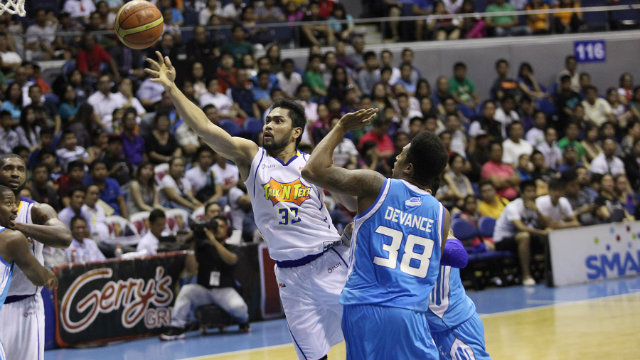 MANILA, Philippines – The Talk 'N Text Tropang Texters have remained unscathed through four weeks in the PLDT Home TVolution PBA Commissioner's Cup 2014. And though their import Richard Howell is a big part of that equation, the outstanding play of locals Ranidel De Ocampo, Jayson Castro and Jimmy Alapag have been instrumental in maintaining their unbeaten ways.
The second-running San Miguel Beermen also banked on the efforts of two reliable franchise players and a speedy point guard who has taken his game to the next level. 
Here is the latest edition of Rappler's PBA Best Player Race.
1. (Last week: 4▲) Ranidel De Ocampo, Talk 'N Text Tropang Texters
17.2 PPG, 4.7 RPG, 1.3 APG, 0.7 SPG, 0.7 BPG, 43.3% 3-PT FGs, 34.30 EFF
Arguably the finest power forward in the league right now, Ranidel De Ocampo is currently the locals' scoring leader. This included a 28-point explosion in an all-important win against Ginebra on March 23. The Gilas Pilipinas stalwart is also shooting at a fine 43.3% from downtown, definitely a boost for his still undefeated squad.
2. (Last week: NA▲) Arwind Santos, San Miguel Beermen
15.7 PPG, 6.4 RPG, 2 APG, 1.3 SPG, 0.4 BPG, 34.36 EFF
The reigning PBA Most Valuable Player acted like one over the past two weeks, particularly in a 109-92 conquest of Globalport last March 24 where he would hit huge buckets in crunch time to finish with 18 points and 10 rebounds, leading his team to victory.
3. (Last week: 1▼) Jayson Castro, Talk 'N Text Tropang Texters
15.7 PPG, 3.5 RPG, 4.2 APG, 1 SPG, 0.2 BPG, 32.50 EFF
"The Blur" is still getting prime numbers despite spending just less than 30 minutes on the court per night. He has doubled his assists average in the past two weeks (2.33 in the first three games to 6 in the last three games) to help the mighty Tropang Texters stay clean.
4. (Last week: NA▲) June Mar Fajardo, San Miguel Beermen
11.6 PPG, 11 RPG, 1.6 APG, 0.8 SPG, 1.8 BPG, 35.34 EFF
The Kraken is back. 
After sitting out at the start of the conference, the reigning Philippine Cup Best Player of the Conference returned and immediately made impact for the Beermen. He is the only local averaging in double-double, and is definitely a force inside the paint for the playoff-seeking San Miguel squad.
5. (Last week: 2▼) Asi Taulava, Air21 Express
13.7 PPG, 9.8 RPG, 1 APG, 0.3 SPG, 0.3 BPG, 33.47 EFF
The evergreen Taulava is still a force inside for the Air21 Express. With his size and presence, he makes their reinforcement's job easier as he takes care of the boards and interior defense.
6. (Last week: NA▲) Chris Ross, San Miguel Beermen
7.7 PPG, 3.4 RPG, 8 APG, 2.7 SPG, 26.88 EFF
I do believe Chris Ross might be the fastest guard in the PBA. He is finally playing the best basketball of his life, leading the Beermen to a 5-2 record and steering their high-geared offense. (READ: Chris Ross says RoS win a morale-booster but remains hungry) The energetic point guard is the conference assists and steals leader with 8 dimes and 2.7 interceptions per match, definitely a big reason for San Miguel's winning run.
7. (Last week: NA▲) Joseph Yeo, Air21 Express 
13.2 PPG, 4.8 RPG, 4.3 APG, 0.8 SPG, 0.2 BPG, 57.1% 3-PT FGs, 30.1 EFF
Also entering this week's BPC picture is Air21's ninja, Joseph Yeo. Yeo has managed to distribute the ball well, averaging 6 assists in his last three outings for the Express while also shooting an astronomical 57.1% from three-point distance since returning to his his natural two-guard position. His 18-point, 9-assist output in a 97-95 win against Ginebra on March 26 proved to be vital as the Express rose to the .500 mark.
8. (Last week: 6▼) Jimmy Alapag, Talk 'N Text Tropang Texters
9 PPG, 2.5 RPG, 6 APG, 0.7 SPG, 40.9% 3-PT FGs, 27.44 EFF
Completing the list of Tropang Texters in the Top 10 is Jimmy Alapag. Though already 36 years old, Alapag is still leading the team in assists, and is still an effective three-point shooter. His leadership will be a key factor especially when Talk 'N Text guns for another shot at the PBA crown.
9. (Last week: 10▲) Paul Lee, Rain or Shine Elasto Painters 
13.4 PPG, 3.6 RPG, 3.2 APG, 0.8 SPG, 0.2 BPG, 29.6 EFF
10. (Last week: 7▼) Jeff Chan, Rain or Shine Elasto Painters
15 PPG, 2.6 RPG, 2.2 APG, 0.6 SPG, 26.32 EFF
The duo of Paul Lee and Jeff Chan round out our Top 10 list for this week as they both continue to do well for the Rain or Shine crew. Chan and Lee are numbers 1 and 2 in local scoring for their squad, respectively while keeping the Elasto Painters in the playoff chase. With four games left for the Elasto Painters, the backcourt tandem is expected to lead the team to the next level.
– Rappler.com