As the hangover from Wrestlemania XXX begins to wear off, Rappler's sports editor gives his thoughts on the spectacle that was
TOKYO, Japan – CM Punk's departure from World Wrestling Entertainment a few months ago left a gaping hole in the roster heading into Wrestlemania XXX. Could the event recover and deliver? Could it ever. 
WWE, for all its hard-headedness and refusal to adjust to what the fans want, filled the void by giving us not one but two Daniel Bryan matches, affording the indy star more respect and reverence than the company had ever given the self-proclaimed "Best in the World" Punk, who missed out on an opportunity to steal the show when he took his ball and went home.
WWE made up for its abhorrent 18-second mis-event at Wrestlemania XXVIII by making the latest Mania installment this past Sunday (Monday morning PH time) at the Superdome in New Orleans, La. one of the greatest in recent memory.
Wrestlemania XXX outdistanced last year's forgettable event, where Punk's match with The Undertaker was the show's lone saving grace. It also set the tone for the future as the WWE is (reluctantly) going with Bryan as their guy after he defeated Triple H earlier in the night to earn a spot in the main event, then won a Triple Threat match against Randy Orton and Dave Batista to win the WWE World Heavyweight championship.
As I sit in Tokyo's Narita Airport waiting for my connecting flight to Las Vegas, I took a moment to write a few of my rants and musings from Mania.
– WWE should never hold another major event at an open-aired arena. They can fit more people there and many of the best venues are of that variety, but the acoustics aren't good for an event that relies so heavily on the crowd's reactions. I had waited for months to hear the crowd's pop for Daniel Bryan's entrance, only to be underwhelmed.
– Thank you Taker. That's what Brock Lesnar should've been saying after The Undertaker allowed him to end the Wrestlemania unbeaten streak, bringing the Deadman's ledger to 21-1.The Undertaker could've ended the streak against anyone, and he picked Brock Lesnar. The Undertaker has said on many occasions that he is a big MMA fan, and would've wanted to compete in the UFC had it been big when he was younger. Perhaps jobbing to the former UFC champion was his ultimate tribute to the burgeoning sport. This ranks up there with the most shocking sports moments I've ever seen with Manny Pacquiao's knockout against Juan Manuel Marquez.
– The Taker streak needed to end. The Undertaker is 49 years old, and while his psychology in the ring is still top notch, he physically can't go the way he used to. The time had come for the Undertaker to stay down when he botched his Tombstone piledriver finisher, unable to properly balance Brock. 
– Kofi Kingston should travel the country participating in battle royals. His inventiveness in avoiding eliminations has become as fun a staple of the Royal Rumble as the gratuitous Honky Tonk Man and Roddy Piper nostalgia returns. An argument can be made that his save by landing on his back over the top of the ring post with his feet on the steps was his most acrobatic move of all. He took a bump and landed a spot at the same time!
– Who better to win the inaugural Andre the Giant Battle Royal than Antonio Cesaro? Cesaro is one of the most underrated performers in the company, and like Andre, speaks French among a litany of other tongues. I thought Cesaro used the opportunity to showcase his vast offensive arsenal and had the Wrestlemania moment he deserved.
– Daniel Bryan countering Triple H's Pedigree into a bridge pin was one of the most incredible physical feats I've seen in a wrestling ring. Would've loved to see Bryan make Triple H submit though, so Trips could have the distinction of being the first man to submit twice to the Crippler Crossface at Mania.
– What's good for business? I'll tell you what's good for business: Batista not getting the title at Wrestlemania. His work was so bad, beginning with his first terrible bump of Daniel Bryan's hurricanrana. Batista looked blown up after five minutes. At this point, the 6-foot-5, near 300-pounder is almost like an underdog. He's so limited that you root for him to be better. It won't happen though.
– It must've been so hard to be Randy Orton and Dave Batista in the main event. Two of the most popular performers of the past decade, and neither had enough heat to generate a real reaction against Bryan's "Yes!" chants. It was as if Daniel Bryan was in the ring wrestling himself, which I'm sure would be a pretty awesome match.
– Remember when Batista said that Daniel Bryan shouldn't have been Heavyweight champion? Haha, yeah I remember that too.
– Daniel Bryan making Batista tap was a symbolic moment in WWE history. Batista, the hand-picked champion-to-be, was forced to submit, just as WWE's creative team was forced to submit to the will of the fans who cheered "Yes!" and "Daniel Bryan!" for months and months in defiance of the force-feeding they had endured.
– The Daniel Bryan era is upon us. Will the fans begin to regurgitate the plot twist they've longed for now that they've gotten it? Contentment is fleeting for WWE fans, but memories live forever. – Rappler.com
---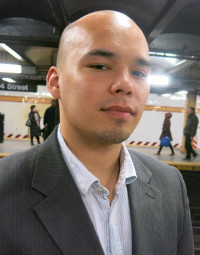 Ryan Songalia is the sports editor of Rappler, a member of the Boxing Writers Association of America (BWAA) and a contributor to The Ring magazine. He can be reached at ryan@ryansongalia.com. An archive of his work can be found at ryansongalia.com. Follow him on Twitter: @RyanSongalia.