Trusted veteran James Yap delivered the final blow to put away the Painters in the last minute of Game 1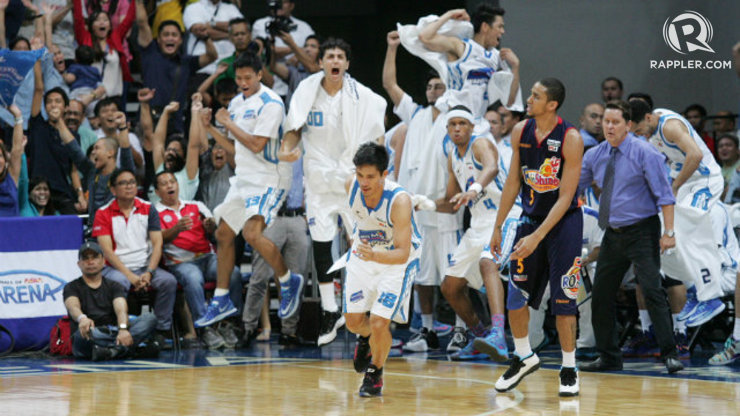 MANILA, Philippines – The true mark of the San Mig Super Coffee Mixers' success in the past 4 conferences has been the fact that any one of the players on its roster can be called and relied upon to deliver whenever needed.  
The bearing of the game doesn't matter. The Mixers simply get it done.
In Game 1 of the best-of-5 Finals series, San Mig Coffee did just that and had crucial contributions from both their bench players and their key players as they snatched the win away from the Rain or Shine Elasto Painters, 104-101, on Tuesday, July 1 at the Mall of Asia Arena in the 2014 PLDT Home Telpad PBA Governors' Cup.
The joint effort between the Mixers' first and second units allowed them to overturn a 17-point third quarter lead, before San Mig's trusted veteran James Yap delivered the final blow that put away the Painters in the last minute of the ballgame. 
Yap, who finished with 14 points, was subbed in for Allein Maliksi with 7:37 left in the fourth after Maliksi had helped erase a 71-54 deficit and brought the Mixers to within 78-73.
As the Mixers hung around and waited for the time to strike, Yap came through and hit two huge shots. 
The first was the go-ahead three-pointer with 57.8 ticks left that put them up 99-98. He then pushed the dagger deeper with a jumper, 101-98, with 16.6 seconds to play, leaving the Painters in utter shock from the unfortunate turn of events.
"Big Game James hitting those two big shots, a tough three and a tough leaning jumper. Those are two of the toughest shots in basketball and he made them look easy at a very crucial time," said San Mig head coach Tim Cone after the game. "He's really stepping up and playing big when we need him."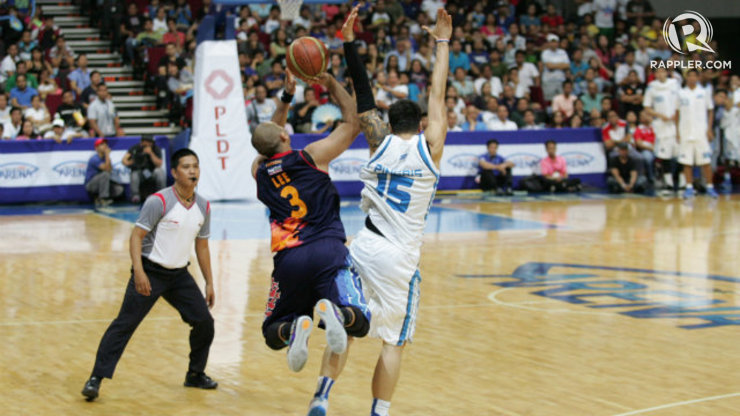 Even more heartbreaking for Rain or Shine was a non-call on what the team believed was a foul by Marc Pingris on Paul Lee (12 points), who was trying for a game-tying three-pointer as time expired. 
"I just thought Paul (Lee) got fouled in the last play," Rain or Shine head coach Yeng Guiao aired his disappointment. "That's just too big a break to lose in this situation."
He added: "This is going to be a close series. There are gonna be close games but if the referees don't do their jobs as they are supposed to, I think it really diminishes the beauty of the series.
"We're an underdog team and we need every break we can get and supposed to be that was a break that we deserved and we did not get it."
Lee, too, was left stunned on the floor as he was expecting to shoot some free throws. 
"I don't know whether that was a foul or not," Cone remarked of the controversial play. "I was too far away from the play."
The Painters appeared to have already won the game as they notched their biggest lead in the third after a Beau Belga putback, 69-52, and another 71-54 bubble after a Ryan Arana basket. This was after Rain or Shine scorched hot and piled up on 8 three-pointers in the first half, while the Mixers had only one. 
"We didn't play a good half. We came out remarkably flat in a championship game and I was incredulous at halftime that we could play that way," Cone said. 
But San Mig managed to slice it to a very manageable 78-71 entering the fourth as they rode the brilliance of Joe Devance in the third frame. 
Devance, who wound up with 10 markers, had some much-needed help in guys like Justin Melton and Maliksi – those same guys that saw limited minutes in the crucial games of the semis. 
Maliksi, for one, came through with 4 straight points bridging the end of the third and start of the fourth to make it just a 78-73 affair. He finished with 10 points.
"Allein was fabulous. I wouldn't have taken him out except he has to come out, he was so tired," Cone commended his comebacking swingman. "His energy gave us the spark and the last two or 3 minutes our first group came out and was able to pull it off."
Both teams saw several faces stepping up and taking the lead for their respective teams in the first half. 
Whether it was Gabe Norwood sparking Rain or Shine's scoring, or Lee picking up where his teammate left off, there was no shortage of players to count on. 
For San Mig, it was Pingris (14 points) who controlled the reins at first before PJ Simon and Mark Barroca came up with 13 and 9 points to end the first half.
"I felt our second group, with Justin (Melton) and Mark (Barroca), and Ian (Sangalang) and Rafi (Reavis), that team really gave us the lift," Cone said. 
"The credit all goes to that second group for getting back in the game and getting us the lead."
Simon led 7 Mixers in double digits with his 18 points to go with 7 rebounds, as import Marqus Blakely figured in a quiet 13-point, 14-rebound output.
Meanwhile, import AZ Reid was reliable once again for the Painters with 35 points and 12 rebounds. Jeff Chan came through with 17 points on 3-of-6 three-point shooting.
Rain or Shine will have a chance to e qualize the series on Thursday, July 3 for Game 2 of the series.
But they will have to stand together, just as they did on centercourt after Game 1 as they appealed for the foul call, and let go of the tough break.
Guiao said it right, "We'll just have to put this behind us."
Scores
SAN MIG SUPER COFFEE 104 – Simon 18, Pingris 14, Yap 14, Blakely 13, Barroca 11, Maliksi 10, Devance 10, Sangalang 7, Reavis 5, Melton 2, Mallari 0.
RAIN OR SHINE 101 – Reid 35, Chan 17, Lee 12, Belga 11, Norwood 7, Almazan 6, Arana 5, Cruz 2, Tiu 2, Nuyles 2, Ibanes 2, Rodriguez 0.
Quarter scores: 24-29, 46-57, 71-78, 104-101.
 – Rappler.com