"What doesn't kill you only makes you stronger... The only way to shut those people up is to play your game." - Kiefer Ravena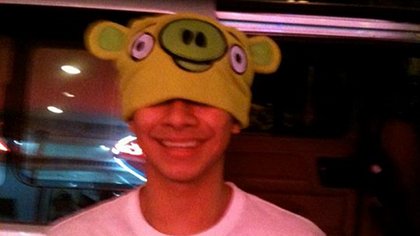 Editor's Note: This article was first published on Move.PH, October 14, 2011. It is the concluding part of The Kiefer Phenomenon.
 
 
Coach Jamike Jarin had heard a lot about Kiefer Ravena. He had seen him that first day of high school tryouts, when he decided to give Kiefer a call to see just how special this kid was. 
"Where do you get your haircut?" he asked a confused Kiefer. After he replied, Coach Jamike jokingly went off on a tirade on how players with longer hair take more time getting on court because of greater effort required to fix and gel their manes. That extra time could be used practicing instead. 
The next day, Kiefer sported a skinhead do to prove how much he wanted to be part of the team.
It appears that Coach Jamike – who volunteers "good, very good, and the best" as the three ways to describe Kiefer – is his biggest fan. 
But a lot of people would claim that title for themselves. The ball player has a way of drawing people to him like moths to a flame, to making them feel extra special, as evident in the various Twitter accounts representing over six different fan clubs all declaring their love for the sensational rookie. 
Fan tweets
The Twitter groups devoted to Kiefer excludes all the other Twitter accounts of teenage girls whose default photos are of them giddy next to their idol, and whose description of themselves are summarized so succinctly under 140 characters: "I love Kiefer Ravena." 
Asked if he is aware of what his fans say about him online, Kiefer blushes. "I just read them," he admits shyly. "I don't put them in my head. It's very pleasing to know that these people are saying these things…it's nice." 
His girlfriend, Ish Tiu, understands the magnetism. She describes Kiefer as "overly friendly," and explains that he never fails to say "hi" or "hello" to those who greet him. "He's really that guy who talks to everyone," she says, and "he makes you feel like his friend."
Von Pessumal, who has been a teammate since they were in 7th grade, and who Kiefer considers a "brother," agrees. "Kiefer is easy to relate to. He's someone you can say anything to…he's easy to approach."
Former teammate Paolo Romero adds, "Talagang kaming tatlo," referring to Von, Kiefer, and himself, "We know what each other is thinking if we're in the game. Kaunting tingin lang sa isa't isa, alam na namin kung anong gagawin namin." 
He is, for many reasons, the guy you want on your team.
Humility
In a family of athletes, where sports is as common as food and sleep, standards are high, and competition, even among themselves, is a constant reality. Games are analyzed together, recommendations for improvement are typical dinner conversations, and tips and tricks on the court are shared from father to son. 
"It was fun growing up in that kind of family," says Kiefer. "Everything comes with competition…little things that really made us a better athlete." A smile spreads across his face as he remembers receiving P20 for every basket he made as child. 
The athletic atmosphere was one reason why Kiefer's parents had not realized just how good their son was until he made the Philippine Youth Team in high school. "Noon ko lang na-realize na ay, magaling pala si Kiefer!" Mozzy says, laughing.
Perhaps this is also why Kiefer himself has managed to remain modest despite his overwhelming success. Those around him keep him grounded, and his humility, they agree, sets him apart.
"Never ko nakita yung mayabang si Kiefer," Paolo says of his friend. "He knows how to handle himself. He knows how to act in front of people kahit marami siyang fans, supporters."
Coach Jamike agrees. "He's good because he's so humble," he said of the player who works tirelessly to constantly improve. Like any other kid, Coach Jamike says, there were times when the younger Kiefer let the fame get to his head. But not for long. "I can easily tell himmayabang ka na, and he listens. He listens talaga."
His mother considers this ability of Kiefer to internalize what people tell him as that which makes him different. While a "Rookie of the Year" award is enough to make any parent proud, Mozzy regards his basketball talent as only a secondary cause of her pride. 
Her son prefers to stay home than go out to party and is generous to his two younger siblings, Thirdy and Danielle. Above all else, he is unwaveringly obedient.
The Ravenas, it seems, have done something right.
"[They] influenced me in a lot of ways. A lot of discipline," the son explains. "How to really be the best I can be."  
Even Kiefer's girlfriend knows there is much to be said about their impact. "Kief is the ideal son," Ish says. "She (Mozzy) is Kief's bestest friend." 
Lessons from a game
The "bestest" friend recalls how her son made her cry when she learned that Kiefer was in a basketball court repeatedly taking that crucial shot he missed in that fateful La Salle-Ateneo game many moons ago (see Part 1). 
"Ibang klase, sabi ko. Umiyak talaga ako noon," she says, when she found out where Kiefer was. "Pero syempre hindi ko pinakita sa kanya."
Gossip mongrels say Mozzy was upset at the criticism her son received from La Salle fans, that she pulled him out and moved him to a school where it would hurt the Archers the most: Ateneo. 
The story is ridiculous to an amused Mozzy, who laughs it off and explains that a scholarship offered by Ateneo was actually a huge pull, and that Kiefer himself was involved in the decision to transfer. It was no different when he decided to keep playing for the Blue Eagles in college. 
To Kiefer, that heart-breaking game eight years ago was a blessing. It was the missed shot that motivated him to improve. 
"That shot against Ateneo…it's something I really couldn't forget and won't forget because if not for that shot, I probably won't work hard as much," he says thoughtfully. 
"If everything is going great for you, you won't have that adversity to face and you won't be determined enough to reach for a higher goal. So if not for that, I won't be here…it just helped me to strive harder."
After a bad game, he says he first deals with things he did wrong, asks himself how he can correct them, and finally, applies lessons learned to his next game. He focuses on his mistakes, and not the critics. "What doesn't kill you only makes you stronger," he explains. "The only way to shut those people up is to play your game."  
And played, he did. Kiefer was a huge asset to his team in the UAAP 74th season, serving as one of the steady anchors in their quest for a fourth championship in a row. He established himself as a starter in a team filled with superstars in their own right.
"You're only as good as your last game," declares the Rookie of the Year, sounding every inch a veteran. – Rappler.com
Follow the reporter on Twitter: @natashya_g