This is AI generated summarization, which may have errors. For context, always refer to the full article.
The UAAP Season 74's Rookie of the Year, Kiefer Ravena, has the heart and mind of a champion.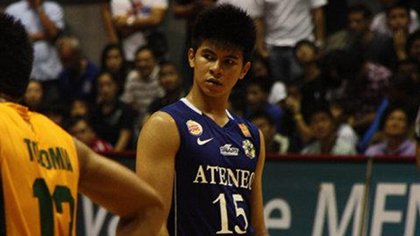 Editor's Note: This article was first published on Move.PH, October 14, 2011.


MANILA, Philippines — When Kiefer Ravena was in fifth grade, he missed what would have been the game-tying basket in a championship game between La Salle and Ateneo. He was an Archer back then, having attended grade school there.  
Kiefer, who was younger than the rest of his team, was called to take the crucial, final shot. And he missed.
It was a sad loss – it was a close game after all – and any win given the heated rivalry between the two schools is always sweet victory, and any loss a bitter one for the defeated. The car ride home was silent, tired.
Before the car could pull up to the Ravena house, a visibly sullen Kiefer asked if he could take a walk please. It was about 2 pm then, his mother, former national team volleyball player Mozzy Ravena, remembers vividly.
The sun was still out, the rest of the day, pregnant with opportunity. She consented.
Two hours past sunset, the skies dark, Kiefer was still not home. Mozzy was worried. Where was her son?
It didn't take long for her to realize that Kiefer was no longer taking a walk. Kiefer was in the basketball court. He was not yet home, it turned out, because he refused to come home.
Ten-year-old Kiefer, six hours after the game had ended, was taking the same shot he missed, over and over and over.
Special Kid 
He was never much into toys – Barney perhaps – when he was a toddler, Mozzy says, but for as long as she could remember, he was already interested in basketball, partly influenced by her husband, former PBA player Bong Ravena.
At a young age, instead of watching cartoons like most kids, he came to practices with his father, to watch, to learn. He was four when he joined the Milo Best basketball camp, again the youngest in the group. And from then on, it was practically impossible to get him off the court.
"It started from there," Kiefer says. "I fell in love with the sport."
Coach Jamike Jarin, whom Kiefer first met in tryouts for the Ateneo high school team, says of his ward, "I was the one who told everyone that this kid is special. Eventually everyone started calling him a Phenom. He was special."
"He was a 13-year-old teenager, but when he stepped on the court, he was like an 18-year-old basketball player," he says of the first time he saw Kiefer play.
This is why Coach Jamike is not at all surprised at how Kiefer exploded during his first year in UAAP college basketball. The kid always had raw talent.
Besides his skills, Kiefer has a lot going for him as well. He was a natural leader even in high school, Coach Jamike says of the player he considers a son. And Kiefer's work ethic goes through the roof, he says, joking that Kiefer would get sick if he ever missed practice. 
Even Kiefer's teammates from back then knew they were in the presence of someone quite extraordinary.
"He's a phenom. It's as simple as that. He's a phenom," says former Ateneo high school teammate Paolo Romero, who now plays for the University of the Philippines. "Like what Coach Jamike said dati, he's always one step ahead sa iba. It always made him special."
Coach Norman Black acknowledges the talents of his freshman both in skill and attitude. After the first Ateneo-La Salle match-up this season, Black told reporters Kiefer "performed very well." He also credited Kiefer for carrying the team in the first half, where he scored 22 of his 24 points.
Black told the press after the Eagles' first win against National University (NU) that he was lucky Kiefer understands the value of team effort, and knows that it's not just about himself. 
That game, which Ateneo won 86-62, gave the Eagles their third straight win this season. Despite scoring only 13 points, Kiefer considers it one of his favorite games.
"During Ateneo vs. NU this season where we had 30 assists… it was fun to be in that game and the ball was just moving around, everyone having fun," he said. "For me, that's the best."
Ravena Humor
Kiefer Ravena can be funny. 
He is a hoot to have around, always making jokes, pulling pranks, instigating laughter. He is an enjoyable presence, say those who know him well, and the common description of him is "makulit."  
Von Pessumal, one of Kiefer's best friends and current teammate, knows this side of Kiefer all too well. When Von grabs his duffel bag after practice, and realizes his bag is tied to someone else's, the culprit is clear: it's Kiefer.
"It's a Kiefer trademark" said Von. "He also ties shoes together."
His sense of humor is indicative of his personality. Light, down-to-earth, easygoing.
It is this, among his other qualities, that attracts Ish Tiu, Kiefer's girlfriend and a basketball player for the Lady Eagles, the most. 
"What I like most about Kief is the bugoy side of him," she finally says after the question stumps her. "Just that part of him would randomly make me smile."
There is audible joy when Ish talks about Kiefer, but then again, from her stories, any woman her age would be lucky to have a boyfriend that splits his time between making his opponents cry and his girlfriend laugh. 
Kiefer waits for her after class and basketball practice, and cracks her up via Skype by wearing various wigs of the craziest colors. "I just want to make you happy," he tells her. 
She recalls what it was like when they were only starting to get to know each other and hanging out. To her embarrassment, and despite her consistent pleas for him to stop, Kiefer would ask everyone – the waitress, the parking ticket attendant, a stranger – a question every time they were together, "Miss, miss! Bagay ba kami?" 
Kiefer, it turns out, is as good a charmer as he is a player. – Rappler.com
 
Read The Kiefer Phenomenon: The Concluding Part.
Follow the reporter on Twitter: @natashya_g