This is AI generated summarization, which may have errors. For context, always refer to the full article.
The Denver Broncos will be looking for revenge against the Seattle Seahawks in just the sixth Super Bowl rematch to take place the following season in NFL history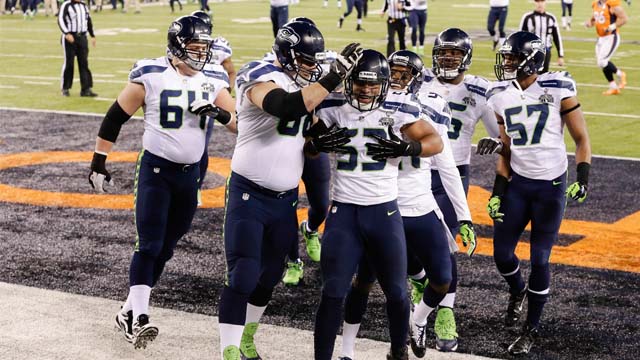 LOS ANGELES – Revenge is a strong motivational tool, and less than seven months after being clobbered in Super Bowl 48, the Denver Broncos will get another crack at the league champion Seattle Seahawks.
The Seahawks and Broncos will face each other Sunday, September 21 (Monday PH time) at Seattle's CenturyLink Field where the Seahawks, who are looking to rebound from last week's away loss, are almost unbeatable.
This marks just the sixth time in National Football League history that the following regular season will feature a rematch of the Super Bowl, a 43-8 thrashing by Seattle on February 2 in East Rutherford, New Jersey. It was the most one-sided Super Bowl in over two decades.
"This is what we have been waiting for," said Denver receiver Andre Caldwell.
In the late game Thursday, Devin Hester ran for his record-setting 20th career touchdown return as the Atlanta Falcons clobbered Tampa Bay 56-14. Hester surpassed former Falcon Deion Sanders for the most return touchdowns in league history.
The Broncos are looking forward to Sunday's game for several reasons, including the return of Wes Welker from a drug suspension.
Welker's return came sooner than thought after the league and the NFL players union agreed to a new anti-doping policy. One of the tradeoffs for the players was that several players had their drug suspensions reduced, including veteran Welker who had his for using amphetamines cut in half.
Welker rejoins a receiving core that boasts stars Demaryius Thomas, Emmanuel Sanders, who leads the team with 14 catches for 185 yards, and tight end Julius Thomas, who has four touchdown catches in two games this season.
Welker finished with 73 catches and a career-high 10 touchdowns last year.
Seattle suffered a rare loss last week, losing 30-21 to San Diego. Quarterback Russell Wilson converted 17-of-25 passes for 202 yards and two touchdowns in that one as Seattle had a five-game winning streak snapped that dated back to 2013.
"They did a really good job on third downs. They just sustained drives and kept us off the field offensively," Wilson said of the Chargers.
Robert Turbin and Marshawn Lynch each caught touchdown passes from Wilson, while Percy Harvin rushed for 45 yards on two carries with a touchdown in the loss.
The Broncos arrive in Seattle with a 2-0 record after quarterback Peyton Manning threw three touchdown passes in a 24-17 win over Kansas City a week ago.
Manning finished 21-of-26 for 242 yards against the Chiefs, while Sanders grabbed eight passes for 108 yards and Thomas snagged five receptions for 62 yards and a score for Denver. The Broncos beat the Indianapolis Colts 31-24 in week one.
Manning has already thrown six touchdowns with no interceptions so far this season, after throwing a record 55 touchdown strikes last year.
His Seattle counterpart Wilson has four touchdowns without an interception this year after a two touchdown, no turnover performance in Super Bowl 48.
"This is going to be a challenging game facing Peyton Manning and the Denver Broncos," said Wilson, who has an 18-1 record as a starting quarterback in Seattle. "They're a very good football team."
This week's high profile rematch also comes amid one of the most turbulent couple of weeks in history for the USA's richest and most popular sports league.
Charges of violence by players against women and children – and a clumsy response by the league and individual teams – have commissioner Roger Goodell fearing for his job and both sponsors and fans on edge.
In other games this weekend it is Dallas at St. Louis, Washington at Philadelphia, Houston at NY Giants, Minnesota at New Orleans, Tennessee at Cincinnati, Baltimore at Cleveland, San Diego at Buffalo, Green Bay at Detroit, Indianapolis at Jacksonville, Oakland at New England, San Francisco at Arizona, Kansas City at Miami and Pittsburgh at Carolina. – Rappler.com