Homegrown talents Mark Eddiva and Roldan Sangcha-an are expected to take part in the event at Mall of Asia Arena, with Mark Munoz a question mark as he fights February 28 at UFC 184
MANILA, Philippines – After numerous attempts to stage a Philippine event in four years, the Ultimate Fighting Championship will finally host its first fight card in the country on May 16 at the 20,000-seater SM Mall of Asia (MOA) Arena in Pasay City, Metro Manila.
Kenneth Berger, UFC's executive vice-president and general manager in Asia, formally announced the organization's trip to the fight capital of the Southeast Asian region on Thursday, January 29 at the MOA Arena's Coral Way lobby.
"We are thrilled to be kicking off our Asia series in Manila this year. The UFC has a loyal and passionate fan base in the Philippines and we're looking forward to bringing the very best of mixed martial arts to Manila for the first time," he stated.
The world's premier mixed martial arts promotion has long held interest in the Philippines, with plans for a "The Ultimate Fighter" reality television series based in the archipelago being talked about as early as 2011.
The Philippines, listed as one of its target markets for an overseas show on numerous occasions, has seen visits by several UFC superstars in recent years, such as Chuck Liddell, Georges St-Pierre, BJ Penn, Quinton "Rampage" Jackson, Alexander Gustafsson, Cung Le, Urijah Faber and Carlos Condit.
Faber spearheaded a string of seminars, community outreaches, and mall tours during the summer period of last year, while Condit had a meet-and-greet session and open workout at the Trinoma Activity Center in Quezon City this past November.
"We've always wanted to do an event in Manila, but it has been complicated for the past few years. We didn't want to produce a show half-heartedly," said Berger.
Along with the announcement of its Philippine visit, the UFC officially unveiled its partnership with the SM Group of businessman Henry Sy, the owner of the aforementioned state-of-the-art venue that started to open its doors for both sports and entertainment in May 2012.
"We are really excited to have the first UFC event in the Philippines. We are happy to share that this is the only UFC event to take place in Southeast Asia this year," said Edgar Tejerero, SM Lifestyle Entertainment president.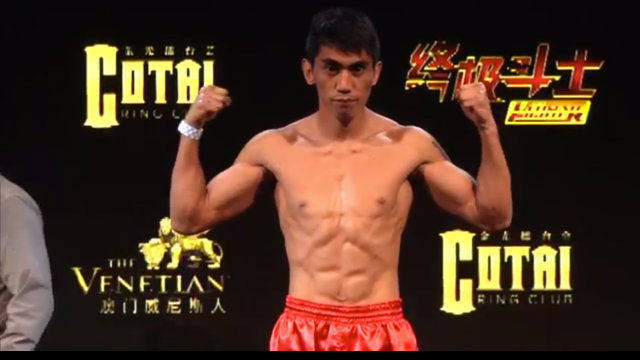 However, the terms and length of the agreement between the UFC and SM Group were not publicly disclosed.
According to Tejerero, the joint venture between the two parties does not create any conflict with SM Group's existing deal with ONE Fighting Championship that requires UFC's Asian counterpart to hold two MMA cards in one year at the MOA Arena.
"There's no conflict with our deal with ONE FC. MOA Arena is open to all kinds of events," he quipped.
No matches have been slated for UFC's inaugural event in the Philippines that will be aired internationally on the company's digital network Fight Pass.
It is expected that the card will likely feature homegrown talents like Mark Eddiva and Roldan Sangcha-an, who made their respective promotional debuts in 2014.
Eddiva (6-1) had his first Octagon appearance in March of last year when he outpointed Jumabieke Tuerxun via unanimous decision.
(RELATED: Mark Eddiva is a UFC fighter with dreams of teaching)
His second UFC outing earned him his first career loss as Eddiva yielded to Edimilson "Kevin" Souza by second-round technical knockout on the preliminary card of The Ultimate Fighter: Brazil 3 season finale three months later.
Eddiva was originally booked for UFC Fight Night 55 in November against Mike De La Torre, but he was forced to pull out due to an injury.
Like Eddiva, Sangcha-an (4-1) also held the Team Lakay banner inside the UFC cage when he served as a late replacement for Jon Delos Reyes to face Richie Vaculik at UFC Fight Night 43 in June.
Unfortunately, Vaculik spoiled Sangcha-an's UFC introduction by dominating the Pinoy combatant in three rounds.
Meanwhile, Filipino-American fighter Mark Muñoz (13-5) remains an uncertainty for the Philippines event as he is scheduled to compete versus Roan Carneiro at UFC 184 on February 28 (March 1 in PH). – Rappler.com