This is AI generated summarization, which may have errors. For context, always refer to the full article.
Talk 'N Text import Ivan Johnson scores 47 as the Talk 'N Text Tropang Texters pound the Alaska Aces to secure prime playoff positioning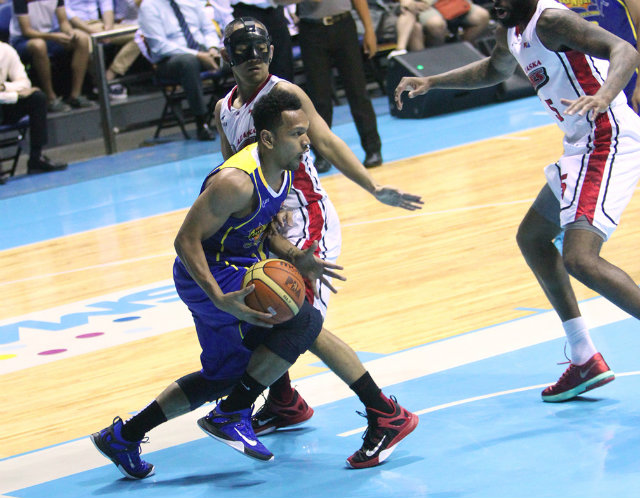 MANILA, Philippines — Ivan Johnson dropped 47 points and 10 rebounds and the Talk 'N Text Tropang Texters outlasted the Alaska Aces, 101-93, to claim the second and last twice-to-beat edge in the 2015 PBA Commissioner's Cup on Sunday, March 22 at the Smart Araneta Coliseum.
Ranidel de Ocampo had 20 points, 8 rebounds and 3 steals while Jayson Castro had a near triple-double of 10 points, 6 rebounds and 11 assists. 
Talk 'N Text ended the eliminations at 8-3 but superior quotient over Purefoods and inferior quotient against Rain or Shine left them with the second seed.
"That's the only important thing except trying to get that twice-to-beat advantage," said head coach Jong Uichico. 
The final tally was not indicative of how the Texters outplayed the Aces for majority of the contest, leading by as much as 25 in the third period before Alaska stormed back and chopped the deficit to single digits. 
Cyrus Baguio hit a huge three-pointer and Calvin Abueva scored on the break to cap off a furious rally and make it just a 79-72 affair with a little over 6 minutes left. 
But De Ocampo countered with a trey to stop the bleeding for Talk 'N Text. 
Alaska attempted to fight back until the end, with Baguio draining a quick triple off the inbound with 37.7 ticks remaining to make it just 93-88. But Talk 'N Text stayed composed from the stripe and warded off their foes.
Abueva scattered 16 and 7 rebounds while Dondon Hontiveros added 11 on a 3-of-6 clip from long range as Alaska fell to 4-6 in the standings. 
Baguio and JVee Casio each had 10 points.
The game took a dangerous turn towards the end as Abueva and Johnson repeatedly got in each other's faces. Abueva, known for his taunting tendencies, had his hands behind his back the entire time but continued to pester an already agitated Johnson.
Alaska head coach Alex Compton tried to pacify Abueva and literally carried him out of the way but after the final buzzer, as teams congratulated each other, it was Compton who gave Johnson an earful.
Tempers flaring between Talk 'N Text-Alaska entering the dugout. Compton earlier had some words for Johnson #pba2015 pic.twitter.com/R7d29ZF9Gw

— Jane Bracher (@janebracher) March 22, 2015
The arguments escalated as both teams made their way into the locker rooms where Johnson reportedly tried to go after Abueva. 
"It happens in the game," Uichico said. "We know that the other team will always try to get an advantage somewhere else. It happens.
"This is almost part of the playoffs. The intensity and emotion is so high. We just have to be ready for that," he added.
Compton apologized to Johnson after both cooled down. — Rappler.com