Kyrie Irving finishes with 30 points in his playoff debut while the LA Clippers prove they can beat the defending champs San Antonio Spurs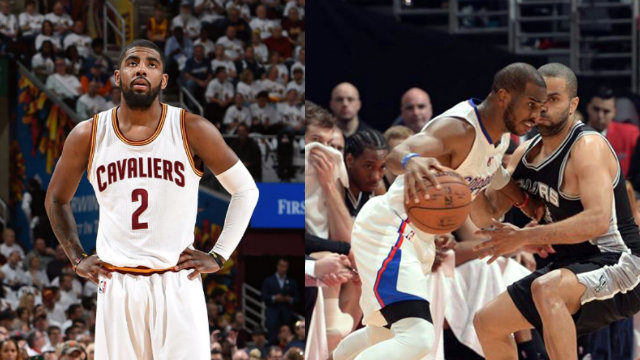 MANILA, Philippines – The second day of the NBA playoffs featured dominant victories by a team in each game. There were also impressive playoff debuts as well as classic performances from playoff veterans.
Cleveland Cavaliers 113 – 100 Boston Celtics
The Celtics played the Cavs tough in the early goings, but a 35-23 second quarter for LeBron James and company turned the tide of the game towards their favor and they didn't relinquish momentum the rest of the way.
Kyrie Irving was spectacular in his playoff debut, finishing with 30 points and going 5-of-9 from long distance. Kevin Love wasn't too shabby either, putting up 19 points and 12 boards.
Irving finished the first half with this 3-pointer that put his team up seven, and it felt like the Cavs were just in control from there on out.
LeBron took a back seat to his new sidekick in game one, but still put up 20 points, 7 assists, and 6 rebounds in the role of game manager. And like in most games, the four-time MVP threw down a dunk for the highlight reel:
Speaking of playoff debuts, Isaiah Thomas played well in his: 22 points, 10 assists, and 5 rebounds. It's hard to picture Boston advancing, but they will be competitive in most, if not all the games, regardless of how far this series goes. Considering where this team was in the preseason – expected to head to the lottery – that's already a huge accomplishment.
For Cleveland, well there were a lot of hugs after the win.
Atlanta Hawks 99 – 92 Brooklyn Nets
This game wasn't as close as the score indicates. Atlanta didn't waste time routing the Nets, going ahead by 12 after 12 minutes of play. The Hawks lost some of their shooting rhythm after and that gave Brooklyn a shot at staying within striking distance, but all throughout the game it felt like the top seed in the East would win comfortably.
Kyle Korver finished with 21 points and 5 three-pointers to lead Atlanta, whose starting power forward Paul Millsap – recovering from a shoulder injury – struggled with a 2-of-11 shooting display. Hawks fans had a scare in the second half as Al Horford dislocated his pinky, but he returned to the game.
Brook Lopez had 17 points and 14 rebounds to lead Brooklyn, but took only 7 shot attempts. What's up with that?
Hawks Ball Movement 101:
That @ATLHawks ball movement leads to Korver open in the corner! #NBARapidReplay http://t.co/JlGAIlkxPz

— NBA (@NBA) April 19, 2015
Bazemore –> Antic –> Horford SLAM on @NBAonTNT! #NBARapidReplay http://t.co/jY4JFYvxhP

— NBA (@NBA) April 19, 2015
Brooklyn had a highlight as well. You guys ever heard of Markel Brown? Probably not, but he's got hops:
Markel Brown explodes to the rack for the putback SLAM on @NBAonTNT! #NBARapidReplay http://t.co/UKHZ8LxDea

— NBA (@NBA) April 19, 2015
Memphis Grizzlies 100 – 86 Portland Trail Blazers
This one got out of hand quick. The Grizzlies defense suffocated the Trail Blazers, who were without Wesley Matthews (achilles) and Arron Afflalo (shoulder). LaMarcus Aldridge looked overwhelmed in the early goings, missing 7 of his first 10 shots and getting called for a technical foul after slaming the basketball on the floor.
On the other end, Memphis was making sweet music. Take a look at this touch pass from Jeff Green:
This crazy touch pass by Jeff Green might be an early favorite for the #AssistOfTheNight! #NBARapidReplay http://t.co/dOBwoInSQr

— NBA (@NBA) April 20, 2015
And then watch Mike Conley make Damian Lillard's defense look silly:
Mike Conley dances to the rim for the slick layup on @NBAonTNT! #NBARapidReplay http://t.co/ZbU8WQrIcy

— NBA (@NBA) April 20, 2015
Beno Udrih came off the bench and hit his first 6 shots, which spearheaded the Grizzlies to a 36-18 lead. As Aldridge and Lillard continued to struggle from the floor, Memphis continued to roll. Like, roll to the rim. Which is what Marc Gasol did here:
Marc Gasol finishes through the contact for the AND-1 on @NBAonTNT! #NBARapidReplay http://t.co/K0dubxvESO

— NBA (@NBA) April 20, 2015
Come on, that's one sick celebration! Let's watch it a second time:
Conley had 9 points at the half and Memphis was up 19. We try not to be mean to Portland due to all the injuries they've suffered, but this feels necessary:
Accurate RT @JohnnyNBA: Blazers first half recap pic.twitter.com/ocMPgvlY3J

— Baxter Holmes (@BaxterHolmes) April 20, 2015
Memphis cruised to an easy 100-86 win. Udrih finished with 20 points. Aldridge had 32, but took 34 shots to get there. Lillard put up just 14.
Justin Timberlake, a part owner of the Grizzlies, celebrated with his new-born son after the game:
LA Clippers 107 – 92 San Antonio Spurs
The Clippers played their best game of the season and took a crucial game one against the Spurs, 107-92. Blake Griffin put up 26 points, 12 rebounds, and 6 assists, while Chris Paul was spectacular all-game long and registered 32 points, 7 rebounds, and 6 dimes. Jamal Crawford came off the bench and scored 17 points and 10 boards.
The Clips took over in the third quarter, where Blake Griffin made poor Aron Baynes his latest victim with a series of dunks:
First, it was this:
And then, a second time:
And then, another one:
The Spurs looked lackadaisical as they shot just 36.3% from the field and missed 12 free throws. Kawhi Leonard led the way with 18 points, 6 rebounds, and 4 steals.
The most important thing here for Los Angeles is that they proved they can beat the defending champions, and in dominating fashion. That should build their confidence heading into game two.
Clippers to 5-time champs in Game 1: "Do you bleed?" "You will." pic.twitter.com/kU7ppLwyrP

— CBS Sports NBA (@CBSSportsNBA) April 20, 2015
– Rappler.com