This is AI generated summarization, which may have errors. For context, always refer to the full article.
There will be no easy sparring for eight division world champion Manny Pacquiao as he prepares for his April 12 rematch with WBO welterweight titleholder Timothy Bradley in Las Vegas, Nev.
MACAU – There will be no easy sparring for eight division world champion Manny Pacquiao as he prepares for his April 12 rematch with WBO welterweight titleholder Timothy Bradley in Las Vegas, Nev.
Pacquiao (55-5-2, 38 knockouts) will be employing the services of former IBF junior lightweight champion Steve Forbes and former WBO junior welterweight champion Kendall Holt as sparring partners this training camp, Pacquiao's trainer Freddie Roach tells Rappler.
Roach, who is in Macau preparing flyweight prospect Zou Shiming of Guizhou, China for his fight with Thailand's Yokthong Kokietgym on Saturday night at the Venetian Resort, says he will head to Manila to meet with Pacquiao on Sunday, before starting on Monday together.
It has yet to be publicly announced whether Pacquiao will leave from his training camp in his hometown of General Santos City, Philippines to finish up camp at the Wild Card Gym in Los Angeles, Calif. on March 1, or three weeks later on March 22.
Roach says he knows when, but won't say.
Roach said he is working with Top Rank matchmaker Bruce Trampler to round out the four-man lineup for sparring. Michael Koncz, Pacquiao's Canadian-born adviser, says that he had just left Pacquiao's camp before coming to Macau, and that Pacquiao's cardio was already strong due to roadwork and basketball.
"[Holt] is only if we go to America because Kendall Holt doesn't have a passport," said Roach. "It's a possibility, I'm still working that out. We have four guys lined up but we haven't decided who yet."
Undefeated lightweight prospect Lydell Rhodes (19-0, 9 KOs) of Spencer, Okla. is already in General Santos City on standby and will begin sparring with Pacquiao next week.
(READ: Pacquiao promises return of aggressive style in Bradley rematch)
Pacquiao, 35, won his most recent fight, a dominant unanimous decision over former WBA lightweight titleholder Brandon Rios in November after losing a controversial split verdict to Bradley in June of 2012, followed by sixth-round knockout against Juan Manuel Marquez in November of that year.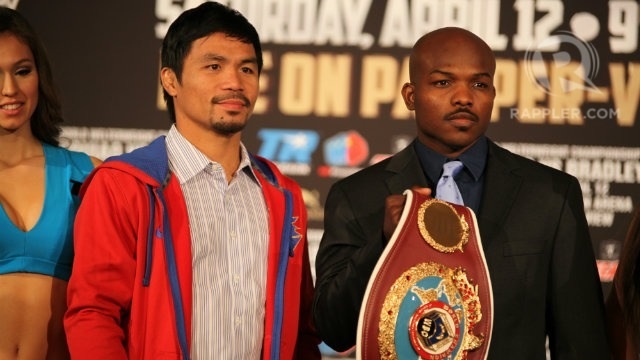 The 30-year-old Bradley (31-0, 12 KOs) of Palm Springs, Calif. followed up the Pacquiao win with a life and death war against Ruslan Provodnikov before decisioning Marquez in October.
Despite Bradley's impressive run of late, Roach is predicting an easier go in the rematch. 
"Timothy is one of the toughest guys in the world but he's been taking a lot of punches lately and I'm not so sure," said Roach. "I think this might be a little bit easier."
Holt (28-6, 16 KOs) of Paterson, N.J. won his title in 2008 with a first-round knockout of Ricardo Torres, but lost it in a unification bout with Bradley despite dropping him twice. 
Forbes (35-12, 11 KOs) of Los Angeles, Calif. by way of Portland, Ore. won his title in 2000 at 130 pounds, stopping John Brown in eight rounds. He lost the title on the scales in 2002, and went 12 rounds in a losing effort against Oscar de la Hoya in 2008 in his biggest fight. 
Speaking with Rappler from Los Angeles, Forbes confirmed the news, adding that he thinks Bradley will be a more difficult challenge than in their first fight.
"I think its a totally different fight," said Forbes, who hasn't fought since January of 2013. "I of course thought Pacquiao won the first one like everyone else, but with Bradley taking Marquez to school, I think part two is a new fight." – Rappler.com
Ryan Songalia is the sports editor of Rappler, a member of the Boxing Writers Association of America (BWAA) and a contributor to The Ring magazine. He can be reached at ryan@ryansongalia.com. An archive of his work can be found at ryansongalia.com. Follow him on Twitter: @RyanSongalia.