This is AI generated summarization, which may have errors. For context, always refer to the full article.
Unlikely Pacquiao foe Chris Algieri will be leaping out of the New York boxing scene to face the Pacman in front of a hostile, pro-Pacquiao crowd in November
MANILA, Philippines – After fourteen hours of negotiations in his Bronx, New York office throughout Tuesday, Joe DeGuardia could finally let out a laugh of relief. His promotional company, Star Boxing, had finalized terms to pit their fighter Chris Algieri against WBO welterweight titleholder Manny Pacquiao on November 22 in Macau.
The discussions confronted many snags, as DeGuardia and Philadelphia-based promoter Artie Pelullo, who has options on Algieri stemming from the deal that enabled Algieri to face and defeat Ruslan Provodnikov a month ago to win the WBO 140 pound title, debated over the way the purse money would be split.
But in boxing's tradition of making it happen, all sides came to an agreement that thrusts one of New York's most popular prizefighters onto the world stage.
Few could've foreseen the 30-year-old Long Island, N.Y. native making it to this stage in his underdog career, save for Algieri and team.
"We are waiting on paperwork, so I look forward to November 22 and a great fight between Manny Pacquiao and Chris Algieri," DeGuardia, a former Bronx Assistant District Attorney turned boxing promoter, tells Rappler. (READ: Pacquiao will face New Yorker Algieri next)
The odds will likely be against Algieri heavily, partially because of the eight division champion Pacquiao's (56-5-2, 38 knockouts) enormous popularity and Algieri's relative anonymity. 
These are circumstances similar to what Algieri faced against Provodnikov, when social media was flooded with complaints of a pending mismatch, which wavered neither Algieri or DeGuardia. 
"As for Chris's chances, I think he will win just as I thought he would beat Ruslan Provodnokov," said DeGuardia.
"I wanted this fight," said Algieri (20-0, 8 KOs) in a prepared statement through his publicist. "This will change my life once again and I welcome the future. All of Team Algieri is very excited for this fight."
Algieri finds himself in this position by virtue of his hard work and a confluence of circumstances that have left the 35-year-old "Pacman" from General Santos City, Philippines with a dearth of opposition.
Provodnikov would've been a perfect opponent for Pacquiao – had he not been also trained by Pacquiao's mentor Freddie Roach. Juan Manuel Marquez, who knocked Pacquiao out in six rounds in 2012, has insisted he won't fight Pacquiao a fifth time while all hope for a Floyd Mayweather Jr. fight died years ago.
Instead Pacquiao will face Algieri, as atypical a boxer as there could be. While Pacquiao grew up under impoverished circumstances amid civil unrest in Mindanao, Algieri was raised in middle class Long Island.
"I'm not like other fighters trying to escape where I came from," Algieri told this writer in 2012. "I box because I like to box. I love the sport, I grew up watching with my grandfather and my love for it has only grown. I've seen a lot of the inner workings of the sport. I'm a student of it and I really still have a passion for it.
"I do this not because I have to, but because I want to."
Algieri came to boxing in 2008 with no amateur experience following a successful kickboxing career. He signed with DeGuardia and quickly developed into one of the biggest ticket selling draws in the New York area.
While he was gaining an on-the-job education in the ring, Algieri was also putting his work in at school, earning his pre-med undergraduate degree from Stony Brook University and his masters degree from New York Institute of Technology.
After cautious matchmaking in the early years of his career, Algieri began to pick up his level of opposition in 2013, defeating fellow prospect Jose Peralta Alejo and former contender Mike Arnaoutis in successive fights. Just this February he defeated crafty contender Emmanuel Taylor before facing Provodnikov in a long odds leap of faith. 
In the early going, it appeared the mismatch cries had been accurate all along as Provodnikov's left hooks found Algieri's face with regularity, resulting in two opening round knockdowns. 
With his right eye a swollen, bloody mess, Algieri began to pull himself together, using his height and left jab to befuddle the slower Provodnikov, setting up right hands that stunned his opponent.
At the end of twelve rounds, one judge scored the bout 117-109 for Provodnikov but was overruled 114-112 by the other two officials who favored Algieri's superior boxing technique and grit.
For the Pacquiao fight, which will be Algieri's first time fighting outside of the New York area, he will earn in excess of $1 million – by far his biggest payday. The fight will also include additional performance enhancing drug testing conducted by the highly-regarded Voluntary Anti-Doping Agency, with a rematch clause in place should Algieri win, according to the New York Daily News.
There is a quotation that Algieri likes to cite when asked about his philosophy in boxing and in life: "To be successful, find your comfort zone and get as far away as possible." 
For Algieri, there may be no greater distance from his comfort zone than fighting one of the sport's most celebrated stars in a Chinese casino. – Rappler.com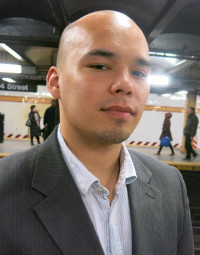 Ryan Songalia is the sports editor of Rappler, a member of the Boxing Writers Association of America (BWAA) and a contributor to The Ring magazine. He can be reached at ryan@ryansongalia.com. An archive of his work can be found at ryansongalia.com. Follow him on Twitter: @RyanSongalia.