This is AI generated summarization, which may have errors. For context, always refer to the full article.
Junior welterweight champ Chris Algieri made the successful transition from combative kick boxer to tactical boxer, a style his team believes will be successful against Manny Pacquiao
MANILA, Philippines – "Master boxer! Master boxer!"
It's an unusual battle cry for a professional pugilist at the highest level, more thoughtful than the usual bombastic fare that fills the air in dingy boxing gyms. But for Chris Algieri, it was just what he needed to hear. 
Those words came from Yoel Judah, who was supervising some of Algieri's work alongside head trainer Tim Lane at the Xtreme Couture Gym in Las Vegas.
The 30-year-old boxer had been preparing to meet the more accomplished boxer Emmanuel Taylor, who had just beaten Raymond Serrano and Victor Cayo. Heading into what was then the biggest fight of Algieri's career, it was exactly what Lane had wanted to hear.
"If Chris is a master boxer, he can't be beat, he's too big, he's too smart, too athletic and too in shape," Lane tells Rappler. "That was our motto for the Emmanuel Taylor fight and had he not fought Emmanuel that way maybe the fight wouldn't have gone our way."
Since coming into the sport of boxing at the relatively late age of 23, Algieri had struggled to find his identity. Trainer Robert Garcia, who had overseen his sparring sessions with gunslinger Marcos Maidana a few years earlier, had previously noted that Algieri's dedication would carry him far but said his tendency to brawl limited him somewhat.
Determined to find the style best suited to his long, 5-foot-10 frame, Algieri did his homework in the gym and found the balance between his fighter's heart and boxing skills. Algieri began using his jab more consistently, firing quick combinations from angles set up by his intelligent footwork before dancing out of harm and resetting to do it all again. It's that formula that he and his trainers had been seeking to find all along.
That revelation couldn't have come at a better time for Algieri. Four months after winning a unanimous decision over Taylor, Algieri would face Ruslan Provodnikov. Despite being dropped twice and having his right eye swollen shut within the first 3-minute frame, Algieri was able to regroup, outjab and outpoint the heavily favored Russian a month ago at Barclays Center in Brooklyn, NY.
The victory earned Algieri the WBO junior welterweight title. A month later Algieri was announced as the next challenger for WBO welterweight titleholder Manny Pacquiao (56-5-2, 38 knockouts) on November 22 in Macau, China, earning Algieri his first million-dollar payday. 
It seems as though Algieri (20-0, 8 KOs) rose to prominence overnight, but his journey to this point has just gone largely unnoticed.
Kickboxing to boxing
Lane recalls that he first met Algieri about 13 years ago. After years of struggling in pursuit of his own dream to be a kickboxing champion following a move from his native Virginia to Long Island, New York, Lane career was beginning to come together. He was still two years away from winning the USKBA kickboxing title and had a hard time finding sparring partners locally. 
When an acquaintance introduced him to a 17-year-old amateur kick boxer named Chris Algieri, Lane was happy to be relieved of his lengthy commutes to Gleason's Gym in Brooklyn. 
"First night I met him I whipped his ass," says Lane. "The kid never went down and he showed heart. He ended up being my main sparring partner for the next two years, I was kind of on my way down and he was on his way up." 
Algieri would win the International Sport Karate Association (ISKA) welterweight and World Kickboxing Association (WKA) junior middleweight titles, fighting above his natural weight due to the dearth of competitors. 
The ceiling in kickboxing is only so high, however, and in search of new horizons to conquer, Algieri decided to keep his feet on the floor and transition to stand-up boxing. 
In April of 2008, Algieri turned pro without a single amateur fight. Looking to his past he enlisted Lane as his head trainer, with Keith Trimble to oversee the day-to-day preparations in New York. Lane had fought as a boxer himself, winning his first 3 fights before losing a pair and switching focus to kickboxing in 1998. 
"It wasn't as hard as you would think it would be to get down just using his hands," remembers Lane, who boxed from 96-98 with a record of 3-2. "The biggest thing I had to get across with him is his ability to box as opposed to fight when he gets in the ring. That was the biggest obstacle, for him to be able to utilize his defense and his movement opposed to beating guys up.  
"[In kickboxing] he would go out and rumble with most his guys. He would beat them but he would take unnecessary shots and he would miss some opportunities because he had done too much as opposed to waiting for the proper time to do it. I think that the bigger transitions for him was to be able to utilize his offense, defense and countering as opposed to just his offense." 
Algieri's endearing personality and entertaining style earned him a sizable following, with Algieri routinely selling in the 5-figures on club shows while building up his record while earning his pre-med undergraduate degree from Stony Brook University and his masters degree from the New York Institute of Technology. (RELATED: Chris Algieri, Manny Pacquiao's next foe, not your typical boxer)
Still, few who saw him rise up from the 4-round level on club shows in Long Island predicted that he'd raise a world title belt above his head one day. Save for the people who have been by his side from the beginning, that is.
"People don't know until they know," says Lane. "I don't take it and hold it against somebody because they don't know, it's just they don't know. Nobody ever really heard of Chris. I thought Chris would beat Ruslan easier than he did, he just happened to get caught in the first round. I didn't see the fight as really a fight; I saw it as a very easy win for us.
"I knew when we came out here that Chris would be in this position and on a big stage and would be the best in the world. In the pursuit of him being the best and I never for a second doubted that this would happen. Through all the obstacles we've been through, as weird as this sounds, this is exactly what I've expected." 
Pacman showdown 
Camp for Algieri's showdown with the reigning BWAA Fighter of the Decade begins in September. Lane says Algieri will train for 6 weeks in Las Vegas before concluding the final two in the Chinese territory of Macau. 
In the meantime Algieri is back in New York at the Belmore Kickboxing Academy in East Islip, keeping himself in shape before the serious work begins. 
Facing Pacquiao will be a different task than any he's undertaken before. Pacquiao, 35, of General Santos City, Philippines has won world titles in eight divisions, more than any fighter in history. Fighting for the first time outside of New York, this will be one of the few times that Algieri will be in front of a partisan crowd not in his favor. 
"I don't know how that's going to be," Algieri told the assembled press in an interview posted on RingTV.com. "It's happened to me before in kickboxing, I've been in hostile territory. Guys literally throwing things at me as I approached the ring. 
"I do do a lot of visualization exercises leading up to fights, that's definitely something that will be on the ledger."
"We feel great about fighting him," says Lane. "Chris is very confident going in. Manny is a lot of people's idols. He's been there and done it, he's a great fighter. So far I've watched about 50 hours and I plan on watching another 100-200 hours before Chris gets out here. We're very excited and honored to be in the ring with him, and for him to give us the opportunity is amazing. We're very thankful and ready to put on a good show."
Following a disastrous 2012 campaign that saw Pacquiao lose a controversial decision to Timothy Bradley and get knocked out in 6 rounds by Juan Manuel Marquez, Pacquiao has bounced back, decisioning Brandon Rios and avenging the decision against Bradley.
Despite being statistically more active than Provodnikov in his breakout win, many critics still label Algieri a "runner," a label that he feels he will shed against Pacquiao.
"I don't think I've ever gone out there and ran from anyone," said Algieri. "I don't think I've gone out there and not thrown punches. You can't be a runner if you're out-punching the guy, and outscoring the guy, out-landing the guy and out-throwing the guy. I do believe I'm going to have to fight with Manny and I want to fight with Manny.
"I think there's just a lot of sour grapes in the fact that I got the fight, not so much in terms of styles. If you know the sport of boxing and you look at the fight it's a damn good fight."
By the time they step into the ring for the 64th fight of his nearly 20-year career, Pacquiao will be less than a month shy of his 36th birthday. And though Pacquiao has more miles on his odometer, so to speak, Lane says Algieri isn't anticipating anything other than the most destructive version of Pacquiao.
"That has not crossed my mind," says Lane, when asked if he felt Pacquiao was on the decline. "What I feel and what Chris feels is that Manny is on top of his game, that he's gonna bring his A-game, that he is at his best right now. And if he's not at his best, great for us. 
"We are expecting him to be at his best and we're going to prepare to be at our best and we plan on coming out with a victory. I'm not going to say that anything Manny has done in his career has damaged him because we're going to train as if he's at his best, and I hope he is at his best and we're going to come in at our best." 
When the betting line opened up for the fight, Pacquiao opened as a 14-1 favorite. The odds may be indicative of Pacquiao's greater experience and popularity, but they aren't likely to discourage or intimidate Algieri.
"As a person, Chris, I would say, is a perfectionist," says Lane. "He's a very competitive person, he wants to be the best and he just happens to have a passion for boxing. I don't know exactly why he's doing what he's doing but I know he loves to do it." – Rappler.com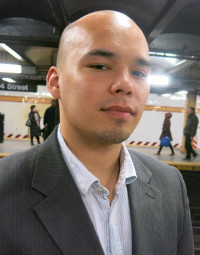 Ryan Songalia is the sports editor of Rappler, a member of the Boxing Writers Association of America (BWAA) and a contributor to The Ring magazine. He can be reached at ryan@ryansongalia.com. An archive of his work can be found at ryansongalia.com. Follow him on Twitter: @RyanSongalia.