WBO junior welterweight champion Chris Algieri may still be fighting for respect in the ring, but it's hard not to respect the person he is out of the ring
MANILA, Philippines – A minute into his first world championship bout, Chris Algieri found himself on his back at the Barclays Center in Brooklyn, New York. Ruslan Provodnikov, revered as one of the sport's heaviest hitting tough guys in the sport, was the man who put him there. 
Most had expected something similar to happen anyways, and there was little shock in HBO Boxing commentator Jim Lampley's voice when Algieri was counted for another knockdown moments later in the round. 
What few had anticipated is what would play out over the remaining 11 rounds; Algieri fighting through a grotesquely swollen right eye to outbox and outpoint Provodnikov to a split-decision victory to win the WBO junior welterweight title. 
Character is paramount in the sport of boxing, where the strongest and fastest aren't always the ones with their hands raised in the end. Algieri showed he has it in abundance, but it's the character he shows once the gloves are off that separates him from the majority of his peers. 
If you're looking for an obnoxious, boisterous persona who shouts threats at his opponents, keep looking. Chris Algieri doesn't have time for that.
Algieri, who will challenge WBO welterweight titleholder Manny Pacquiao on November 23 at the Venetian Resort in Macau, China, is a gentleman's champion; more Gene Tunney than Jack Dempsey; more Vitali Klitschko than Mike Tyson.
Instead of appearing on TMZ for out-of-the-ring scuffles, Algieri appears on Fox Business to discuss financial planning. He's a different kind of fighter, one who holds a pre-med undergraduate degree from Stony Brook University and a masters degree from New York Institute of Technology. 
In many ways, he's still the champion next door. He still lives in his parents' home (albeit in a private basement apartment) and drives his Honda Accord to and from the gym each morning. At time of print, he has just 7,255 followers on Twitter.
When he meets face-to-face with Pacquiao later this month for a two continent press tour, don't expect tension and posturing. Expect mutual respect from two of the classiest fighters in a sport that often finds headlines of the dubious variety. 
"It's kind of awkward to have two guys stare each other and we don't have any animosity towards each other yet; it's almost comical," the 30-year-old Algieri (20-0, 8 knockouts) opines to Rappler. 
"That's also a reason why I'm excited to fight Manny with the press tour because he's a very humble champion, and from what I understand he's a very good man. It'll be great to have two champions across from the dais from each other who are very respectful and are not going to at each other back and forth and be nasty. That isn't always good for the sport.
"I think that the sport deserves the best out of their champions and people to carry themselves with character and be morally just people." 
Beginnings 
Much of who Algieri is today stems from his upbringing. He grew up about an hour's drive from Downtown New York City in suburban Huntington, N.Y. His mother worked for a local church but now works as a hospital secretary, while his father was a laborer for the highway department and now drives a truck. 
"I had a lot of influence from my grandparents. Both my mother's parents lived with us and [my grandfather] was from Argentina. He was a very stern and respectful man so I spent a lot of time around him learning how to act and learning how to be a man," said Algieri.
"My father's father was similar in that respect. He was a humble guy, he was very respectful, they made that something that was important as a youth growing up, to be respectful and to be concerned about yourself and also about others."
Algieri attended a Catholic prep school for secondary studies where he was an All-State wrestler while practicing kickboxing. After graduating Algieri began taking pre-med courses while competing as a pro kick boxer. 
Algieri eventually won the International Sport Karate Association (ISKA) welterweight and the World Kickboxing Association (WKA) super welterweight championships, and would later become only the second man to win world titles in kickboxing and pro boxing, but his double life was a strain on his schedule. 
"It was very difficult taking high level science courses in college and graduate program, and then going to train and spar and dedicate and find time. It was definitely a very difficult phase of my life but that's just the way that I am," said Algieri, who used his prize money from the Provodnikov fight to pay off his student loans.
Algieri says he plans on taking the Medical College Admission Test (MCAT) and applying for medical school after his fighting career is done.
"I'm definitely looking forward to continuing my education. My brain is still hungry, I still want to learn, use my skill set and my educational background to help as many people as possible."
The roof was only so high in kickboxing, and in search of new horizons he turned to traditional standup boxing. He turned pro in 2008 without any amateur experience and quickly became the biggest club show draw in the New York area. 
Algieri had always been more of a puncher than a kicker but the transition to finding his identity in boxing took time. It wasn't until his victory over Emmanuel Taylor this past February, Algieri says, that he found a balance between his combative nature and the ring intellect that he had accrued from experience.  
"Emmanuel Taylor is a very dangerous guy so for that training camp I had to be a consummate boxer, I knew I had to be smart and utilize all of my abilities and all of my skills," said Algieri, who won that fight by unanimous decision. "That woke up my coaches because they always knew what I had and what I could but I'd never really done it fully in a fight. I would fight more than I needed to, I'd get into brawls when it wasn't necessary.
"This is boxing, you can't beat someone who is a great boxer, that's what the sport is. That's like saying in a sprint meet, the guy who is the better sprinter's going to win. It's not a barroom brawl, you gotta go out there and box."
Against Provodnikov, experiences from his previous sport served him well in distress. Though he had never previously been knocked down as a boxer, it was something he was familiar with as a kickboxer. When prospects looked bleak after what he describes as "the worst possible stanza you could possibly have," he leaned on his experience for composure.
"In kickboxing I wasn't always the favorite, I wasn't always the guy who was expected to win," said Algieri. "I've been on the road before. I've been in tough fights, I've been in situations where I've been dropped multiple times in kickboxing fights. I've been hurt before, so being able to battle back from that and knowing that I've been there before helps, I don't have that unknown feeling, 'what's going to happen if?'"
His hit-and-move style has its share of detractors, though, including Freddie Roach, trainer of Provodnikov and Pacquiao. Roach dismissed Algieri as a runner, a slur in the ultra-macho world of professional boxing, in the lead-up to the Provodnikov fight.  
"I kinda scratched my head like 'Really?' I don't move all that much and I've never ran in any fights," retorts Algieri. "That was kind of strange for me. And even saying it after the [Provodnikov] fight, I threw more punches, I landed more punches, threw more power punches and landed more power punches, so how was I runner?" 
Fan of Pacquiao
Against Pacquiao, whom the 5-foot-10 Algieri holds a nearly 4 inch height advantage, moving may not always be an option. Pacquiao, who re-captured the WBO welterweight title in April by avenging his controversial loss to Timothy Bradley, is expected to use his experience and foot speed to impose mental and physical pressure on Algieri, who is the tallest opponent the native of General Santos City, Philippines has faced since Antonio Margarito in 2010. 
"There's no boxing match where you're not gonna have to stand and fight," said Algieri. "I'm not overly concerned about my chin; I take a good punch. I think Ruslan will probably attest to that. 
"There are times when I'll have to stand my ground and fight and I like to do that. I got to pick and choose when that is, I want to be in control of the spaces in the ring. That's what being a ring general in boxing is really about. A boxer is not someone who just moves and jabs all the time; a boxer fights when they want to fight. They are in control of the space inside the ring and that's what my style is." 
Algieri counts himself as a Pacquiao fan, having followed his career since the Pacman began campaigning in America in 2002 with his knockout of Lehlohonolo Ledwaba. Pacquiao has rebuilt himself since losing back-to-back fights in 2012, and has now posted two wins in a row. 
 

 

"I respect Manny thoroughly, but at the same time I'm thoroughly prepared to go out there and win this fight. I'm trying to beat a legend. It can't be on my mind that I'm fighting someone that I'm a fan of watching."

 

– Chris Algieri

 
A loss to Algieri could possibly be the end of the line for the 35-year-old Pacquiao (56-5-2, 38 KOs), who has many more miles on his career odometer than does Algieri.
"That's something that I think many great fighters have to go through," said Algieri of fighting someone he admires. "Just off the top of my head I think of Rocky Marciano fighting Joe Louis. He was a huge fan of Joe Louis, one of his favorite fighters, and he had to go out there and knock him out. I respect Manny thoroughly, but at the same time I'm thoroughly prepared to go out there and win this fight. I'm trying to beat a legend. It can't be on my mind that I'm fighting someone that I'm a fan of watching."
The Pacquiao fight will be Algieri's first outside of New York, and with Macau being just a two-hour flight from the Philippine capital of Manila, the crowd will be at least 99-1 in Pacquiao's favor. Still, Algieri anticipates a few of his closest friends as well as his parents to be in the venue at The Venetian.
When asked whether he felt he was catching Pacquiao at a time when he was most vulnerable after suffering a bad knockout loss to Juan Manuel Marquez in 2012, Algieri was reluctant to allow the idea of an easier night into his mind.
"The only way I'm gonna know that is on November 22," said Algieri, who will train in Las Vegas with trainer and fellow kickboxing champion Tim Lane. "I'm not trying to take advantage of where Manny's at now. I'm thinking I'm preparing for the best Manny Pacquiao possible. I'm thinking about the guy who blew out Lehlo Ledwaba, I'm thinking about the guy who crushed Erik Morales the second and third time, I'm thinking about the best Manny out there."
Win or lose, Algieri will walk out of Macau still a champion at 140 pounds as his belt won't be at stake in this welterweight fight. What he will have though is greater name recognition than he'd ever previously had and his first seven-figure check. 
A betting man would wager that fighting on the biggest stage in boxing won't change the person he is. Just perhaps the car he travels in.
"I'm not a big spender, I'm looking to put my money into places where it'll be safe, I'm a conservative guy in that sense. Maybe a new car, I'll move out, get my own place. Nothing too extravagant, I'm not that kind of guy. But it'd be nice to drive an Infiniti." – Rappler.com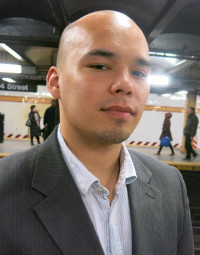 Ryan Songalia is the sports editor of Rappler, a member of the Boxing Writers Association of America (BWAA) and a contributor to The Ring magazine. He can be reached at ryan.songalia@rappler.com. Follow him on Twitter: @RyanSongalia.
---
Related stories