Boxer Randy Petalcorin of General Santos City will take a giant step in his career when he faces Walter Tello in Shanghai, China for the WBA interim junior flyweight title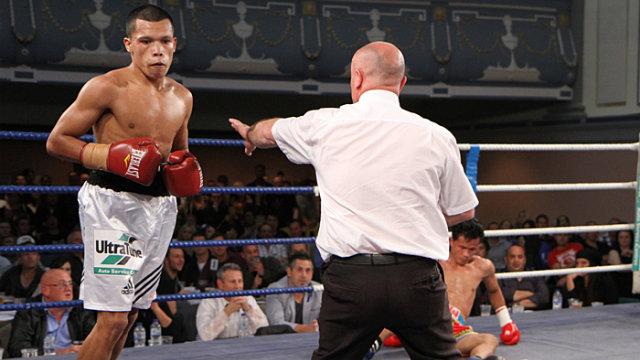 GENERAL SANTOS CITY, Philippines – It may only be an interim world title, but for 23-year Randy Petalcorin, it will be one giant step towards fulfilling a dream that started 5 years ago when he turned professional and won his debut with a first round KO over Sherwin McDo Lungay.
Randy will go up against Panamanian Walter Tello for the WBA interim junior flyweight crown at the Mercedes Benz Arena on Tuesday, August 26 in Shanghai, China.
If he wins, he is promised by Top Rank a slot on the Manny Pacquiao-Chris Algeiri undercard where he will gun for the regular world boxing crown against Alberto Rossel of Peru.
Tello, however, will be Petalcorin's first world class opponent.
The Panamanian (20-7 8 KOs) has already fought twice for the world flyweight crown, losing both times to Giovani Segura for the WBA flyweight crown and to Rossel for the interim WBA title belt. (RELATED: A boxing revival blooms in Gensan)
Petalcorin's Filipino manager Jim Claude Manangquil is confident his ward will be able to handle Tello.
Stylish slugger
Petalcorin, a 5-foot-3 southpaw of Sanman Promotions, totes a record of 21-1-1 (16 KOs). He combines style and power and has the stamina to go the distance despite many of his victories ending up in stoppage style.
He used to hang around the shadow of his more seasoned stable mate Jether Oliva. But he slowly earned his spurs by methodically disposing opponents thrown at him until he ran into another stylish boxer Marlon Tapales to whom he suffered his only loss, a second round knockout due to cuts suffered on his eyebrows in just his 6th professional fight.
Since then, Petalcorin has racked up 14 KO wins and 2 unanimous decision victories marked only by a questionable draw against hometown boy Michael Bastasa in Aurora, Zamboanga del Sur.
He has since erased that draw with an emphatic 8-round unanimous victory 2 years later in 2012.
Style-wise, Petalcorin invokes memories of a younger Romy Navarette, only with more explosive power. He can box and can slug it out when needed.
It was not hard to imagine him going places him while warming up during first professional fight. He already had the wily veteran moves and ring presence seldom seen from an 18-year old making his pro debut.
Time to shine
Randy says the chance given to him to nail a world title will be a dream come true and winning one will be an ultimate joy.
Currently, he is co-managed by Australian Peter Maniatis who, together with JC Manangquil and Sanman partner Dexter 'Wangyu' Tan, patiently waited for the kind of break that could produce another world boxing champion from General Santos City.
If he gets past Tello, Top Rank is reportedly offering him a 3-fight contract. Making a good account of himself in Shanghai on Tuesday could open up the door for the curly-topped Sanman prize fighter.
Five years may be long enough for other fighters. Petalcorin's idol Manny Pacquiao won his first of 8 world titles in 8 different divisions in just his 3rd year as pro.
But Petalcorin is used to waiting add bidding for his time, of which he has still plenty ahead of him if he finally crowns himself world boxing champion. – Rappler.com