This is AI generated summarization, which may have errors. For context, always refer to the full article.
Floyd Mayweather Jr responds to Manny Pacquiao's challenges, saying Pacman is desperate for a big payday after losing two fights and is to blame for the fight's delay
MANILA, Philippines – After weeks of hearing only one side speaking publicly about a potential fight, Floyd Mayweather Jr finally addressed the subject of the long-delayed clash with Manny Pacquiao during an interview with Showtime boxing commentator Steve Farhood on Friday, December 12. 
Mayweather, the undefeated 5-division champion who currently sits atop THE RING magazine's pound-for-pound list, responded to Pacquiao's challenges saying he "absolutely" wants to make the fight for May 2, 5 years after people first began calling for the bout.
But he didn't express his interest without firing a few shots at the 8-division champion from General Santos City, Philippines.
"I would love to fight Manny Pacquiao," said Mayweather (47-0, 26 knockouts) of Las Vegas, Nev. "We tried to make the fight years ago. We had problems with random blood and urine testing. Like I said, I just want to be on an even playing field. Now he's in a very tight situation. He's lost to [Juan Manuel] Marquez, he's lost to [Timothy] Bradley. Pay-per-view numbers are down, extremely low. So he's desperate.
"I know that [Pacquiao] is not on my level, the fans would love to see the fight, and of course I wanna go out with a bang. So let's make this fight happen. Manny Pacquiao, Bob Arum, you guys have been ducking us for years."
Mayweather's interview comes after Pacquiao's promoter Bob Arum rehashed claims that Mayweather was avoiding Pacquiao, who recently concluded a 2014 campaign where he avenged the earlier loss to Bradley before dropping Chris Algieri 6 times last month en route to a shutout decision.
"To get Mayweather in the ring with Pacquiao is a monumental task. Not because of splits, not because of money, because Manny stands the best chance of anybody that Floyd has faced to beat him," Arum told World Boxing News. 
(RELATED: Pacquiao puts pressure on Mayweather after Algieri beating)
Mayweather countered, saying the fight's delay has been due to Arum, who had promoted Mayweather when he turned professional in 1996 until the mid-2000s.
"Floyd Mayweather is not ducking or dodging any opponent. Bob Arum is stopping the fight. We have been trying to make this fight happen behind the scenes for years now but the fans and the people have been fooled because they have been listening to the people on one side. Now it's time for us to talk. We want the fight. Get ready. Let's make it happen, May 2. Mayweather versus Manny Pacquiao, let's do it."
Pacquiao seems to have cleared some of the hurdles that had earlier been sticking points in negotiations. Leading up to the Algieri fight in Macau, Pacquiao had submitted to random testing through the Voluntary Anti-Doping Association (VADA).
Among the obstacles that remain are how much each fighter will be paid, who will be the primary promoter of the bout and which network will air the pay-per-view.
(RELATED: Mayweather sets new demands for Pacquiao fight)
Mayweather has insisted in the past that any bout with Pacquiao be promoted by his own company Mayweather Promotions, which was recently granted a license in Nevada this past July. He also reiterated his demand that the fight be aired by Showtime, which is the rival network to HBO, which Pacquiao is aligned with. 
A similar stalemate had been handled in 2002, when the HBO-televised Lennox Lewis and the Showtime-affiliated Mike Tyson fought for the heavyweight championship. The fight was the highest grossing pay-per-view in history to that point.
Mayweather's comments gave credence to confirm reports that he had wanted a significantly larger portion purse than Pacquiao after a Sports Illustrated article cited a source within the Mayweather camp demanding he receive a two-thirds purse split.
"We're tired of you guys fooling the public, fooling the critics. Before we tried to make the fight happen, you didn't wanna take random blood and urine testing. So that's why the fight didn't happen. Then I offered you $40 million, then you didn't wanna make the fight happen. You lost twice, now you coming back for the same money. That's not gonna happen," said Mayweather.
"Let's make this fight happen for the people, for the fans. Mayweather versus Manny Pacquiao, May 2. Cinco De Mayweather." – Rappler.com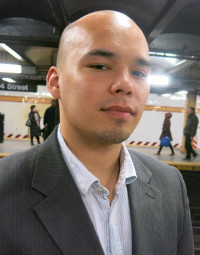 Ryan Songalia is the sports editor of Rappler, a member of the Boxing Writers Association of America (BWAA) and a contributor to The Ring magazine. He can be reached at ryan.songalia@rappler.com. Follow him on Twitter: @RyanSongalia.