Manny Pacquiao stands to make a career-high payday against Floyd Mayweather, but how much of it will he be able to bring home?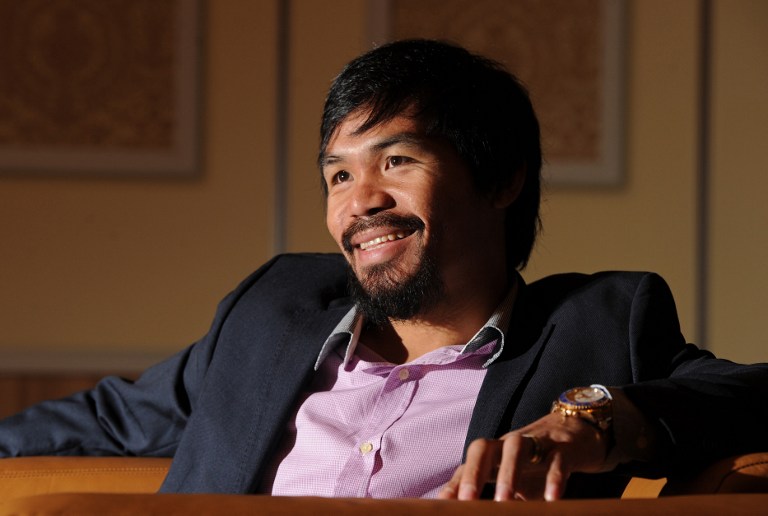 MANILA, Philippines – A few reports late last week said that promoters and distributors for the pay-per-view (PPV) boxing match between Floyd Mayweather Jr and Manny Pacquiao were still squabbling over how they will or should split revenues from live cable feed. 
True or not, there are some facts ordinary boxing fans may not understand fully well. 
Top Rank's Bob Arum was saying the split between the promoters and cable television on the one hand and the PPV carriers and distributors on the other should not be 50-50. 
"I really believe everybody agrees that there has to be a more generous split and they are in the process of working out what it will be," Arum said as quoted by The Wall Street Journal. 
With a reported PPV price tag of $89.95 a pop, the difference between a 50-50 and a 70-30 split alone could mean $100 million if the numbers reach 4 million buys. 
Who says they are peanuts? 
Even at 3 million buys, the fight could still gross at least $270 million – a record. 
Going by the splits, it could mean $135 million or $190 million for the providers. In which cases, the program providers are HBO, Showtime, Top Rank and Mayweather Promotions. 
Whatever figure is left after deducting expenses and profit shares of the providers, Mayweather and Pacquiao will again split the remaining at the agreed 60/40 share. 
(Now you know why there are no longer promotional tours. Save the promoters a lot of money. Alone by themselves, Mayweather and Pacquiao are walking advertising billboards.) 
Then from the net purse each boxer gets, the IRS will deduct taxes. In their cases, Mayweather and Pacquiao belong to the maximum bracket. All their incomes are levied 39.6 percent tax.
At the end of the day or the night, Pacquiao may only be getting a low of $15 million to as high as $42 million in PPV shares, net after taxes and all deductions. 
Probably even more but purses based on PPV are very complicated and too layered to a layman who thought all the PPV proceeds go to the boxers.
Throw in additional another $100M income generated from live gate receipts, sponsorship, international revenues and site fees, the overall proceeds from the fight could top the $450 million mark. 
Pacquiao will probably get a maximum additional income of $20 million outside of the PPV.
Now that answers your questions why there are no tickets available at their face values. (They have been cornered by bookies, probably with the connivance of promoters.  Somehow, they will find ways to squeeze every dollar out of the mega-fight)
That will bring Pacquiao's total income in the US for the Mayweather fight at a high of $60 million to a low $35 million. 
Incredible? Not if you had followed the Vision Quest controversy that exposed how Pacquiao ended up getting less than what the numbers others said he should be getting. 
Pacquiao also has other sources of income outside the US every time he fights. 
He owns the television rights of his fights in the Philippines that could also run into millions of dollars.
So there you are, my figures may not be accurate but I will guarantee they are closer than what people are saying Manny will get up to $80 million for his PPV share.
Nobody will know the final numbers. Only Top Rank's Bob Arum does. Right, Uncle Bob? – Rappler.com