Filipino world champion gymnast Carlos Yulo is set to receive P750,000 worth of incentives from the Philippine Sports Commission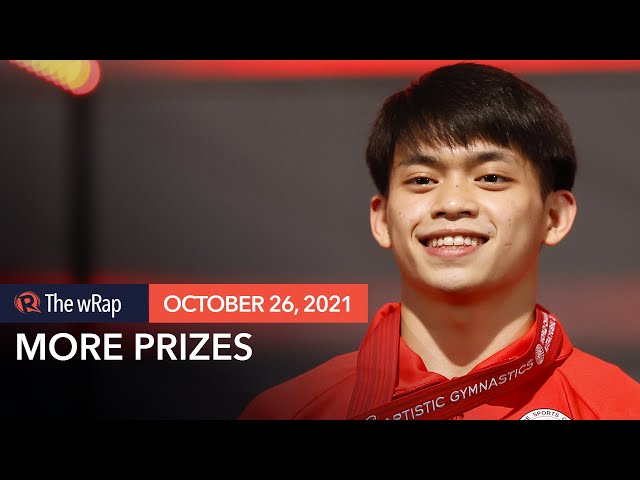 Carlos Yulo received another cash windfall from the Philippine Sports Commission (PSC) as he gets an incentive of P750,000 for his gold and silver medals in the 2021 Artistic Gymnastics World Championships held in Kitakyushu, Japan.
Yulo's world championship gold in the men's vault earned him P500,000, while the silver in the men's parallel bars got him P250,000.
Though Republic Act No. 10699 states that a world championship gold is worth P1 million and a silver merits P500,000, the competition must be held every two years. The Artistic Gymnastics world event is staged annually.
But the PSC still recognizes the 4-foot-11 dynamo's achievement as he became the first Filipino gymnast to bring home multiple world championship medals from a single staging of the event.
"Every incentive that he receives is well-deserved. By sheer will and determination, Caloy has created his own niche in the halls of Philippine sports history. Caloy is truly an inspiration to our youth and Filipino athletes," said PSC chairman William "Butch" Ramirez.
The 21-year-old topped the vault event with a score of 14.916 and earned a silver in the parallel bars with a score of 15.300.
In the parallel bars event, China's Hu Xuwei, the sixth to perform, overtook Yulo as he nailed a 15.466.
Yulo, though, failed to defend his world title in the floor exercise after picking up a crucial penalty that put him at 5th place.
In 2019, the gymnastics star became the most bemedalled athlete which earned him P1,050,000 from the PSC alone in the country's staging of the Southeast Asian Games where he won two gold and five silver medals. – Rappler.com