Los Angeles Lakers star duo LeBron James and Anthony Davis recall their early matchups against Kobe Bryant ahead of his first death anniversary
As Kobe Bryant's first death anniversary approaches, Los Angeles Lakers superstars LeBron James and Anthony Davis looked back on their unforgettable on-court moments against the 'Black Mamba' early in their storied NBA careers.
Fresh off his 34-point performance in the Lakers' 113-106 victory over the Milwaukee Bucks on Thursday, January 21 (Friday, January 22, Manila time), James talked about his first ever matchup against Bryant in the 2003-2004 NBA season.
"I was just in awe," said James.
"[Kobe] is a guy, along with a lot of other guys, who I would tape on my wall… He had a nice collage on my wall," added James, who also shared that he received a pair of shoes from Bryant when he was in high school.
Although James could not remember a specific play from their first meeting back in January of 2004, James admitted that playing against Bryant for the first time was something that he would never forget.
"To be able to share the floor with him… [was] like a sense of awe."
"It was something that I would never ever forget," the four-time league MVP added.
In the first of their many historic duels in the NBA, James, who was only 19 years old then, had 16 points, 5 rebounds and 7 assists in the Cavaliers' 89-79 loss to the Lakers.
Meanwhile, Bryant, who died in a tragic helicopter crash last year, only played 17 minutes in that game as he injured his right shoulder in the first half of action. The five-time NBA champion and one-time league MVP finished with 10 points, 5 rebounds and 2 assists.
The two superstars would then play against each other 21 more times, with James winning the head-to-head matchup, 16-6.
Davis, on the other hand, recalled the specific moment from his early matchups against Bryant that left him astounded.
It was during the 2014-2015 NBA season, where Bryant suffered a torn rotator cuff on his right shoulder against Davis and the New Orleans Pelicans in January of 2015.
"We were playing in New Orleans… that's the year that I think Kobe, actually against us, he tore something on his right shoulder," said Davis.
"He comes down the very next play, they throw the ball to him to the post… He takes two dribbles and does a shimmy and shoots the ball left handed and it goes in."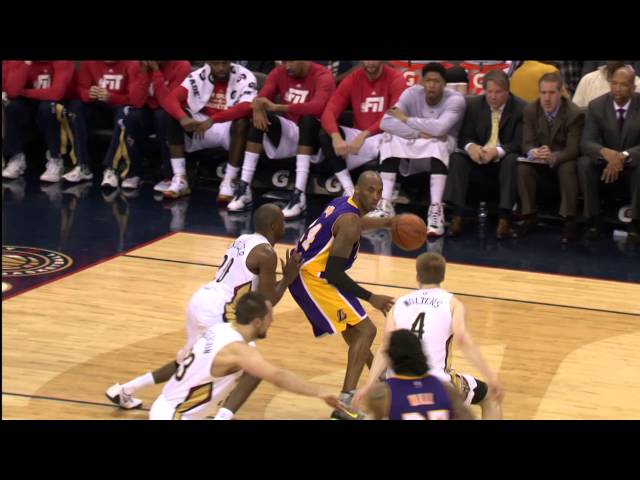 Davis mentioned that he was amazed at the fact that Bryant was able to hit the tough turnaround jumper with his left hand despite being right-handed.
"I just stared at him down the court and looked at the bench and was amazed that a guy who is right-handed just comes in and say, 'Okay, I'm just going to shoot left-handed,'" said Davis.
Davis had 29 points and 8 rebounds in that game, while Bryant finished with 14 points, 7 rebounds and 2 assists in the Lakers' 96-80 loss against the Pelicans.
"That's one of my earliest memories in the league of Kobe," added Davis. –Rappler.com