Eleven active players have been chosen among the all-time greatest in NBA history
A total of 158 NBA championships and 730 NBA All-Star selections. A combined 110 Most Valuable Player awards and Finals MVP plums. More than 1.5 million points scored.
Those are just some of the collective accomplishments of the players who comprise the NBA 75th Anniversary Team as the league tipped off its landmark 75th season.
The NBA 75th Anniversary Team was selected by a blue-ribbon panel of current and former NBA players, coaches, general managers and team and league executives, WNBA legends, and sportswriters and broadcasters. 
Voters were asked to select the 75 Greatest Players in NBA history without regard to position. Panelists did not rank their selections. Current and former players were not allowed to vote for themselves.
As a result of a tie in the voting, the 75th Anniversary Team features 76 players. Team highlights include:
Eleven active players have been named to the 75th Anniversary Team: Giannis Antetokounmpo, Carmelo Anthony, Stephen Curry, Anthony Davis, Kevin Durant, James Harden, LeBron James, Kawhi Leonard, Damian Lillard, Chris Paul, and Russell Westbrook. 
The 75th Anniversary Team includes four players who played in the first NBA All-Star Game in 1951 (Paul Arizin, Bob Cousy, George Mikan, and Dolph Schayes), the first winner of the Most Valuable Player award (Bob Pettit for the 1955-1956 season), and the first winner of the Finals MVP award (Jerry West for the 1969 NBA Finals).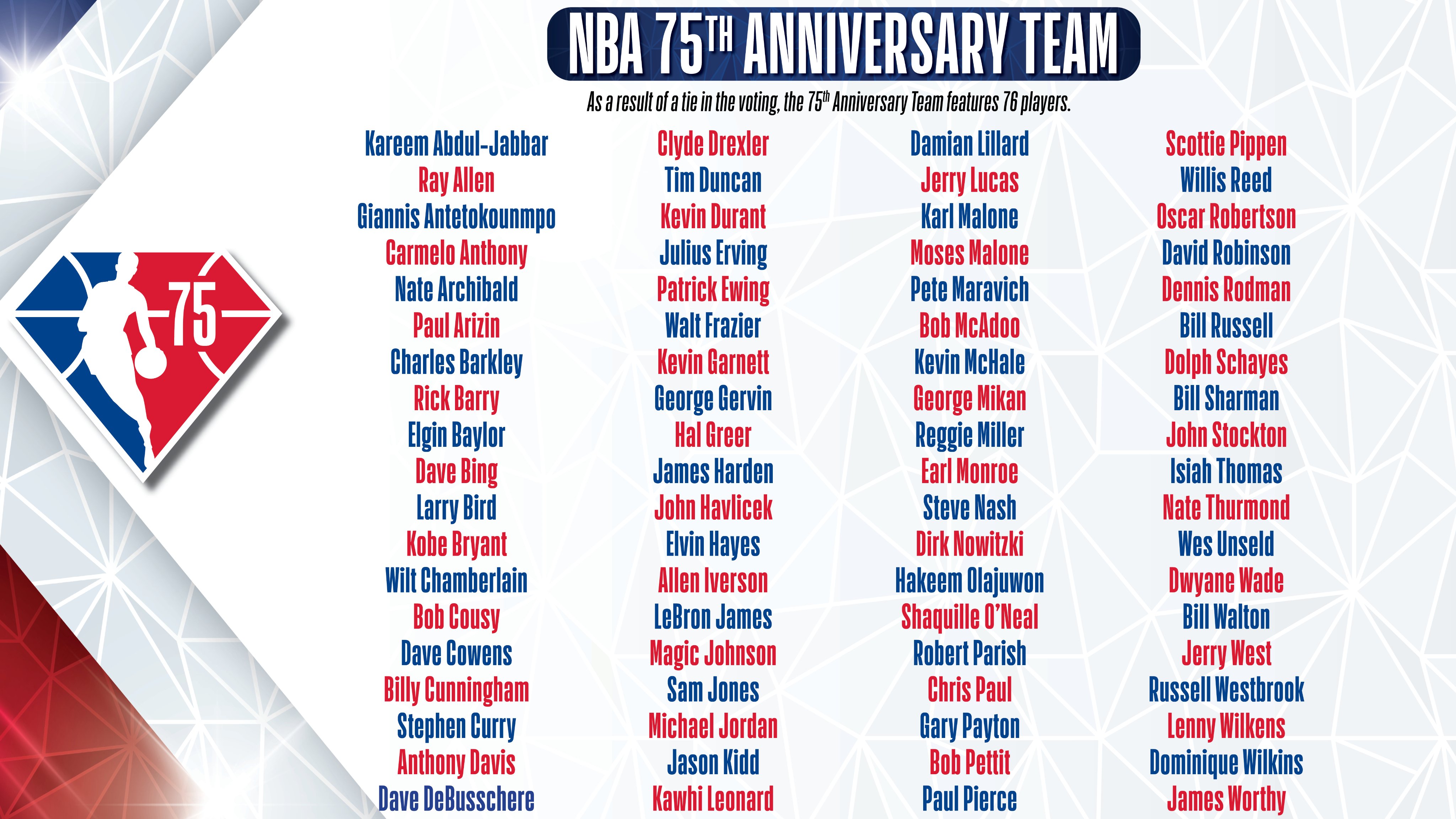 Bill Russell joins Cousy, Mikan, and Pettit as the only four players who have been named to all four NBA Anniversary Teams: the 25th Anniversary Team (10 players named), 35th Anniversary Team (11 players named), 50th Anniversary Team, and 75th Anniversary Team. (The 25th Anniversary Team was the only one of the four teams that did not allow for the inclusion of active players at the time.)
Six international players from six countries and territories have been selected to the 75th Anniversary Team: Giannis Antetokounmpo (Greece), Tim Duncan (US Virgin Islands), Patrick Ewing (Jamaica), Steve Nash (Canada), Dirk Nowitzki (Germany), and Hakeem Olajuwon (Nigeria).
The five NBA legends who are serving as ambassadors for the 75th Anniversary Season are part of the 75th Anniversary Team: Clyde Drexler, Magic Johnson, Dirk Nowitzki, Bob Pettit, and Oscar Robertson. Representing different eras of the league's history, the ambassadors will make appearances throughout the 2021-2022 season and have a significant presence at NBA All-Star 2022 in Cleveland.
– Rappler.com