This is AI generated summarization, which may have errors. For context, always refer to the full article.
Karl Mari, who broke 3 records in the 2012 Palaro, has pulled out of this year's archery competition.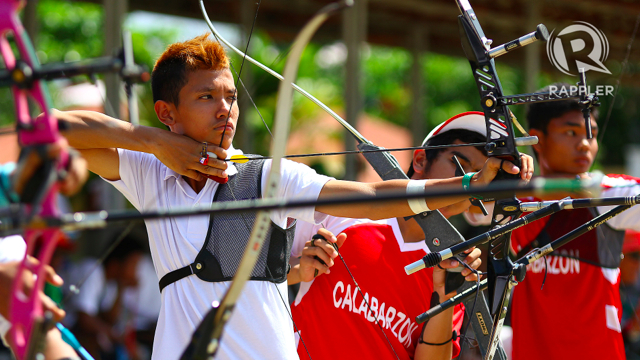 DUMAGUETE CITY, Philippines — Dumaguete's reigning Palarong Pambansa archery champion Karl Kristian Mari, who broke three records in last year's Palaro, is not going to finish this year's competition, Rappler learned Wednesday, April 24.
Mari's mother, Maria Elisa, told Rappler they were only informed last Sunday, April 22, that his son will not be allowed to use his customary nano-pro target arrows, which he used in last year's Palaro. 
"We were only informed last Sunday that Karl's nano-pro arrows are not allowed," said Mari, who noted that Karl used the same arrows during the Central Visayas regional meet.
"High end (very expensive) carbon and aluminum carbon arrows are not allowed like Easton A/C/E, A/C/C, X10, cartel triple, carbon express nano xr, nano pro, etc.," added Maria Elisa, who said that they will be sending letters to concerned agencies like the Department of Education on Thursday, April 25.
Mari did not show up in today's boy's secondary qualification round after crashing out of the Top 8 in Monday's qualification
Luis Moreno topped the 30-meter distance with 341 points while Mari shot just 313 — 12 points short of eighth qualifier Lawrence Romaguera. — Rappler.com