This is AI generated summarization, which may have errors. For context, always refer to the full article.
Boos rained down on the celebrations of Globalport as Tim Cone pleaded with the referees for a 5-second ball-hogging violation call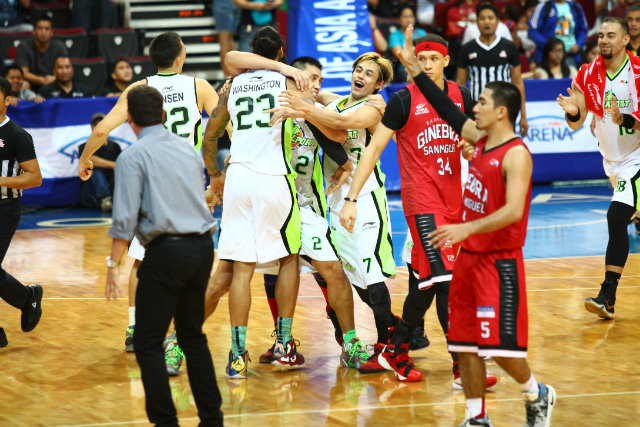 MANILA, Philippines – The knockout quarterfinals match between Barangay Ginebra San Miguel and the Globalport Batang Pier ended in controversy on Sunday, December 27 at the Mall of Asia Arena.
As the final buzzer sounded, more than half of the crowd comprised of Ginebra fans was left stunned along with players and the Ginebra coaching staff. Head coach Tim Cone immediately went to center court and pleaded with the referees for a call or a review of the final 8-second possession of Globalport.
In that last posssession, Washington received the ball on the inbound then handed it off to Stanley Pringle and Ginebra immediately attempted a trap on the guard by the halfcourt line. 
But as the seconds ticked away, no foul call or 5-second ball-hogging violation was called on Pringle before he was finally able to pass the ball out to Romeo on the wing and time expired.
Boos rained down on the celebrations of Globalport, which came out victorious, 84-83, and will enter the PBA semifinals for the first time in franchise history.
According to PBA Media Bureau Chief Willie Marcial, Cone signed the official scorecard and the team will have until 12 noon on Monday, December 28 to file a letter of protest together with a bond.
Ginebra assistant coach Olsen Racela said the team did not talk about any plans for a protest inside the locker room after the loss, but they will instead meet about it Monday.
Cone refused interview requests and immediately left the arena, saying that he didn't want to say anything that could get him into trouble.
Guard LA Tenorio shared that Cone instructed the players to trap in that last possession. But the veteran admitted he also felt there should have been a call.
"I think it was a 5-second violation because you can count it obviously with the time left. And I saw him step on halfcourt (line) too," he told reporters in a mix of Filipino and English. "But they didn't call it so it depends, what the management and coaching staff will do."
"Breaks of the game, it wouldn't have come to that if not for our lapses during the game," he added. 
LA Tenorio comments on the controversial end to Ginebra's QFs game against Globalport #PBA @rapplerdotcom December 27, 2015
Batang Pier coach Pido admitted he thought there was a foul in that final sequence but similarly chalked it up to breaks of the game.
"Breaks of the game, they did not call it, whatever it was. I also think there was a foul but they didn't call it," he said.
Fans react to the non-call at the end of the Ginebra-Globalport game
– Rappler.com