This is AI generated summarization, which may have errors. For context, always refer to the full article.
The Rain or Shine Elasto Painters established a double-digit lead early and held on late to defeat and eliminate the Talk 'N Text Tropang Texters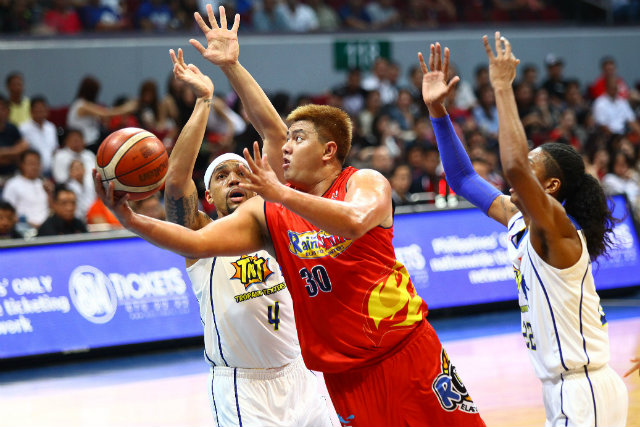 MANILA, Philippines – The Rain or Shine Elasto Painters established a double-digit lead early and held on late to defeat and eliminate the Talk 'N Text Tropang Texters, 104-89, during phase two of the PBA Philippine Cup quarterfinals on Monday, December 28, at the Mall of Asia Arena.
Raymond Almazan led the way for Rain or Shine with 15 points, 10 rebounds and 3 blocks, including a message-sending rejection of Moala Tautuaa late in the first half.
Playing in a sudden death scenario, Rain or Shine beat Talk 'N Text, which entered the matchup having eliminated the Elasto Painters the last 3 times they faced in a postseason series ('13 Philippine Cup, '14 Commissioner's Cup, '15 Commissioner's Cup).
Rain or Shine now advances to the semifinals, where they face a familiar rival in the San Miguel Beermen in a best-of-7 series. 
Besides entering the series as the defending champion, San Miguel also comes in with nearly 3 weeks of rest thanks to a quarterfinals bye as one of the top two seeds during the elimination round.
The last time Rain or Shine and San Miguel faced in a playoff series was during the 2015 Governors' Cup, where the Beermen eliminated the Elasto Painters in 4 games.
"We finally were able to finish what we weren't able to finish against NLEX," said Rain or Shine head coach Yeng Guiao after the contest. 
"We had a chance to make the semis the short route, but we had to go through the long route, and it's probably because we were not prepared the first time."
The Elasto Painters could have avoided having to play in the quarterfinals if they took care of business against the Road Warriors, but a loss forced them to beat Blackwater and Talk 'N Text for a shot at San Miguel.
Nonetheless, Rain or Shine was dominant against the Tropang Texters. They shot 42% from the floor and forced TNT to 37% shooting, as well as 20 turnovers.
A total of 7 guys scored in double-figures for Guiao's club. Don Trollano finished with 14 points while Jeff Chan had 13. Gabe Norwood and Jericho Cruz put up 11 points apiece.
Jayson Castro led Talk 'N Text with 25 points and 11 rebounds while top rookie pick Moala Tautuaa had 14 points and 8 boards. Rookie Troy Rosario, who scored 10 points in the loss, left the game in the fourth clutching his shoulder after having the ball stolen from him by Chan.
The sequence where Troy Rosario gets hurt, then Jeff Chan blows a layup and Don Trollano cleans up the miss #pba2016 pic.twitter.com/1bD9tg8RdF

— Ryan Songalia (@ryansongalia) December 28, 2015
Tough road 'a blessing'
"It's a blessing in disguise we had to go through the hard way, but this is just going to toughen us up going into the semifinals. That's how we look at it. That's our perspective. We want to look at this thing in a positive way," said Guiao, who finally had a team beat Talk 'N Text in a playoff series for the first time in 13 years.
It was just an 84-75 lead for Rain or Shine entering the fourth quarter, but a 7-0 run led by Maverick Ahanmisi and Chan pushed the edge to 16, and the Elasto Painters didn't look back from there.
Rain or Shine's first game against San Miguel will take place on January 5, Tuesday. The team expects to have star guard Paul Lee (knee) in uniform, even if he's been out of action the entire conference.
"Paul is going to play in the semis," said Guiao. "We also wanted to win this game because we also wanted Paul to participate. We wanted Paul to be able to contribute, and he's just aching to play, and I think by January he can be ready."
The head coach added about his star player: "He's not going to be 100% January 5, but he can be there very quickly. Paul is determined and he's talented so it won't take too much time."
Scores:
Rain or Shine (104): Almazan 15, Trollano 14, Chan 13, Cruz 11, Norwood 11, Quinahan 11, Ahanmisi 10, Ponferada 8, Belga 6, Tiu 5, Ibanes 0. 
Talk 'N Text (89): Castro 25, Tautuaa 14, Aban 11, Reyes R. 10, Rosario 10, Seigle 10, Williams 5, Reyes J. 2, Fonacier 1, Rosser 1, Ababou 0, Carey 0, Miranda 0.
Quarter scores: 26-20, 52-44, 84-75, 104-89. – Rappler.com