This is AI generated summarization, which may have errors. For context, always refer to the full article.
The Gin Kings win back-to-back games to improve to 2-2, while the Hotshots fall to 1-4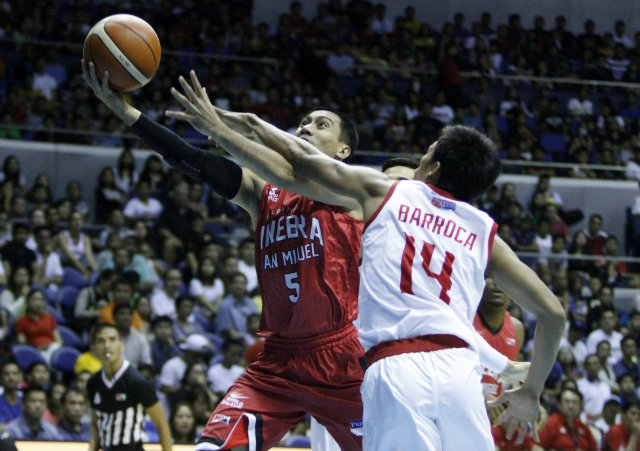 MANILA, Philippines (UPDATED) – With both teams struggling near the bottom of the standings as they grope for form and identity, there were little expectations for the 2016 PBA Commissioner's Cup eliminations edition of the 'Manila Clasico' rivalry. 
But Sunday night's (February 28) joust went down as another memorable cardiac thriller like many before it. 
LA Tenorio once again came up big in the clutch, sinking the go-ahead pull-up jumper with 28.8 seconds remaining as Barangay Ginebra San Miguel squeaked past the Star Hotshots, 92-87.
Tenorio ended a long back-and-forth fourth quarter, 89-87, as he found himself momentarily free during the play and quickly capitalized on the rare opportunity. 
The game ended in a mad flurry that rocked half the 16,126-strong crowd at the Smart Araneta Coliseum. 
Ginebra made something out of a broken play that saw Tenorio barely getting the ball across after getting trapped on the other end, Joe Devance finding a wide open Mark Caguioa underneath, whose attempt was rejected by a streaking Denzel Bowles, and finally Greg Slaughter cleaning it all up including the bonus free throw.
"I tell you, it's fun when a game lives up to its hype. 'Manila Clasico' is such a big game through each of the conferences and we only get it once per conference often times so it's fun and is a great game for both sides," said Ginebra head coach Tim Cone. 
Tenorio, who finished with 12 points, 4 rebounds, 3 assists and a steal, downplayed the big shot he made and instead lauded his team for showing character amid adversity.
"I think these are the kinds of games we need to win because this is what will build our team's character in becoming a great team," Tenorio, who was also the hero who buried the game-winning triple in the Christmas 'Manila Clasico' clash last December, said in Filipino.
Import Othyus Jeffers had 23 points, 15 rebounds and 7 assists for the Gin Kings, who won back-to-back games after a 0-2 start to the conference. 
" width="600″ height="600″ frameborder="0″>
Japeth Aguilar had 15 points and 5 rebounds, including a couple of highlight-reel plays on a dunk in the first half and a huge block down the stretch. Slaughter finished with 14 markers, 12 boards, 3 assists, two steals and two blocks. 
"It was just a great game," said Cone. "Both sides played well." 
" width="600″ height="600″ frameborder="0″> 
Mark Barroca put up another stellar game with a team-high 16 points on 4-of-5 shooting from deep – with 14 of those points he poured in a huge 26-10 third quarter showing for Star.
Barroca caught fire in that third frame draining one triple after another as the Hotshots tied then took the lead, 69-66, with1:41 left.
" width="600″ height="600″ frameborder="0″> 
" width="600″ height="600″ frameborder="0″> 
"I'm not sorry about my game, I'm sorry because we didn't win," noted Barroca in Filipino, as another one of his good night went for naught.
Denzel Bowles settled for 15 points, 7 rebounds, 5 assists and 4 blocks for the now 1-4 Hotshots, while PJ Simon registered all of his 14 points in the first half on 4-of-6 triples.
Marc Pingris scattered 13 points and 10 rebounds as James Yap went hot – with two triples and 8 points in the first half – then cold to finish with just 10 markers. 
It looked like Ginebra was in for another meltdown as Star led 85-79 on a Bowles basket at the halfway mark of the final frame. But to Cone's satisfaction, the Gin Kings rallied right back and tied the count at 87 on a Slaughter putback with over a minute left, before stepping up defensively to deny the Hotshots of key chances to take the lead. 
"The good news for our team is we settled, we didn't panic, and we worked our way back into the game," said Cone. "And that means we're growing up a little bit. This team is growing up a little bit."
Scores:

Ginebra (92): Jeffers 23, Aguilar 15, Slaughter 14, Tenorio 12, Caguioa 8, Ellis 8, Mercado 7, Thompson 3, Devance 2, Marcelo 0.

Star (87): Barroca 16, Bowles 15, Simon 14, Pingris 13, Yap 10, Maliksi 9, Pascual 6, Reavis 2, Sangalang 2, Melton 0.

Quarter scores: 29-24, 56-48, 66-74, 92-87.
Coach Tim Cone after Barangay Ginebra overcomes the Star Hotshots #ManilaClasico #PBA2016

Posted by Jane Yvette Bracher on Sunday, 28 February 2016
– Rappler.com