The Talk 'N Text Tropang Texters used a strong fourth quarter finish to deal the NLEX Road Warriors a 108-89 beating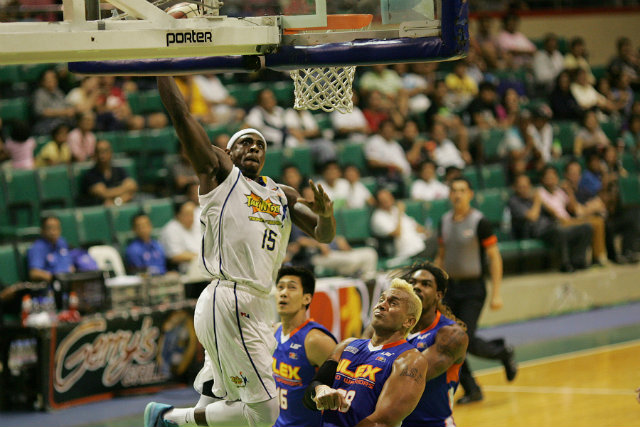 MANILA, Philippines — The Talk 'N Text Tropang Texters used a strong fourth quarter finish to deal the NLEX Road Warriors a 108-89 beating in the 2015 PBA Governors' Cup on Tuesday, May 26 at the Cuneta Astrodome. 
Talk 'N Text used a balanced attack for the finishing kick, relying on both its starters and its second unit as they outscored NLEX, 28-19 in the fourth and turned a single-digit game into a decisive double-digit affair.
"We have a complete roster and it's hard but it's easier," head coach Jong Uichico explained his team's positive problem. "It's harder to give minutes but I guess that's a better problem than kulang kulang (having missing pieces). Right now at least we can have other points of attack, that's why the score is like that."
Import Steffphon Pettigrew led 6 Texters in double figures with his 26 points and 7 rebounds. Guard Jayson Castro finished with 19 markers and 5 assists while Ranidel de Ocampo flirted with a triple-double with 12 points, 8 boards and 8 dimes.
Kelly Williams contributed 11 markers off the bench as Asian import Sam Daghles and Matt Ganuelas-Rosser each had 10 points.
The key now for Talk 'N Text is to manage its players' minutes and rhythm. 
"Hopefully we get the right rotations and they keep having their rhythm and it doesn't get cut off," Uichico said. "Sometimes when you have too many players, they can lose their rhythm, so we just have to figure that out."
Asi Taulava put up a double-double of 25 points and 13 rebounds while imports Michael Madanly and Kwame Alexander combined for 44 points. Kwame also hauled 16 rebounds.
Offense was rich for Talk 'N Text thanks to a 30-12 advantage in assists and 53% field goal shooting.
Pettigrew gave the Texters an 11-point edge midway in the final frame, sparking a 15-5 run to close the game.
Talk 'N Text moved to 3-1 for a 3-way tie in second place with KIA and Alaska. NLEX slid to 1-4 with its second consecutive defeat.
Scores:
Talk N Text (108): Pettigrew 26, Castro 19, De Ocampo 12, Williams 11, Daghles 10, Rosser 10, Fonacier 8, Carey 6, Seigle 6, Washington 0Miller 0, Espiritu 0, Reyes 0. 
NLEX (89): Taulava 25, Alexander 22, Madanly 22, Villanueva 10, E. Villanueva 4, Borboran 3, Wolson 3, Cardona 0, Canaleta 0, Lingganay 0, Ramos 0, Apinan 0. 
Quarter scores: 27-18; 57-44; 80-70; 108-89. 
— Rappler.com