There is more to NorthPort rookie Jamie Malonzo than being a PBA player
One of the rising trends in the world of sports is the desire of athletes to describe why they are "more than just an athlete."
This could manifest in different ways, relative to each individual's culture and experiences.
Some say it's the reason why they speak about social issues instead of opting to "shut up and dribble."
Others use it to show what talents or passions they have away from their respective playing courts or fields.
A number of athletes, in certain circumstances, utilize it to remind what can sometimes be an unforgiving public that they are simply human beings who go through the same emotional roller coasters everyone else does.
For top PBA draft pick Jamie Malonzo, being "more than an athlete" is a number of things.
Arguably the most prominent right now is his affinity for art.
Malonzo, who was selected second overall by NorthPort in the loaded 2021 PBA Draft class, guested on an episode of Rappler's At The Buzzer podcast hosted by this writer, where he shared his newfound fervor for putting brush to canvas.
"[W]ith all the time we have with the quarantine, I'm trying to, like, pick up new hobbies. [I] picked up painting recently. I painted this Michael Jordan behind me," Malonzo said, providing a peek into the mural of "His Airness" hanging in his apartment.
The athletic and high-flying 6-foot-6 forward then shared his artwork of Pop Smoke, a Brooklyn, New York-born rapper who was killed in early 2020 at the age of 20. Malonzo, a fan of both rap and R&B music, was a fan of Pop Smoke's lyrical creations.
"I just sort of picked up a little side hobby," he said, bringing the discussion back to painting. "You know, I like art, I like fashion, I like clothes and streetwear, and I just really like to shoe collect. I'm a sneakerhead too."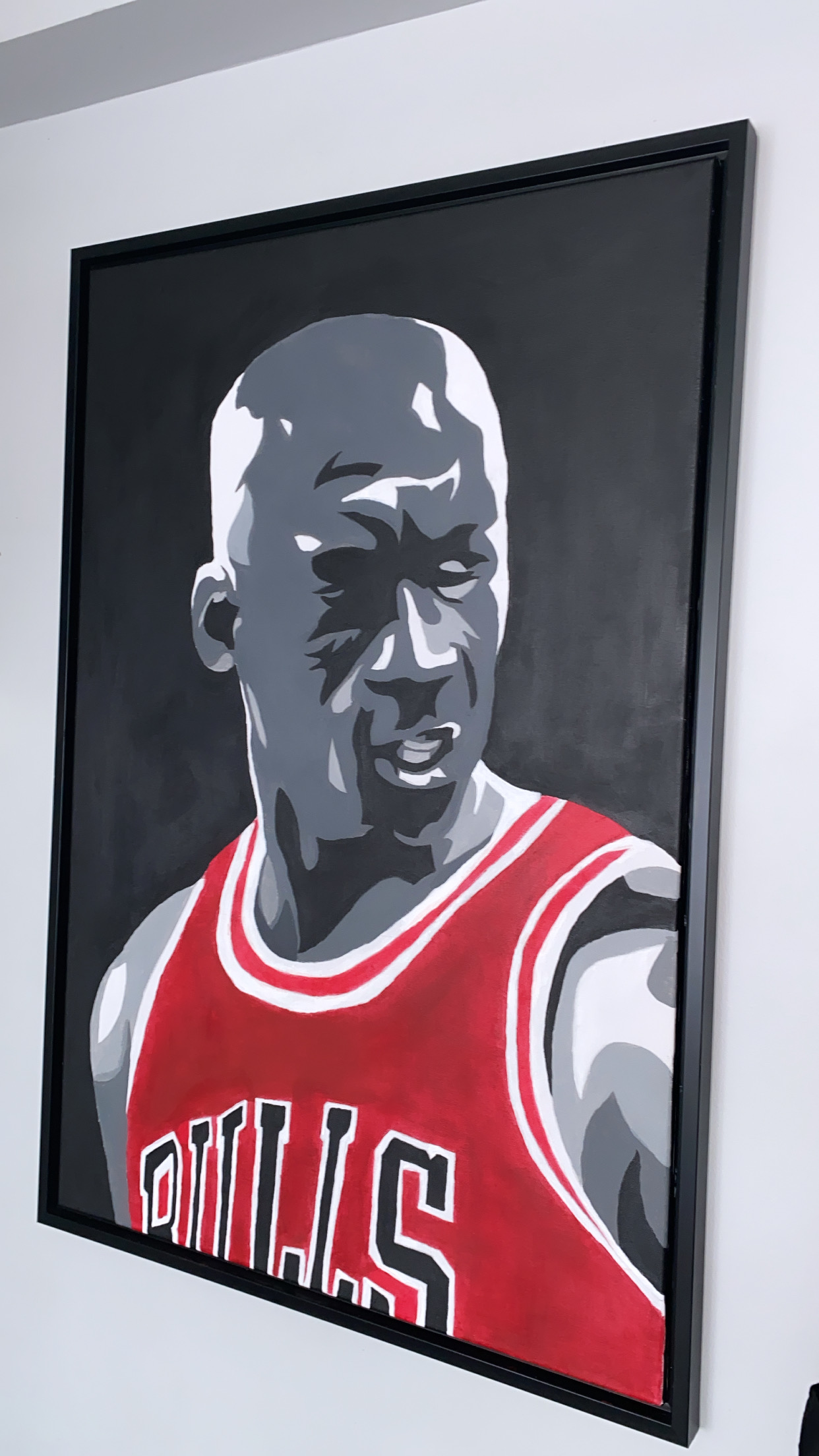 One of Malonzo's early clients is his sports agent, PJ Pilares of Titan Management Group.
The early returns have been encouraging, as the two now plan on taking the next step in growing Malonzo's artistic possibilities.
"I had a seven-day quarantine when I got here and my agent, PJ, I had painted him a Kobe mural – a little Kobe mural and he absolutely loved it. Like, he's the biggest Kobe fan," Malonzo said.
"He said, 'You come up with 15 paintings [and] we're going to rent out like an art room.'"
"I may be having an art show coming soon."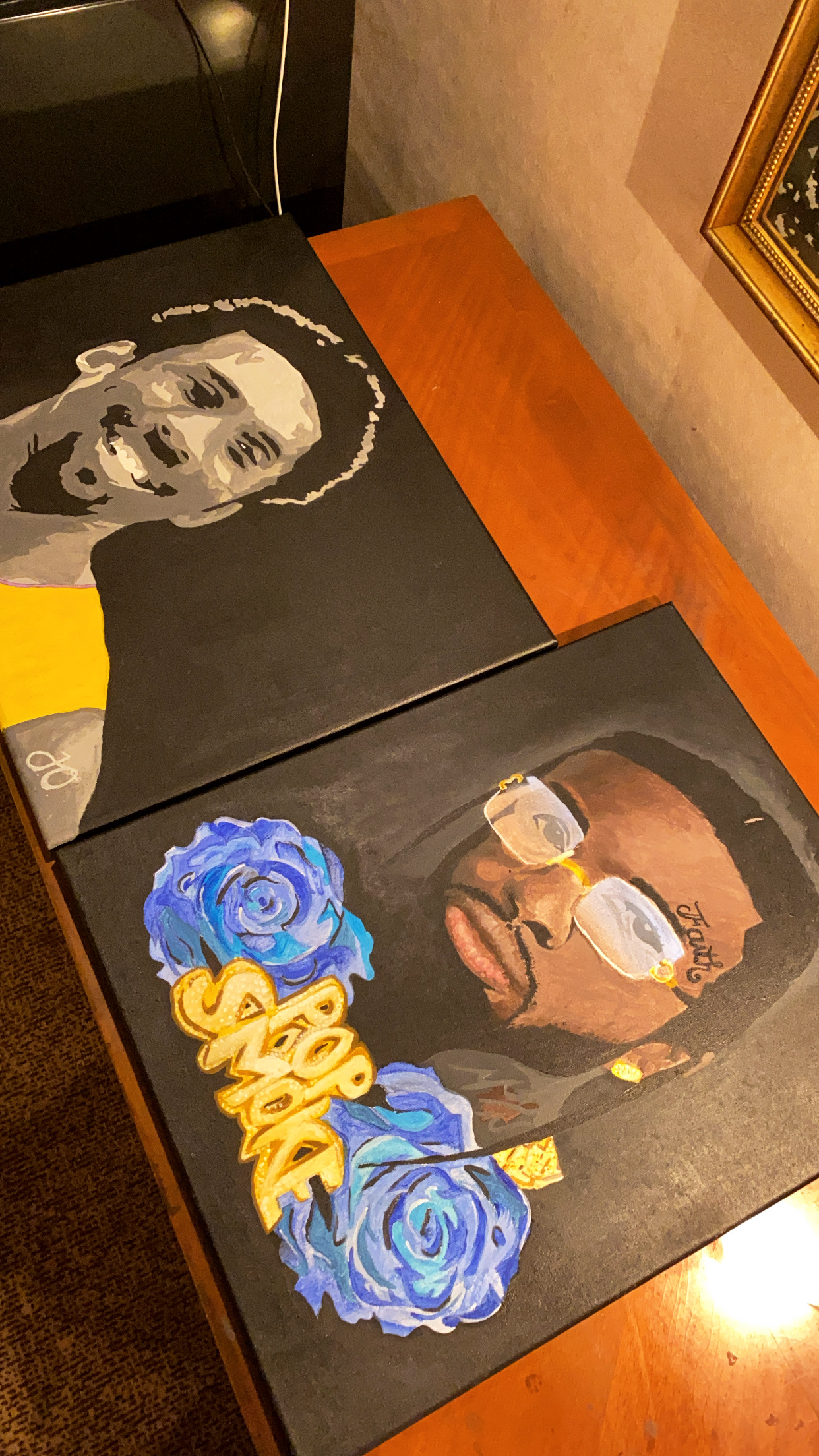 The Seattle native was enticed by the idea.
"Breaking news!" he said about it, laughing in jest.
"Everybody pull up. Have fun with me. Maybe you might buy a painting or two."
His painting ability is earning renown. As he put it, "everybody's feeding [him] ideas."
"I got of course like George Floyd-[related] ones," Malonzo shared. "They want me to do, I think, the stuff like for social justice."
Here's where it gets even more interesting.
"I even got a couple people saying, 'Paint the Thirdy dunk!'"
Malonzo's introduction to the Philippine basketball scene was electrifying – the rare type of basketball play that left fans both speechless but also in a frenzy. Think hands on their heads.
In the first period of his UAAP debut for La Salle against historic rival and defending champion Ateneo, Malonzo received the ball off an inbound pass which was preceded by a Blue Eagles made shot. He ran down the court faster than anyone and leaped off on one leg when he got close enough to the rim.
Thirdy Ravena, in a defensive effort which personified why he was a multiple-time Finals MVP, attempted to block Malonzo from behind. In an incredible display of athleticism, Malonzo cocked the ball behind his head, then hammered it down the rim while his would-be deterrent sprawled down the court.
Upon Malonzo's landing, let's just say he took the highlight as an opportunity to trash talk.
Ateneo, however, won the game.
"It's a play. Two points. We won the game. Doesn't matter. It happens," Ravena said afterwards. "You get blocked, you get dunked on. Part of the game."
Malonzo, who went more into detail discussing the dunk in the podcast, was asked what Thirdy would do if a copy of the potential painting was mailed to him in Japan, requesting his signature.
"Oh, man. Oh, man. I don't know, man," he responded, laughing. "I think…you know, he's sure to call me up talking crazy if I were to do that!"
The two are now friends and have been teammates under Mighty Sports. They keep in touch.
"Yeah, man, [the painting's] just a suggestion," Malonzo said.
"So we'll see!"
Art isn't the only skill Malonzo possesses. This other one, unfortunately, might never go public.
"I got a few songs on my phone, man, but secretly, for sure," he said.
"I don't think those are ever going to come out, but I got a lot of compliments on my own."
He gave that line when asked if hoopers secretly want to also be musicians, while admitting he has his own original creations.
"Original, man. I have this one of my friends who was back home and we get bored, man, and my brothers have a studio at the house. So we just cooked up some magic."
"Those are probably never going to come out," Malonzo emphasized.
"But I got a lot of compliments on them. So you never know, I might just be a rapper one day…psych, probably not, but…"
Time will tell.
Like most people, there's more to Malonzo than meets the eye. You can call him a hooper, an artist, or a musician, but he also empathizes with those who like him have suffered cruel injustices. He knows firsthand what it feels like to be on their side of the social spectrum.
"I know that there's a lot going on with the hate on the Asian community [in the United States] and I think that's a big one, you know? Also, the hate on Black America, you know? And so being both of those, you know, I sort of had sentimental value in my heart for a lot – everyone, just everyone who experienced that.
"I know back home in the States, you know, I had my fair share with a cop or two one time and it just sucks – me being colored and just mistreated, you know?"
In the PBA, the oldest basketball league in Asia, Malonzo will have an opportunity to be an example of the excellence which can be accomplished by those from the Black and Asian communities.
But it won't be just through basketball he accomplishes this. With the way things are going, he'll also carry it out through art and, perhaps, music.
Then again, who knows what else the future has in store? It is limitless.
"Exactly," Malonzo agreed. – Rappler.com