World No. 2 Rafael Nadal celebrates Alex Eala's maiden professional title!
Tennis great Rafael Nadal heaped praise once again on the country's teen tennis sensation Alex Eala after she bagged her first women's pro title on Sunday, January 24 in Manacor, Spain.
"Congratulations @alex.eala for this important moment in your career. We are all very happy for you. Keep up the good work and attitude," wrote Nadal on Instagram.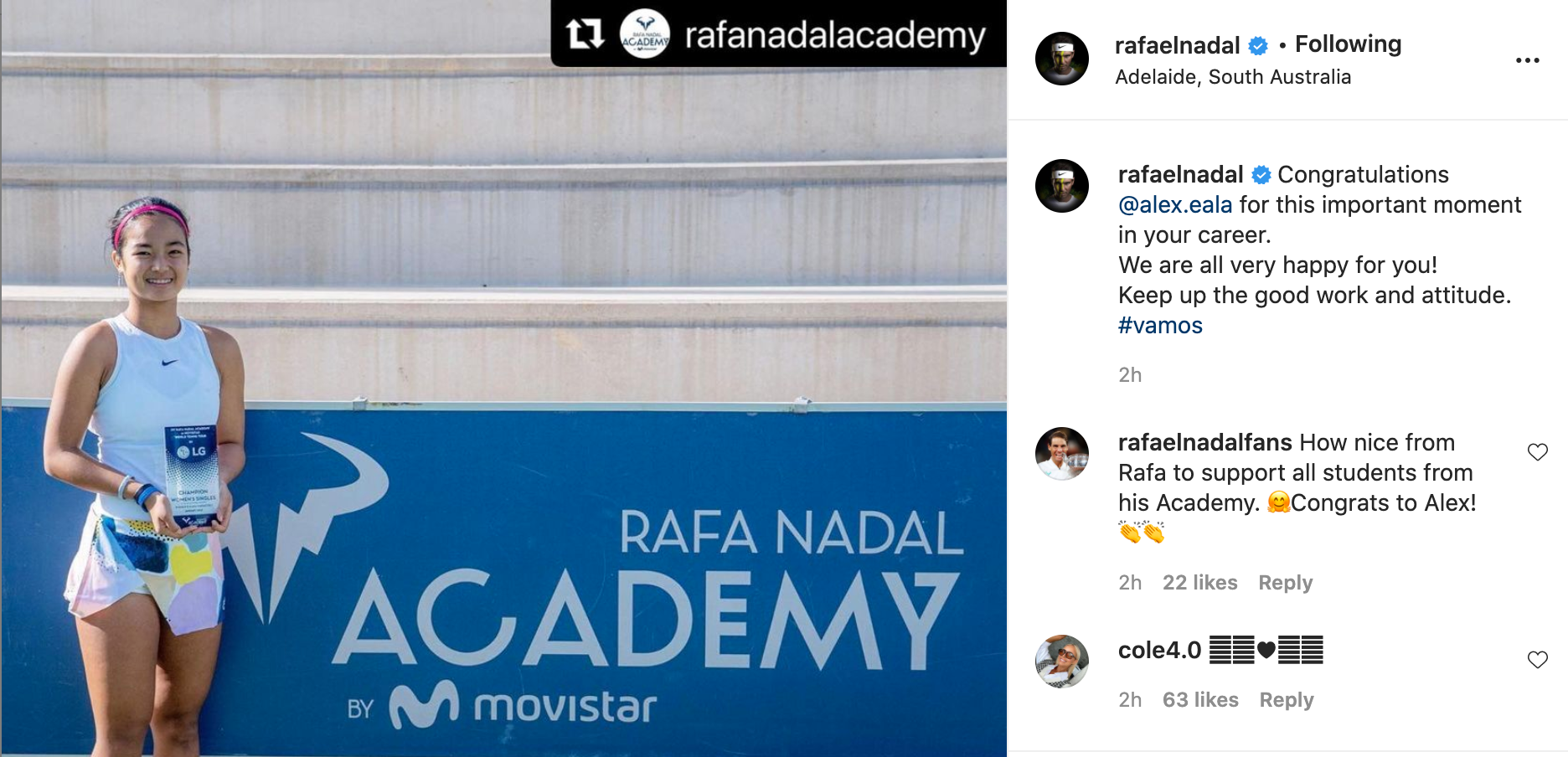 15-year-old Eala, who is a scholar in the Rafa Nadal Academy in Mallorca, Spain, defeated 28-year-old hometown bet Yvonne Cavalle-Reimers in the finals of the ITF Rafa Nadal Academy World Tennis Tour tournament. (FAST FACTS: Who is teen tennis sensation Alex Eala?)
The Filipina tennis ace registered key wins over ITF singles world No. 2 and the event's top seed Seone Mendez in the 2nd round and the tournament No. 5 Carole Monnet of France in the quarterfinals.
In the tournament, Eala nailed her first professional quarters berth and went all the way to seal the title in the $15,000 women's event.
The men's tennis' world No. 2 is currently quarantined in Melbourne as he is set to participate in the 2021 Australian Open, which is marred with controversies over the virus.
With the cancellation of the Australian Open juniors tournament, Eala and Indonesian partner Priska Nugroho will not be able to defend their 2020 Australian Open juniors doubles title.
After kicking off the 2020 season with her maiden Grand Slam title in Melbourne, the 15-year-old tennis star became the Philippines' first junior Grand Slam semifinalist in 35 years in the Roland Garros girls singles tournament. – Rappler.com