Get to know rising teen tennis star Leylah Fernandez
After pulling off an upset win over superstar Naomi Osaka in the 2021 US Open, Leylah Annie Fernandez has been garnering interest from tennis fans around the world.
Fernandez, who has Filipino roots, has been on the rise since turning professional in 2019 and may just become one of the players to watch in the coming years.
Get to know more about the latest teen tennis sensation:
Her father is an Ecuadorian pro soccer player and her mother is Fil-Canadian
Fernandez has interesting roots as her father Jorge is a former professional football player of Ecuadorian descent and played across South America, while her mother Irene Exevea is Canadian of Filipino origins.
She is the second of three children. Her older sister Jodeci is a dentist, while her younger sister Bianca Jolie is also a tennis player.
Born and raised in Montreal, Canada, the whole family moved to Florida after her success in the national tournaments when she was 12 years old.
In Florida, a hub for top tennis talents, the Fernandez sisters managed to concentrate on their tennis careers.
She started playing tennis at the age of seven
Fernandez explored other sports like football, track and field, and volleyball, but she enjoyed playing tennis the most.
Though her father did not have any tennis background, Jorge became Leylah's first coach and used his experience as a professional athlete to help his daughter. He ended up learning tennis as well.
When she jumpstarted her career when she was seven years old, Fernandez suffered early setbacks as she was cut from the provincial development program in Montreal that was in partnership with Tennis Canada.
But with Jorge's experience – as he himself turned professional in his sport at 13 years old – he mapped out ways for the young Fernandez to develop her techniques and improve her fitness.
She is a junior Grand Slam winner
Fernandez captured the 2019 French Open girls singles title after she defeated American Emma Navarro in the final.
She became the first Canadian to win a girls junior Grand Slam title since Eugenie Bouchard in the 2012 Wimbledon tournament.
The Fil-Canadian was on fire in 2019 as she kicked off the year with an Australian Open girls single final berth, but succumbed to Danish player and No. 1 seed Clara Tauson.
She turned professional in 2019
Fernandez burst into the professional circuit in 2019 when she was 17 years old and captured her first professional title in the Gatineau Challenger after defeating compatriot Carson Branstine.
She made her women's Grand Slam debut in the 2020 Australian Open, but got knocked out of the opening round of the main draw.
The Fil-Canadian rebounded with a third-round finish in the 2020 French Open and ended her 2020 US Open campaign in the second round.
After navigating through the professional tennis scene in 2020, Fernandez nabbed a breakthrough Women's Tennis Association title in the 2021 Monterrey Open, where she defeated Viktorija Golubic.
It was a remarkable feat for the 18-year-old, being the youngest in the tournament, and cruising to the title without dropping a set in the tournament.
She defeated Grand Slam champions, including world No. 3 Naomi Osaka
Fernandez is a Grand Slam champion slayer with her latest conquest being four-time titlist Naomi Osaka in the 2021 US Open.
The 18-year-old outlasted Osaka – who has been an icon for advocating the mental health of athletes – in three sets, 6-7, 7-6 (2), 6-4, in the third round at the Arthur Ashe Stadium.
She also ended Osaka's title defense bid in the US Open.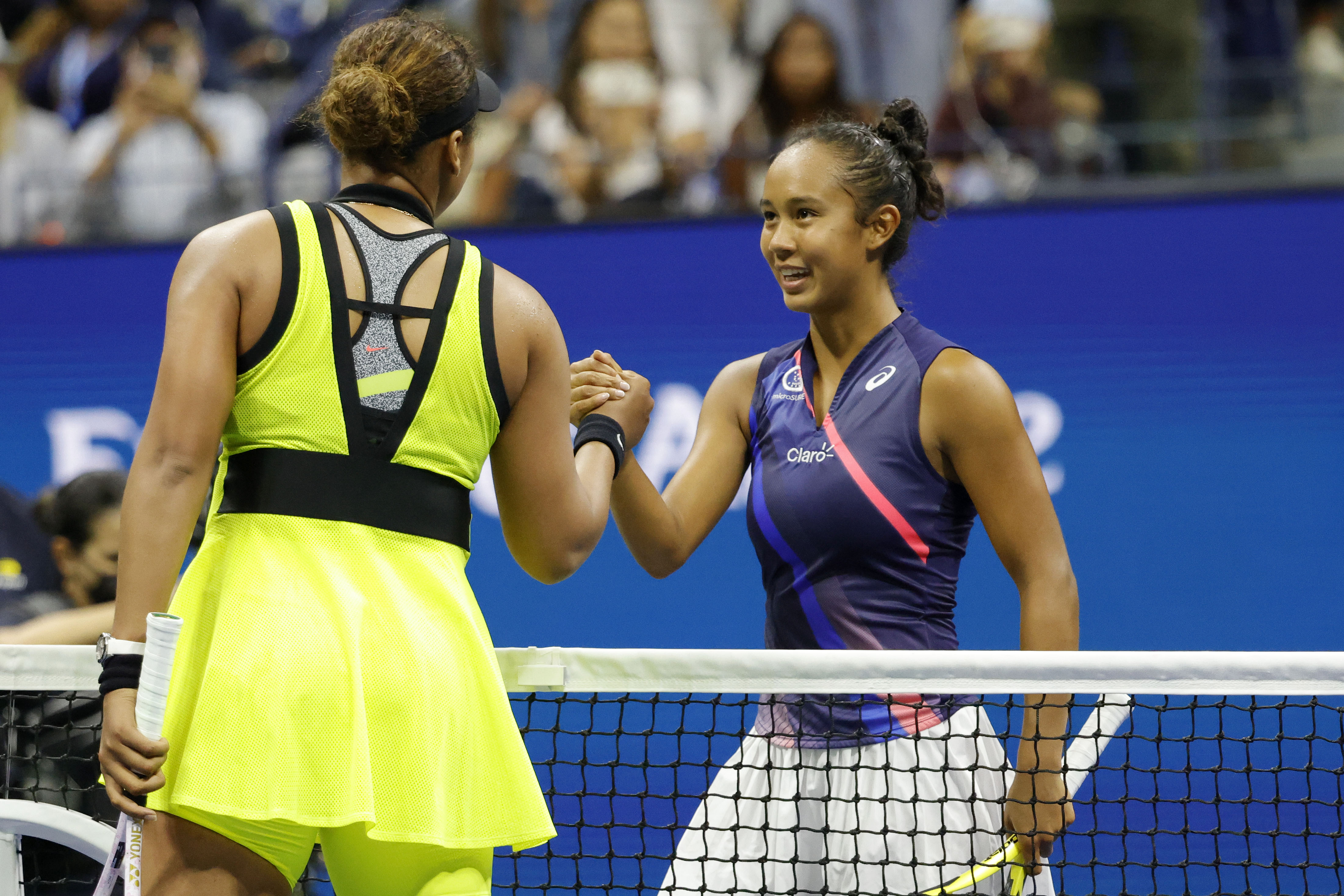 But Fernandez, currently world No. 73, had been registering major wins over tennis stars like 2017 US Open titlist Sloane Stephens and former world No. 4 Belinda Bencic of Switzerland, who was recently crowned the Tokyo Olympics women's singles champion.
She represented Canada in the Tokyo Olympics
Fernandez also achieved her dream of representing Canada in the Tokyo 2020 Olympics.
Despite the star-studded tennis talent from Canada, she was selected to be among the six-athlete tennis team, along with former world No. 4 Bianca Andreescu to compete in the Tokyo Games.
Fernandez won the opening round over Ukraine's Dayana Yastremska, but made her exit from the quadrennial meet in the second round when she lost to Czech Republic's Barbora Krejcikova. – Rappler.com