After the heartbreak of Season 76's UAAP finals loss, Jeric Teng believes his alma mater can make the finals while hoping they can avenge his loss to DLSU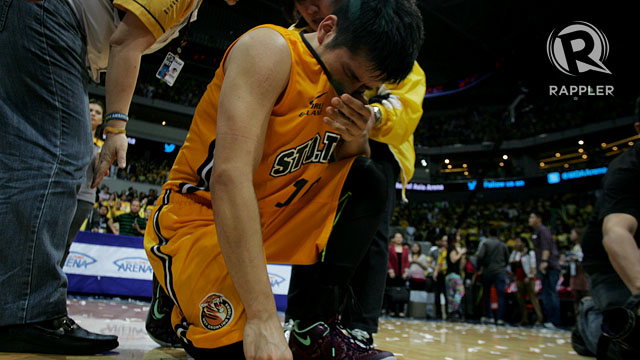 MANILA, Philippines – Heartbreak. 
That's how many UST students, alumni, and supporters summarize the conclusion of their UAAP seniors' basketball team's season last year, when they lost the finals to the De La Salle Green Archers in three games.
It was heartbreaking because it seemed the fates had aligned for the Growling Tigers to win the championship. A year removed from getting swept by the Ateneo Blue Eagles in Season 75's finals, UST raced off to two straight wins in the elimination round, only to lose starter Jeric Teng to injury in the team's third game against National University.
Teng would return towards the end of the season, helping his club attain a Final Four berth in his final year of eligibility with an 8-6 record. But it was no easy task. The Growling Tigers needed a pair of miraculous clutch threes from Aljon Mariano in their second-round contest against FEU to keep their playoffs chances alive, and had to take down Ateneo in a knockout game to earn the No. 4 seed. 
The basketball gods were on UST's side, however, as Mariano helped his Tigers get by the Tamaraws in the important matchup and the Blue Eagles faltered late against the Thomasians in the knockout match. 
What awaited Pido Jarencio's boys next wasn't appealing, as his team was required to take down No. 1 seed NU, which had a twice-to-beat advantage.
Still, no problem.
The Growling Tigers smothered the Bulldogs, forcing two-time UAAP MVP Bobby Ray Parks to say that UST was his "Detroit Pistons," referring to the Bad Boys who gave Michael Jordan hell in the late 80's. Up next on their plate were the Green Archers, who shocked the college basketball community by making an improbable run at the finals.
The Tigers won game one after a miss by an open Almond Vosotros and some crunch-time defense by Karim Abdul on LA Revilla at the buzzer.
DLSU, though, flipped the script in the second game, overwhelming the Growling Tigers with their presence in the paint en route to tying the series.
Game three was a duel for the ages. After UST seemed to take control when they erected a 15-point lead, La Salle rallied and was able to force overtime in which they pulled out the stops to steal the crown from their rivals. 
The Growling Tigers' Cinderella-like run had come to an end without the epic finish they were hoping to celebrate.
What followed next was a tough offseason. Aljon Mariano had taken flack from the UST community and others for his poor performance in the finals. Teng's UAAP tenure was over, followed by the inception of his PBA career. And probably worst of all, the emotional leader the Tigers and their fans looked up to, Coach Jarencio, accepted an offer to mentor GlobalPort in the pros
Some have counted out UST, stating that the added pressure on mainstays Kevin Ferrer and Mariano will be too tough a stumbling block to overcome with Teng gone. There's also the obstacle of getting more production from the point guard situation. Jamil Sheriff did not prove to be a viable option last year, and DLSU transferee Renzo Subido, who led the UAAP juniors' tournament in scoring for Zobel last year, didn't crack the roster in time.
And most of all, there's the burden of having to learn the system of new head coach Bong Dela Cruz, who's taking over for a team that has used Jarencio's style of play dating back to 2006.
But despite the discouraging signs, one recent graduate thinks his former squad can still make a go at the UAAP finals.
"I think kaya (I think so)," Jeric Teng answered Rappler when asked if he believes his former team can win the UAAP title in Season 77. "It will be tough, knowing that La Salle really has a strong team. But I think UST will really fight until the end."
Teng makes two good points. La Salle is returning this season with only LA Revilla as the significant absentee from its championship core. They also have talented incoming rookies like Abu Tratter, Prince Rivero, and Julian Sargent, who each showed flashes of brilliance in the 2014 FilOil tourney.
But after La Salle, it's safe to assume the rest of the competition is wide open. (WATCH: Teng, Van Opstal, Perkins talk DLSU FilOil title win)
Ateneo's finish may be determined by how quickly its rookies grow. UE has to deal with the immaturity of its main big man, Charles Mammie, and developing under new coach Derrick Pumaren's dynamic. FEU is learning a new spread offense with Terrence Romeo and RR Garcia out of the picture. NU no longer has Parks or Emmanuel Mbe. Adamson and UP also have challenges to figure out.
UST could catch fire at any time like they did last season and make it to the finals again. La Salle isn't perfect as well, having shown a tendency to find ways to beat themselves. The thought of the Growling Tigers making a surprising run at the championship isn't impossible.
"The core of the team is still there. You have Kevin (Ferrer), (Ed) Daquioag, (Karim) Abdul, and (Aljon) Mariano. I think they'll still be okay this season," noted Teng, who participated in Year 2 of the Master Game Face Challenge on Saturday, June 21.
And with regards to who will be the go-to-guy in late-game situations – a role Teng played most of the time last year – he mentioned that it's something the team will figure out as a whole.
"First of all, every year naman may nag gra-graduate na player (Every year, there's a player who graduates.) So, I think all of the players should step up. It's natural for everyone to step up. Siguro, maraming go-to guys (There's a lot of go-to guys.)
He talked about three he had in mind.
"Abdul, Ferrer, and Mariano. I think those three will really show what they can do come crunch time."
But Teng did single out one of the names mentioned above – Ferrer – who received criticism last season for some of his unpleasant tendencies on the court. 
"Well I think si Kevin, yung maturity," said Teng, referring to what his former teammate needs to improve on. "Cause he has all the skills. He can shoot from the outside, he can drive, and he can defend."
Ferrer averaged 12.2 PPG, 7.4 RPG, 0.8 BPG last season for the Growling Tigers. He also took most of the defensive duties, assigned to guard the best perimeter player of the opposition because of his long arms and athletic prowess. In the playoffs, his defense on Parks was sturdy enough to make the latter utter his comment regarding the Pistons of two decades ago.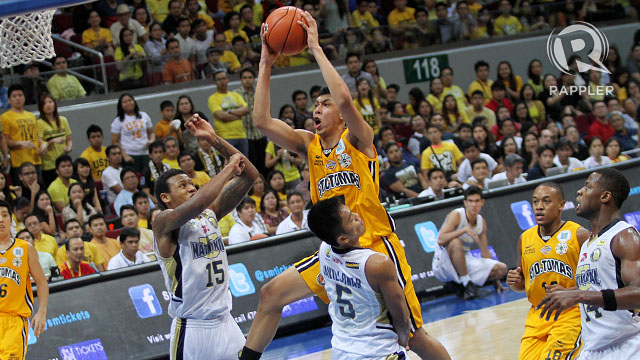 In the finals, though Jeron Teng led his team to victory and was Finals MVP, he was hounded by Ferrer's defense on every possession and was forced to multiple key turnovers by the UST stalwart down the stretch in Game 3.
Ferrer's talents can propel him to being one of the top players in college basketball. The final obstacle is his maturity. His past teammate shares the same sentiment.
"I think yung maturity nalang, at yung experience nalang. Yun yung [mga] gagamitin niya every day (I think he just has to work on his maturity and experience. Those are two factors he will use every day.)
"I think that can help him improve," Teng added.
Teng sees UST as a team that can make the finals. He also thinks DLSU would be the squad they face if they get there, setting up a sequel of last year's thrilling encounter.
"I think they (Growling Tigers) can still make it to the finals. I'm hoping for a DLSU-UST rematch."
But such a scenario would leave the elder of the Teng Brothers with a tough choice to make, for loyalty purposes.
"It's hard," he said about picking a side between the two teams. "I'll be cheering for Jeron. Pero syempre (But of course), if UST wins, I'll still be happy."
But whom would he be rooting for?
"Syempre (of course), blood is thicker than water." – Rappler.com