As UST seeks to rebound from last season's Finals heartbreak, Naveen Ganglani analyzes what the addition of Renzo Subido brings to the Growling Tigers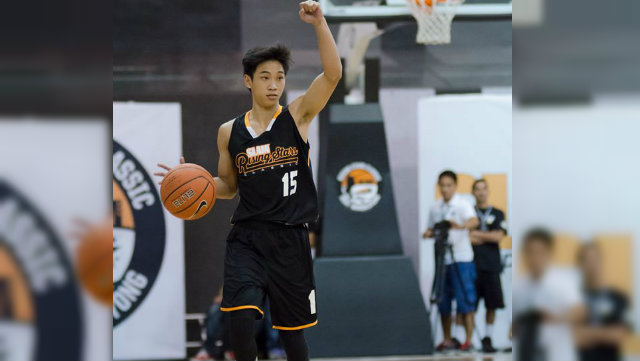 MANILA, Philippines – It's been a whirlwind of a summer for Renzo Subido.
For those who don't know, Subido played high school basketball for De La Salle Zobel in the Jr. UAAP division. In his junior and senior seasons, he led the entire league in scoring and also had more three-pointers than anyone else in his fourth year. In season 75, he was given a slot in the UAAP Juniors' Basketball Mythical Five team for his performance on the court.
In February, news came out that Subido would play for University of Sto. Tomas (UST) at the collegiate level, taking the same route as Jeric Fortuna, a former DLSZ Junior Archer turned UST Growling Tiger. But a few weeks later, reports surfaced that Subido and his family changed their mind and he would suit up for La Salle in college instead.
During an exclusive interview, Subido himself confirmed the move and mentioned that it was La Salle's educational system which made him decide to choose Taft over Espana. Not that there was anything wrong with UST's system; he was just attracted by DLSU's engineering program. 
He then spent his summer training with the team and suited up for the Green Archers in their first 2014 FilOil tournament game against University of the East, in which Subido did not see action. However, in La Salle's next game against JRU, Subido was nowhere to be found at the arena. After the contest, Rappler talked to DLSU assistant coach Allan Caidic – who was then filling in for the absent Juno Sauler – and he stated that after talking with Coach Sauler, Subido decided to forego a college-playing career with the Green Archers.
While some questioned why the former Zobel player changed his mind again, rumors emerged about possible other landing spots for the sought-after point guard. There were murmurs about Coach Derrick Pumaren being impressed by Subido's talents that he offered him a spot in UE to back-up Roi Sumang, and there were also reports about the young talent going back to his original plan of playing for UST.
Not long after, the latter was confirmed, though due to the timing, Subido was reportedly unable to crack UST's roster in time for Season 77. Simultaneously, Subido was off to Guangzhou, China, where he was invited to participate in the Nike All-Asia Basketball Camp and was part of the clinic's Mythical 5.
However, fast-forward to two days ago, and people inside UST began to mention the possibility of Subido being included in the Growling Tigers' roster for the upcoming season. In an effort to confirm this development, Rappler reached out to a source close to the situation who prefers to remain anonymous. The source confirmed that rest assured, Subido will indeed suit up for the Growling Tigers this year. 
So, now with his choice of college settled and eligibility cleared up, how does Subido help the Growling Tigers, and will it be enough to help the club better contend for a title?
What does Subido bring?
UST was one game, a few unlucky bounces, and a clutch Almond Vosotros jumper away from winning the seniors' basketball title last season against the DLSU Green Archers and putting a memorable finish to its storybook season. However, La Salle flipped the script and snatched the championship away from their rivals, making it a sad ending for Jeric Teng's title-less career.
The aftermath of the defeat was ugly. Many accused power forward Aljon Mariano of throwing away the three-game finals, though the evidence points to him just struggling as he averaged just 4.67 PPG in the series and was missing shots he normally made. Teng had played his final year of eligibility and was PBA-bound, and the same would be the case for Head Coach Pido Jarencio, who earned the adoration of the UST community for his "3 Ps" mantra: Pride, Puso, and Palaban, but accepted a job in the pros to coach GlobalPort.
Under the radar in the wake of the loss and changes to the team, many failed to realize that the Growling Tigers' lack of production from the point guard spot played a huge role in their loss to the Green Archers. Jamil Sheriff, who late in the season became the starting PG for the team, put up just 4.67 PPG in the finals. Thus, the responsibility of scoring fell on the shoulders of four players – Teng, Mariano, Karim Abdul, and Kevin Ferrer. Only three of them delivered, and they still got so close to coming out on top.
UST didn't have a scoring threat who could also run the offense at point guard last season, which was the year following Fortuna's graduation. Now that Subido is around, that should be remedied.
Subido stands at 5-foot-9 and weighs only 135 pounds (according to SLAM's profile on him for the Slam Rising Stars game a few months back), but he was able to score effectively against the opposition he faced in the Jr. UAAP with a 57% field goal average. His quickness enabled him to get to the rim almost at will, getting him easy floaters and lay-ups or trips to the free throw line, where he made 70% of his attempts. And when left open, he would consistently knock down open shots.
SLAM predicts Subido to be like Roi Sumang, who is UE's point guard but is more of a scorer than he is playmaker. Some indicate that Subido's game resembles La Salle's Thomas Torres', who was a lethal scorer for La Salle Greenhills in his Jr. NCAA days.
It's hard to say whether Subido will duplicate the performance of Sumang, considering the latter is one of the best college hoopsters in the country today. The Torres resemblance makes a lot of sense because both play offense similarly – they like attempting floaters in the lane and are marksmen from the outside. However, there are a few differences as well.
Torres is a much peskier defender and can hold his ground against opposing PGs. Subido, who was assigned to man Hubert Cani in the SLAM Rising Stars Game, had a tough time dealing with the latter's bulk and couldn't stop him from penetrating, though the effort was there. Needless to say, the incoming Growling Tiger needs to learn to use his speed to his advantage when manning his opponents.
Moreover, Torres plays a lot at point for La Salle, but can't really create for his teammates and isn't the general of the offense – that designation belonged to LA Revilla last season and will belong to Almond Vosotros in the upcoming season, as indicated by DLSU's execution in the FilOil tourney. 
The criticism on Subido is that while he can be a viable scoring option, he needs to improve on playmaking and setting up for others. In UST, it's going to be important he develops his passing quickly since guys like Abdul, Mariano, and Ferrer will ask for the ball a lot. However, though he still needs to polish his playmaking, the signs are already there that Subido can be an elite passer.
During the Rising Stars matchup, Subido totaled only two points but finished with four dimes, and he could have had more had his teammates not missed so many open shots which he created for them. With his array of crossovers and ability to draw defenders in the paint, Subido showed a knack for hitting the open man in the corners and wings for open threes. That attribute is going to be crucial when he plays for UST next season, considering the line-up they will likely field come crunch time.
What does this mean for UST?
As an individual talent, Subido alone isn't going to be enough to propel the Growling Tigers back to the finals. But if you mix him with the pieces new head coach Bong Dela Cruz already has, it's a perfect partnership.
Save for a very short list, no one in the UAAP can stop Abdul in one-on-one coverage. The Cameroonian big averaged 15.8 PPG and 11.1 RPG last season, and increased his output to 19.3 PPG and 9.7 RPG against DLSU's tall frontline in the Finals. He also took 119 trips to the charity stripe, where he converted 71% of his shots, so "Hack-an-Abdul" is something opponents can't rely on.
If Coach Dela Cruz decides to surround Abdul with four shooters, it makes UST's offense much more dynamic and lethal. The big guy will constantly attract double-teams, leaving a guy or two open. Subido has proved he can knock down the 3-ball. Ferrer averaged just 21% from long-range last season but was 38% in the finals against La Salle. Mariano just made 25% of his three-pointers last year but always seemed to knock down the critical ones, like here:
The potential to be a consistent sniper is there for Mariano; it will take just a little more practice. The question is, who will Dela Cruz insert to take over the void left by Teng? Ed Daquioag is more of an off-the-bench guy who will provide hustle. Sheriff didn't even attempt a 3-ball last season. Kim Lo took 14 threes last year and only made two. Clark Bautista, UST's best outside shooter last season, has graduated. 
The answer may lie in the returning Louie Vigil, who missed Season 76 due to personal reasons.
In his first two years with the Growling Tigers (2011-2012), Vigil didn't attempt many threes but did hit 31% from downtown while averaging 5.6 minutes per game. With the current make-up of UST, an increase in his playing time is highly possible, also taking in consideration the experience he gained from playing in the PBA D-League with Blackwater.
Here's an example of how everything mentioned above could possibly play out:
Images courtesy of ABS-CBN Sports + Action's YouTube
In one possession of Game 1 between La Salle and UST in the image above, Abdul manages to get good post position and picks up a double-team from Norbert Torres and Jason Perkins.
Knowing a teammate will be open, Abdul finds a target in Daquioag, who wisely gets within range to receive a pass from his teammate. Perkins, realizing someone was free, quickly tries to close out.
Perkins raises his arm as he tries his best to contest, but Daquioag has enough space to launch a good attempt. The shot didn't go in, but had Ferrer, Mariano, or another one of Coach Jarencio's shooters taken it, the result may have been different.
You could say that facing UST could be like a "pick your poison" scenario. You risk single coverage on Abdul and hope he doesn't beat you by himself as you stay home on shooters. Or, you open Pandora's Box and live or die by UST's three-point shooting.
It's the UAAP, so there will be some nights the Growling Tigers go ice cold and hit only 3-of-18 from long range. But there will also be games they go on fire, and it's not going to be pretty for the opponent – especially if it's a playoff game.
The key here is Subido. He won't score as much as he did in the juniors' division, but he will get chances to put the ball in the hoop. First and foremost, though, he must take full control of ball-handling duties, learn the spots where Ferrer, Mariano, and Abdul like receiving the ball, and make sure to give it to them. With the aforementioned three players taking the attention of the opposition, Subido will have a lot of open looks and lanes to cut for easy baskets.
Furthermore, thanks to Subido's athleticism and ball-handling prowess, stopping a pick-and-roll between him and Abdul will be very tough. Last season with Sheriff in such situations, defenses mostly opted to stay home to Abdul and force Sheriff to beat them by taking jumpers, which yielded great results for the opposition more often than not:
That strategy won't work nearly as effective with Subido operating the screen-and-roll due to his ability to get to the rim in a blur and his handy floater when he attempts from mid-range.
Nonetheless, questions remain on defense. Will he bulk up to better contain opposing point guards, even if it means adding some weight and reducing some of his speed? A bright side to playing Mariano at PF is that it gives Coach Dela Cruz someone who can switch onto PGs when defending pick-and-rolls thanks to his length. Abdul is also a really solid rim protector, and doesn't get enough credit for his verticality. 
Ferrer, meanwhile, is as good a perimeter defender as anyone in college basketball. In last season's Final Four round, UST beat No. 1 seed NU in consecutive games because of Ferrer's hounding defense on two-time UAAP Bobby Ray Parks, who later on said that Ferrer and UST were his "Detroit Pistons," referencing to the Bad Boys giving Michael Jordan hell a few decades ago. In the Finals, though Jeron Teng was playing out of his mind, it was Ferrer who forced the would-be Finals MVP to critical turnovers down the stretch in Game 3.
DLSU-UST part 2?
Subido's inclusion gives UST another offensive weapon. Maybe he won't be as polished right away, but he already has a gift for scoring. Improve his playmaking and you have a solid, top-tier point guard in the UAAP in the future. 
However, the pressure is on the Growling Tigers to win it all this year, considering Abdul and Mariano are in their finals years. Teng's departure left a dent in the scoring department, but that can be replaced by giving Ferrer and the two bigs more touches.
The question is who will step up in late-game situations? Mariano played that role from time to time last season, and even Ferrer had a late clutch three that helped UST win Game 1 vs. La Salle, among others. It could be one of the two or maybe a collective effort from both.
Another challenge is that the guys will have to learn a new system under Dela Cruz after being mentored by Jarencio for the past few years. Winning a title under a rookie head coach isn't impossible – the latter did it in 2006 and Sauler last year – but it's a difficult task.
Though here's a positive aspect adding Subido does: it puts some separation between UST and the rest of the competition, not counting La Salle. 
Ateneo's success will depend on how much help Kiefer Ravena, Chris Newsome, and company can get from their rookie teammates. FEU is entering year one post RR Garcia and Terrence Romeo. NU has lost Parks and Emmanuel Mbe, both of whom were Mythical 5 selections. UE needs to find production outside of Sumang, Chris Javier, and Charles Mammie, their starting big man, who has shown episodes of immaturity.
UP is improving by tilting towards playing smallball, as confirmed by Head Coach Rey Madrid in FilOil. But they still lack inside production and haven't made the Final Four in years. Adamson is entering year two of a rebuild with a new coach.
With a set of veterans hungry to atone last year's disappointing finish, a more seasoned supporting cast, and a rookie with a lot of potential, it won't be shocking to see the Growling Tigers back in the Finals against the Green Archers last season.
La Salle will still be the favorite. They have depth at the big man position to at least help contain Abdul one-on-one, with Arnold Van Opstal, Torres, Perkins, and Matt Salem back in action, and a bulkier Yutien Andrada coming back from a torn ACL. Jeron Teng has improved his game even after winning Finals MVP, Vosotros is still around, and the Taft-based team is deeper with new recruits Prince Rivero, Julian Sargent, and Abu Tratter. 
But the Green Archers have shown instances where they tend to beat themselves, and it could prove critical against UST.
The series could go the distance again. A few lucky bounced help determine the 2013 finals, and a few lucky bounces UST's way may give them a chance to complete the upset. – Rappler.com