This is AI generated summarization, which may have errors. For context, always refer to the full article.
The Clutch Cat ends his time as a Tiger quietly with his team out of the Final Four, but with memories that will last a lifetime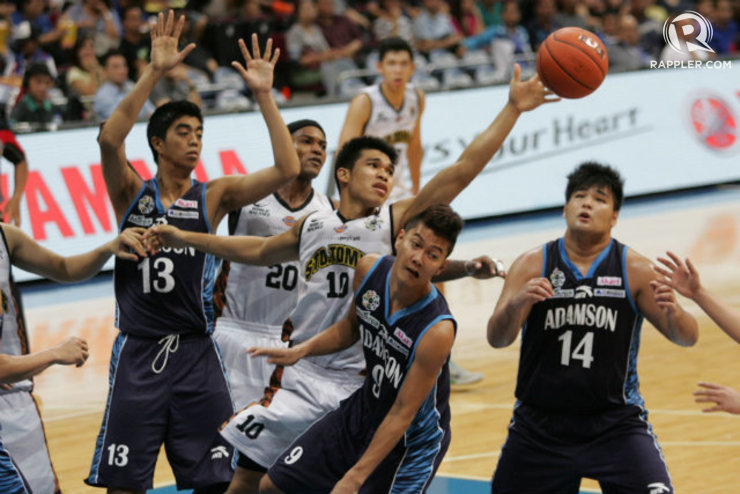 MANILA, Philippines – When the final buzzer rang on Aljon Mariano's final UAAP game, his stat sheet showed 18 points, 3 rebounds, an assist and two steals. Though the University of Santo Tomas Growling Tiger would finish the game on the bench after fouling out, he went out with a performance to be proud of.
But after Aljon Mariano shook the hands of the UE Red Warriors and took his place among his teammates of half a decade, he closed his eyes, raised his right fist in the air, muttered lyrics to the school hymn and, devoid of the roar of a winning crowd, quietly ended his UAAP career. (READ: UE turns back UST to book Final 4 playoff date with NU)
It was as anticlimactic as it could get. The Tigers' captain walked away from his collegiate career with his team thrown out of the Final Four, miserably looking in. This disappointing finish came after back-to-back Finals appearances in Seasons 75 and 76, with Mariano playing a major role in both. 
But UST's performance plummeted drastically this year after it lost King Tiger Jeric Teng and longtime coach Pido Jarencio. And Mariano, the Clutch Cat that he is, could do nothing about it.
However, even if the ending was not how he envisioned it transpiring, the 22-year old embraced what was given to him. 
"Masaya naman ako ngayon," Mariano said after the loss. "Siguro okay naman yung ending namin kaso hindi namin nakuha yung panalo. Tinry ko na lang maging positive sa lahat ng nangyari." (I'm still happy right now. How we ended it was okay even if we didn't get the win. I just tried to be positive despite everything that happened.)
Before taking the court, Mariano set his mind to think positive and play the game in its purest and most innocent form, without pressure and with nothing at stake. 
Mariano approached his last game like any normal person would.
"Naging positive lang ako, sabi ko sa sarili ko enjoy mo lang yung game mo. No pressure." (I stayed positive, I told myself to just enjoy the game.)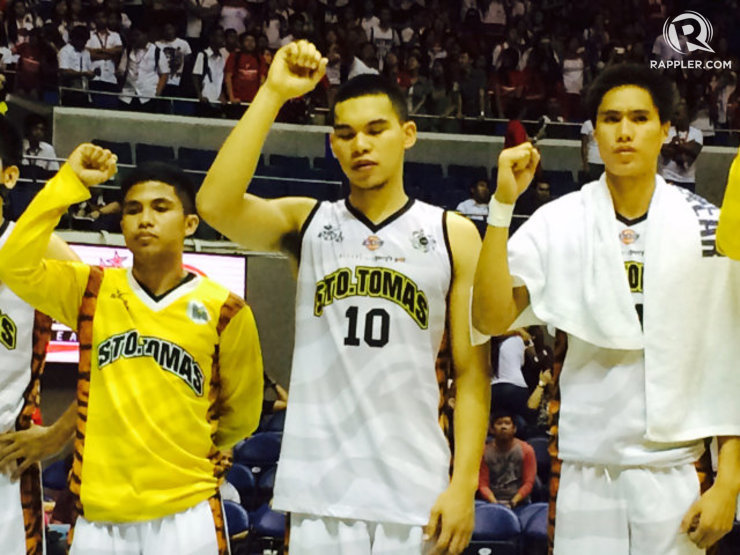 A season of disappointment 
Yes, Mariano came into his last game as a Tiger with a sense of acceptance of his team's disappointing season. But that does not mean he didn't feel even a tinge of regret over it.
"Parang bitin kasi two years nasa Finals kami pero this year, wala," he admitted, not forgetting to factor in the crushing weight of letting down UST's loyal throng of supporters. 
"Syempre pag in-assess ko yung buong season disappointing talaga sa amin. Kasi pag tinignan mo yung team namin parang malakas kasi maraming veterans na andyan," he explained. "Nag-expect mga tao na UST yan nasa top 4 yan sigurado."
(It feels like it ended so suddenly because for two years we were in the Finals and this time we're not. Of course if I assess our whole season it's obviously disappointing. We're a team that seems competitive enough because we have the veterans. And everyone expected that because we're UST we should be in the top 4.)
The most the Tigers could muster for Season 77 was a brief semblance of stability and direction with a 3-game win streak following a crushing opening weekend defeat against National University. But that was all they could handle as they lost their last 3 first round games then found no momentum in the second round. 
The Tigers didn't look like tigers. They were more like newborn cubs who couldn't quite get the hang of walking straight under a new coach or, perhaps more aptly, in a new era.
Swingman Kevin Ferrer then injured his wrist and was practically out for the rest of the season as the Espana crew bowed out of Final Four contention with a final 5-9 record to settle for 6th place.
UST started this season with a loss, and they ended it the same way.
"Bitin kasi gusto ko pa maglaro pero kailangan ko talagang mag-move forward from it," Mariano shared. "Yung mga experiences, grateful pa rin ako sa lahat ng nangyari. Sa lahat ng experience at lessons, move forward na lang." 
(It's anticlimactic because I still want to play but I need to move forward from it. I'm still grateful for the experiences and all that happened. With all the experience and lessons, I just have to move forward.) 
Apart from Mariano, Kim Lo and Paulo Pe are also graduating, leaving Kevin Ferrer, Karim Abdul, Ed Daquioag, and Louie Vigil as the new veterans of a team which last won a UAAP basketball title in 2006.
"Mixed emotions eh. Meron masaya, meron malungkot," said the 21-year old Lo who plans to finish his studies first before trying his luck in the PBA D-League. "After two years in the Finals ngayon na-eliminate kami. Masakit, kahit sa amin na seniors, masakit we left UST na nasa baba kami. Pero proud pa rin ako kasi we fought every game talaga." 
(Mixed emotions. It feels happy and sad. After two years in the Finals we got eliminated. It hurts, even for us seniors, it hurts we left UST and we were at the bottom. But I'm still proud that we truly fought every game.)
Memories, lesson to last a lifetime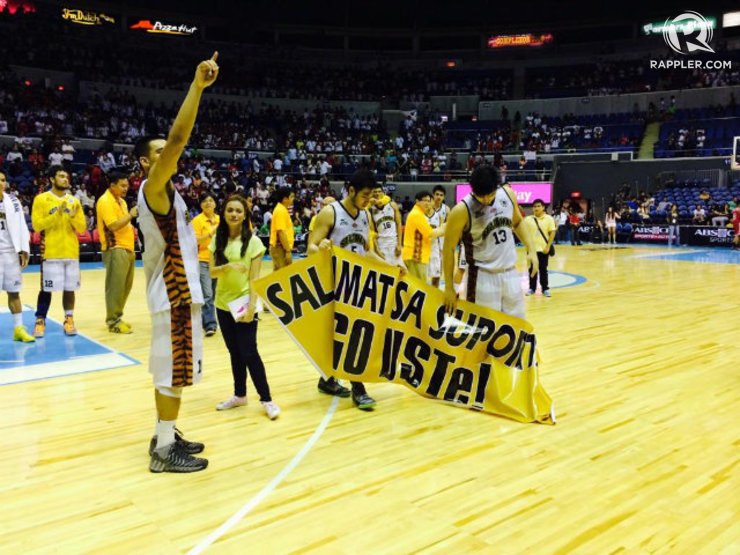 Looking back, Mariano's collegiate stint has been a wild ride. From dislocating his ankle to mounting a huge comeback in Season 75 to taking the brunt of the blame for a painful Finals loss in Season 76, Mariano can say he has grown and learned, moving on graciously as he should.
(WATCH: Aljon Mariano: The Missed Shot)
But if there's one greatest lesson he learned from being a Tiger, it's pouncing at exactly the right moment.
"Don't take anything for granted," said the forward who averaged 11.94 points, 6.76 rebounds and 1.96 assists in his UAAP career. "Lahat ng opportunities na dumadating dapat i-grab mo." (Grab all opportunities that come your way.)
And of all the little victories, string of failures, moments of solitude in the gym, and great fleeting times under the spotlight, what is Mariano's most unforgettable UAAP memory?
"Nung Season 75 kasi yun yung comeback season ko na galing ako sa dislocated ankle," he said thoughtfully. "Siguro yung game namin against Ateneo na down kami by 20 tapos nanalo pa kami sa game."
(During Season 75 because that was my comeback season after I dislocated my ankle. Specifically it was the game against Ateneo where we were down by 20 but we still won the game.) 
Aljon Mariano sang the UST hymn quietly to himself after UST lost its last game of the season to UE. He ended his season quietly, without a championship ring on him, without a Final Four appearance in his last year, and without even a win as the team exited Season 77.
His thoughts must have come rapid fire. Perhaps he contemplated what's next for him: Graduation and a marketing degree hopefully, he said, by next March; Playing in the D-League hopefully, he said, by October; And finally joining the PBA hopefully, he said, either by next year's draft or the one after that.
But after the hymn's final note, a loud bang of drums came from the Big Dome's rafters. It didn't come from the yellow gallery, it came from behind the Tigers on the court. The UE Pep Squad paid tribute to UST with a heartfelt cheer of the famous "Go USTe" with the entire UE gallery chanting loudly on.
The UST coaching staff then rolled out a banner that read, "Salamat sa suporta. Go USTe!" (Thank you for the support.)
Together, the entire team bowed and the coaches passed on the banner to Mariano, Pe and Lo, who all stepped forward as seniors saying their goodbyes to the community. Mariano high fived Lo, and all 3 of them raised their hands in the air.
Mariano waved his right arm in a circular motion in tune with the cheers, savoring his final moments with the black, white and gold. And he knew, right then and there, that this is what he will miss most. In his own words, "Yung crowd namin kahit talo kami nandyan pa rin sila para sa amin." (The crowd that, even when we lose, is still always there for us.)
Right then and there, he knew, that quietly wrapping up his UAAP career was not a bad way to go. – Rappler.com