Filipinos continue to identify weight loss as their No. 1 fitness goal
Weight loss continues to be the No. 1 fitness goal of many Filipinos.
REBEL, a local fitness app that provides free workouts, health education and recipes that uses ingredients that are readily accessible in the Philippines, conducted a survey of 120,000 Filipinos in the last three months and the research showed that 79% identified weight loss as their No. 1 goal.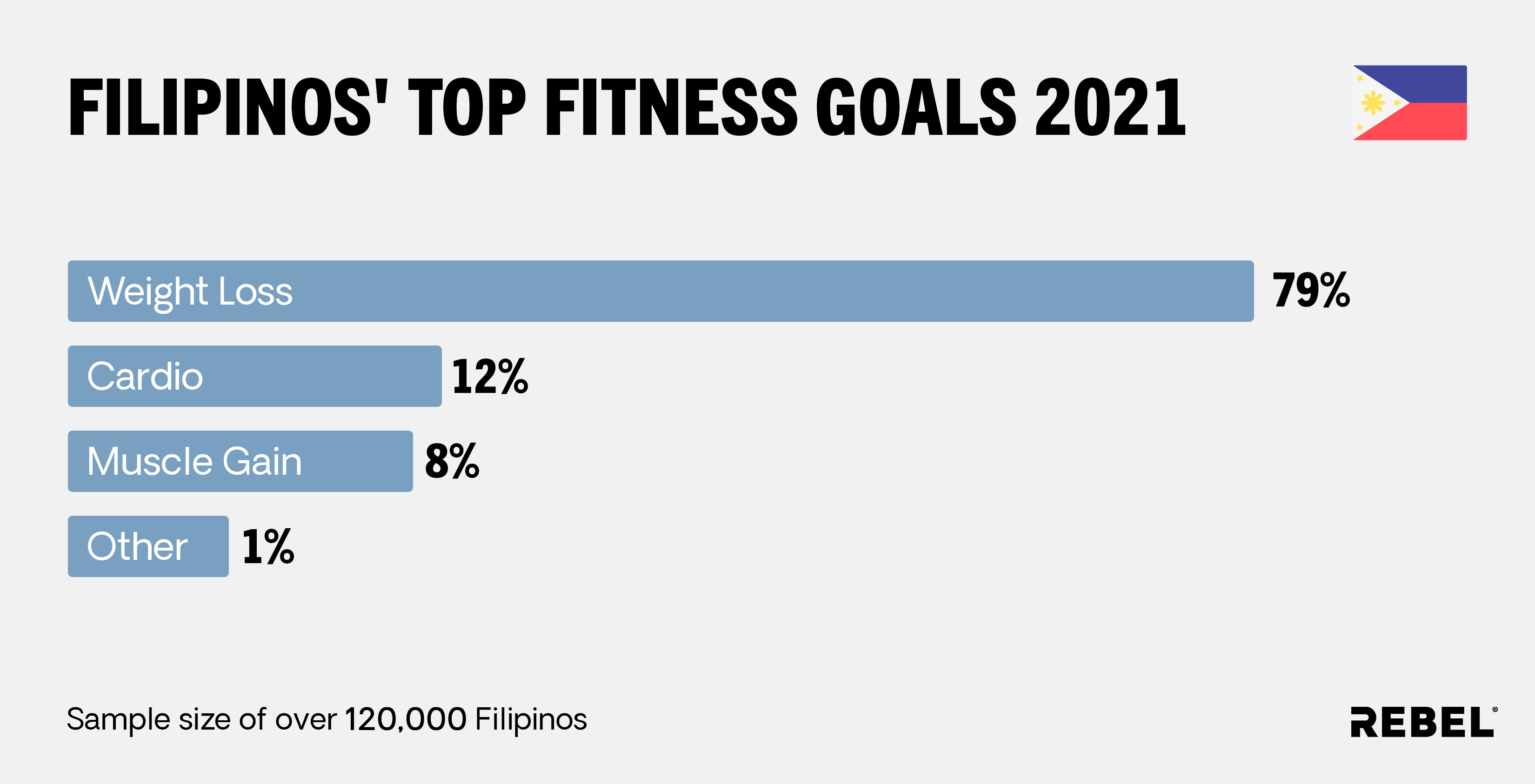 But there are still many challenges in achieving weight loss due to misconceptions about fitness and developing healthy eating habits amid Filipinos' love for food.
Here are three ways to overcome these barriers:
Focus on a balanced meal and eat in moderation
In the Philippines, there is a preference for oily, heavily processed, and fatty foods.
Some Filipino dishes like sisig, adobo, and lechon are packed with salt, sugar, and other flavorings, and may even be deep-fried in oil.
The best way for Filipinos to bond with loved ones is to share a good meal. Individual diets are usually taken out of the picture easily, which becomes difficult to take control over one's own eating habits.
Solution: There's no need in making drastic changes to one's eating habits.
A balanced meal, like binakol, ensaladang talong, or sinigang na isda, composed of protein, carbohydrates, fats, and fruits and vegetables can do the trick.
Eating enough is also a must. A common misconception with weight loss is that the less one eats, the more likely they are to lose weight.
This is not always the case, as this depends on the nutritional content of the particular food and you also need to take into account the urge to overeat or even binge later on, especially after depriving oneself of food.
Just remember to eat a little of everything in moderation.
Get rid of the all-or-nothing mindset
One of the most common reasons for being hesitant to start a new routine, especially a fitness routine, is not having enough time.
Filipinos who are unsatisfied with their overall wellness do not make fitness a main priority because of other responsibilities and the traffic situation in the Metro.
But there is still a need to shake things up in order to kickstart your road to fitness.
Solution: Get rid of the all-or-nothing mindset, because fitness, health, and nutrition are never all or nothing. There is power in small, doable habits, whether that means meal prepping one's breakfast, walking for five minutes every hour, or even doing short home workouts twice a week.
Take advantage of free apps
Another common misconception when starting a fitness journey is that it can get expensive.
People often think they need costly gym subscriptions or even fancy, imported ingredients such as quinoa and kale to set them up for success.
Solution: There are tons of free apps, live workouts, and ways to connect with experts and other people on your journey.
Apps like REBEL offer recipes that creatively make use of locally grown ingredients, which are accessible now in the market. – Rappler.com