When it is unveiled on February 24, the Samsung Galaxy S5 will most likely feature a 2K display, a better camera, and a new user interface
MANILA, Philippines – The much anticipated Samsung Galaxy S5 will be unveiled in Barcelona, Spain, on February 24, the start of the Mobile World Congress (MWC). 
Sources with inside knowledge of the release told Rappler that Samsung is planning its own Unpacked event at MWC, the event kicks off 6pm on Monday (Tuesday Manila time). 
Last week Mobile Review's Eldar Murtazin also tweeted that the S5's big announcement would be in February and not in March or April as previously speculated.
It's a going to be a make or break moment for Samsung. 
While the S4 was one of TechRap's best all-around smartphones of 2013, last year's S4 release was underwhelming. Samsung Executive Vice President for Mobile Lee Young Hee admitted the S4 didn't do as well as the S3 because it didn't feel different. 
Not that it's a bad thing. We've seen repeat-designs before, Apple's iPhone 5 and 5S, for example, look almost identical. With the S4 however, aside from a hardware upgrade and gimmicky software features, there wasn't a standout feature that screamed innovation.
This year as it plans to unveil the S5, Samsung promises to exceed expectations.
DESIGN

In her January 2014 interview with Bloomberg, Lee Young Hee said the S5 will be all about the display and the feel of the phone.
Recent patent filings by Samsung reveal a smartphone with its display flushed against its sides, almost curving and no physical buttons on its front. It is highly likely the S5 will also feature the stitched faux leather back that has become a staple of Galaxy devices since the launch of the Note 3 back in October 2013. 
In terms of build, Samsung is expected to stick with polycarbonate plastic but there are rumors that the company is also working on an aluminum smartphone. It is also reported that the S5 will be offered in two variants including a more premium version. It is unclear however if the premium S5 will feature an aluminum build.  
Based on the patent filings Rappler's graphic artist Jessica Lazaro imagines the 2 S5 variants.
SPECS
Earlier this week, Korean news portal Daum reported that Samsung has developed a Quad-HD or 2K Super AMOLED smartphone display.  
That 2K Super AMOLED display is expected to make its debut on the S5, measuring 5.2-inches diagonally. It will come with a resolution of 1440 x 2560. If you do the math that's a whopping 560 pixels per inch.
The S5 improves on the 13MP camera on the S4 with a 16 megapixel main camera that can shoot 4K video – possibly with a larger, 1/2.5-inch image sensor.  
In terms of power, experts believe the S5 will come with one of two processors depending on the variant, either an Exynos 6 or a Snapdragon 805 (for the LTE version), 3GB of RAM and a 3000 mAh battery.  
Some reports suggest that Samsung is also building a fingerprint scanner onto the S5 with an implementation that's similar to Touch ID on the iPhone 5S. 
SOFTWARE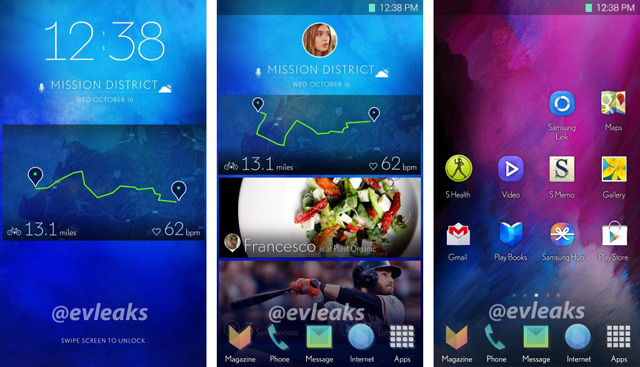 Software-wise the S5 will run on the latest version of Android v4.4 KitKat and a new version of its customized Android User Interface (UI) called Touch Wiz.
These screenshots from notable tech leaks Twitter account @evleaks reveal the new design will feature a Google Now-like card interface that provides contextual information based on what the phone thinks you need to know.
Your calendar appointments, flight details, social media highlights, and stats from your latest run are organized into a visually appealing column of tiles that you can scroll through.
There is also a new app on the home screen called Magazine – hinting that Samsung is bringing an iteration of its Magazine UX to its smartphone line. Magazine UX is Samsung's new user experience developed specifically for the Pro tablet line that it unveiled at CES 2014.
PRICING & AVAILABILITY
No word on pricing and availability for now, but the S5 should hover around $750 like the S4 and should becommercially available around the globe by April 2014. 
Samsung is also working on an improved version of its Galaxy Gear Smartwatch, which is expected to debut alongside the S5 at MWC. Later in 2014 it is also expected to release the S5 mini and the S5 zoom. – Rappler.com