How does one start their journey towards using a digital wallet? Let's tackle this question today.
Tech companies are working to make lining up to pay for goods and services less of an issue, with the physical exchange of cash making way for the rise of a digital wallet, allowing users to pay for purchases using a smartphone app.
As someone who didn't jump on the cashless payments bandwagon in its infancy – I've only started considering setting up a digital wallet well into the pandemic – I've graduated from online banking to studying the two big apps for digital payments in the Philippines: GCash and PayMaya.
What is a cashless payments system? How does a digital wallet work? How does one start their journey towards using a digital wallet? Hopefully we can tackle these basic questions for you today.
What is a cashless payments system?
A "cashless payments system" refers to a broad range of methods by which a buyer and a merchant can interact with one another for the purchase and sale of goods and services.
Prior to the use of money like coins and bills, people would trade stuff they owned with others in a practice known as bartering. While bartering is also technically a cashless payments system, cashless payments today are usually done through applications on one's computer or phone.
In other words, 21st century cashless payments are financial transactions done with currency that is not physically present, but whose value can be inherently felt and understood by the people engaging in these transactions.
Defining digital wallets
While a cashless payments system is a very broad term, as earlier mentioned, a digital wallet is specifically one kind of cashless payments system in play today.
Other technologically-powered cashless payment systems would be things like banking cards, mobile and online banking apps, and, to some extent, the trading of cryptocurrencies and non-fungible tokens (NFTs).
Barring all those other examples though, digital wallets for cashless payments are applications, often on one's smartphone, that store, send, and receive money in a digital format.
Benefits and risks
As with any kind of technological advance of this sort, one should note the benefits and risks involved in using digital wallets.
Digital wallets are immensely convenient, if you know what you're doing. Aside from a general ease of use for those who are tech-savvy enough to know how to use applications, it takes far less time to transact business as you're not lining up everywhere to get the job done.
That said, the process can be daunting to use if you're not well-versed in technology, such as first-time smartphone users who are starting on the path to using digital wallets out of necessity rather than choice.
Digital wallets might also trade one risk – the loss of physical currency – with a different potential problem – the loss of your phone and your digital wallets or accounts if you don't know how to resolve theft in a timely manner.
Transactions on digital wallets can, however, be more readily tracked. This makes it easier for law enforcement or digital forensics teams to hunt down thieves using stolen phones and digital wallets to get your money back to you.
It should be said, however, that there is one significant caveat to using a digital wallet. That is to say, if the technology powering your digital wallet fails at an inopportune time, you'll still need cash to bail you out of a jam.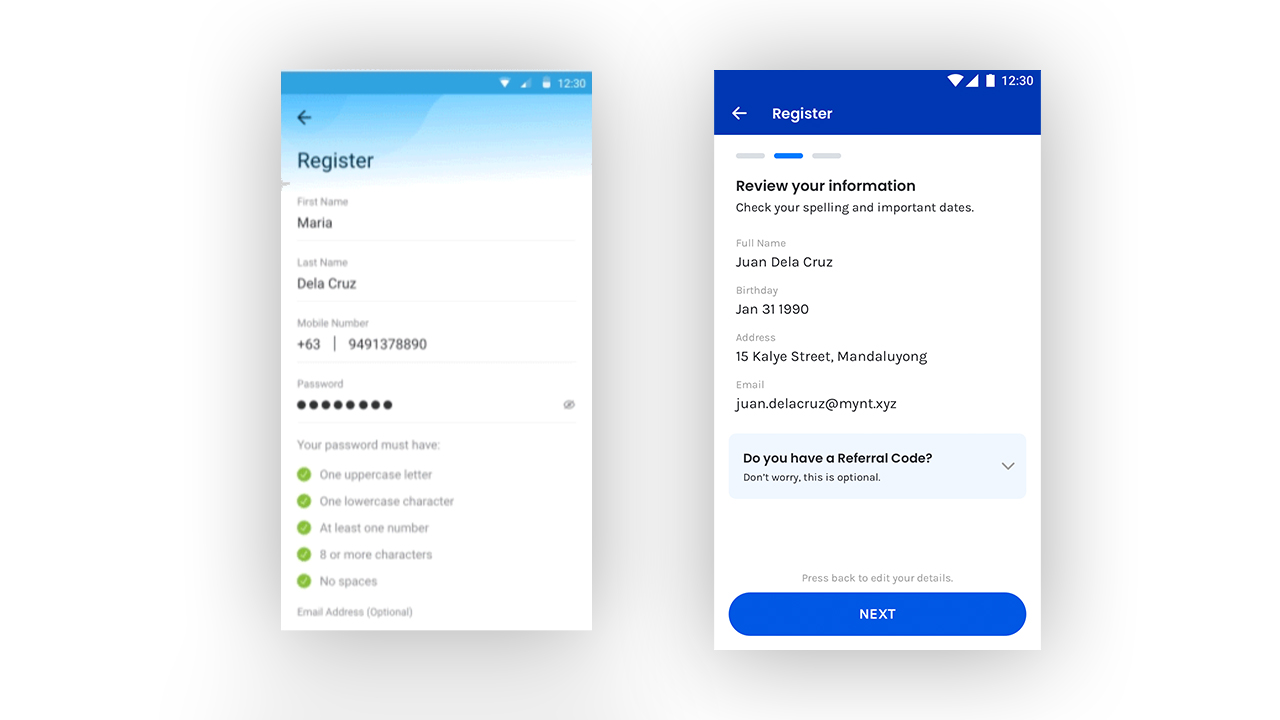 GCash and PayMaya
Globe Fintech Innovations operates GCash while Smart subsidiary Voyager Innovations is the parent organization of PayMaya.
I used to think getting started with a digital wallet was difficult – it used to be more complicated as the walkthroughs weren't quite as well-defined as they are now – but it's much easier to get started these days.
Gcash and PayMaya both have detailed guides and videos for starting out. The guide for starting with Gcash is a little harder to find as they have a Getting Started webpage independent of their actual help center articles, while PayMaya's quick guide is available here.
For starters, you'll need to download the respective app on your smartphone. Off-hand, to use both apps, you'd need to download about a little under 100 MB of data as GCash is a 58MB download, while PayMaya says it's a 38 MB download.
GCash runs on a minimum Android 4.4 and up, while PayMaya runs on a minimum Android 4.1, so most people should have the ability to run the app on an inexpensive smartphone that's relatively current. Both GCash and PayMaya will work regardless of whether you're on either carrier, so it's mostly a matter of compatibility with older phones or where most of your transactions might run across where this would matter.
After downloading your preferred app, you simply fill up some basic information required, then run through the authentication process relative to your app.
The GCash system lets you set up a mobile PIN as a password aside from the authentication process.
PayMaya, meanwhile, will let you set up your lock screen code as an added layer of protection in much the same way.
Adding money to these accounts is also a relatively straightforward affair, though it may require some queueing if you don't want to link your bank account.
Both services have a long list of ways to get money into and out of your digital wallet, with some being over-the-counter transactions while others can be done through remittances. GCash users can check out how to "cash in/cash out" using this set of help center guidelines. PayMaya's listing of available ways to add money and send money is available online as well.
Whichever you choose, digital payments are here to stay. These tools had been on the rise, but the pandemic came, and sped things up, making online-assisted transactions a necessity more than ever. – Rappler.com