'You know when you're with a big company, and you feel that your mission itself is good, you feel what you do to forward the mission, automatically, is good – even if it can be harmful'
Mark Zuckerberg is one of the most powerful people in the world right now. Billions use Facebook and several other Facebook-owned digital entities. What he believes in, and his decisions relating to changes on his platforms have tremendous effects on society.
Given his outsized influence on the world now, knowing Zuckerberg and what makes him tick is not only innately interesting, but often, practical. Who is this man that has a not-insignificant power on my digital existence, and might his decisions pose a danger to me and my communities?
Author Steven Levy is perhaps one of the best people to tell us who Mark Zuckerberg is. He is Wired's editor-at-large, and the author of Facebook: The Inside Story, released in February 2020. For 3 years, Levy chronicled the Facebook story with "unprecedented access" to Mark Zuckerberg and Facebook executives.
His correspondence with Zuckerberg, Levy says, he enjoyed.
"When I talk to him, I don't feel like I'm being manipulated. I think I mean, I got to the point with Mark, where he was showing who he is. And he's a person who is very single-minded. He wants to do good, but his ambition gets mixed up with that. And that's why I tried to very methodically go back and show my readers step by step where that happened," Levy tells Rappler executive editor Maria Ressa in an interview.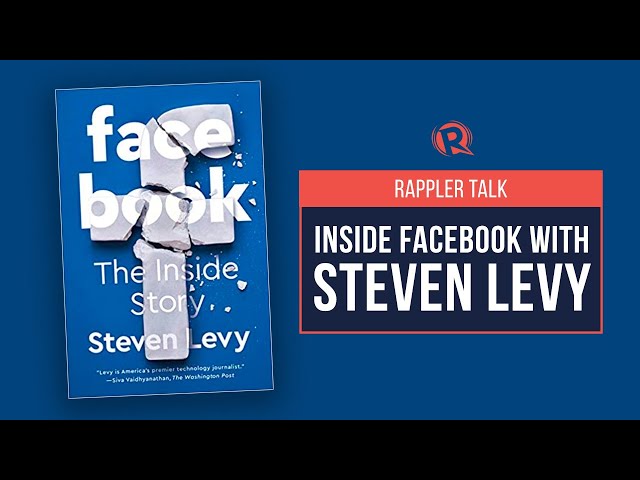 Stubbornness. That's a key Zuckerberg trait, which constantly resurfaces in the interview, and which has both fueled growth in the company but at the same time, has proven to be detrimental to a society and issues that may often require nuanced sensitivity than coded rigidity.
'Very dug in'
Levy learned from Zuckerberg's parents that stubbornness had always been in the CEO.
"That's why I looked at his childhood that I even talked to his parents to learn that the basis of his personality is someone who is very dug in and stubborn."
Zuckerberg has what Levy believes are his principles, but explains that during the course of the growth of the company, that's where the "corruption of the ring" comes in.
"You know when you're with a big company, and you feel that your mission itself is good, you feel what you do to forward the mission, automatically, is good – even if it can be harmful."
For instance: countless people had come to point out that politicians being allowed to run lies in ads is, by many, many standards, not good.
It took employee protests, growing anger and criticism from the populace, and more progressive moves from counterparts such as Twitter, before Facebook budged a little from their stance. Such stubbornness can often feel dictatorial, especially if one can imagine Facebook itself to be its own digital state.
After everything, is Zuckerberg changing his mindset? Levy says that there's probably a gnawing feeling in him. "And I think just now, probably in his head, he's coming to grips with the idea that, gee, maybe the reason why things are so wrong isn't that here's one tweak we have to fix but there's something fundamentally not right, if not broken. Other people say broken, but he wouldn't [say that] with Facebook. From what I know of him. I think he's grappling with that now."
A position of control, living with existential fears
Zuckerberg has always been in a position of control. There is little in his history where it was otherwise, Levy says.
"He never worked for a company. He never had a job where he had a real boss when he was a student. He made money taking on contract work."
Levy also recalls that time when Zuckerberg had been working with the Winklevoss brothers to create a social network called ConnectU while he secretly worked on what would become Facebook. Levy said that while the issue may be "overblown," Zuckerberg "definitely did misrepresent the work he was doing in order to work on his own project, which was going to compete with theirs."
"And when I told him I believe that he just shifted uncomfortably and said, you know, I don't think you understand. But, you know, the evidence for that is clear."
As Facebook became a titan, the company either acquired possible competitors (Instagram) or copied key features from competitors that can't or don't want to be bought. Instagram copied vanishing stories from Snapchat and recently released Instagram Reels in some markets, said to be a copy of emergent star TikTok.
Along with stubbornness, and need for control, Zuckerberg has existential fears for his empire.
Zuckerberg is a person that "thinks in long horizons," says Levy.
"He bought this virtual reality company (Oculus in 2014) because he felt, 10 years down the road, this is going to be the next bubble in terms of their platform. Everyone's going to use [it], and Facebook almost had a death experience by being late to mobile that they recovered [from] very well."
"I tell that story, but he doesn't want to be cut short again. But in order to do that, in order to stay relevant 5 years from now, 10 years from now, he has to have the best employees. He has to get the best talent and keep the best talent. And now the best talent is embarrassed to work for him."
For Zuckerberg, growth has always been number one, Levy asserts. Death as the opposite of growth.
"Now, it wasn't that [Zuckerberg] brought in someone who said, Mark, Mark, Mark growth's got to be number one. That was always what Zuckerberg wanted to do. Really? Facebook wasn't even two weeks old before he was planning to move it from Harvard to knock off the equivalent at Columbia."
Move fast, and break things, Zuckerberg has always said. They've certainly broken a lot – like very important things such as democracy, trust, and privacy.

Levy says that Zuckerberg, whom he had first met in 2006, was an extremely awkward communicator, nervous at addressing his then-small staff, but he's grown since then. There may be hope yet that the man, whose moves have been shown to be sometimes driven by existential fear and myopic stubbornness, can see the massive reordering – a reordering that matches the problem in scale – that has to be done. – Rappler.com