President Donald Trump continues to exploit social media's weakness to control his false claims
After the US elections, it's become a habit of mine to constantly check the sitting US president's Twitter page. I'm awaiting a concession. I saw John McCain's concession speech, which went beyond a concession, and acknowledged the monumental fact of an African-American being elected into the country's top seat. George H.W. Bush's letter to Bill Clinton was reaffirmation too that political benevolence has the power to unite and inspire. 
Donald Trump has only sowed further division in the days after the election. I've read media outfits say that it's not a requirement anyway. But it's shameful to say that it's only a formality. The concession is a symbolic, moving moment. I care because the world is watching, the Philippines is watching, aspiring authoritarian leaders are watching. The 2022 Philippine presidential elections, if it's close, will likely not be spared from the same Trump antics we're seeing now.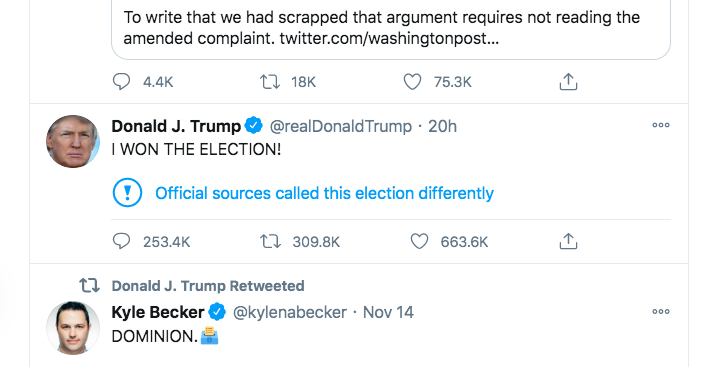 And I think part of what has enabled this – what has enabled Trump to keep his sect chugging along – is indeed cognitive segregation. I heard of the term from Christopher Wylie, the former Cambridge Analytica employee who blew open the lid on Facebook exposing the data of millions of users to political manipulation. He was a recent guest on Rappler Talk. (Exclusive: PH was Cambridge Analytica's 'petri dish' – whistle-blower Christopher Wylie)
Perhaps the concept behind cognitive segregation isn't entirely new. It goes by several names – echo chamber, societal polarization, and whatnot. But Wylie makes his point comparing it to historical segregation, to ghetto-ization of people where they are either victimized or radicalized to support a ruler blindly.
"Social media talks about themselves as a community," Wylie said. "But in reality, these communities are segregated."
He also said, "Problems happen when you separate people, and create different realities for them."
Wylie explains that when you separate people's understanding of things, of things you can create connections to, you "erode the glues of society."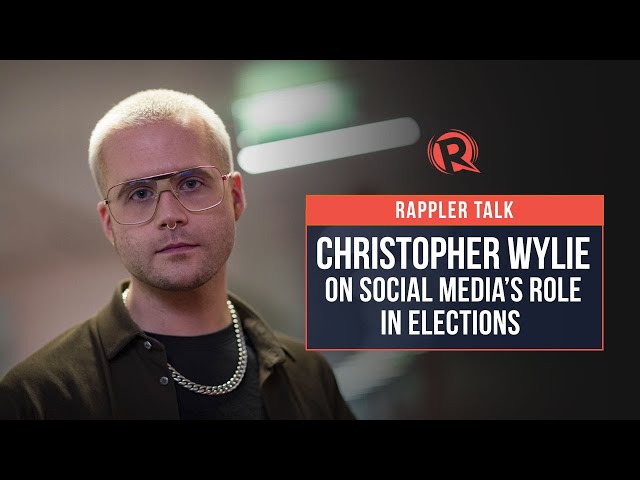 In nations around the world, we've seen Jewish ghettos and Muslim ghettos, among others. The problem now, Wylie asserts, is that a person could be your neighbor but both of you live in completely different realities. These realities are shaped by an out-of-control algorithm that categorized people into distinct types for the sake of ad profit, but whose true effects are far more insidious.
The effect extends to the agency we have over our lives. With users being neatly boxed into categories, ones whose behavioral triggers are known completely by the platforms, Wylie asks, how do we exist as a human if the world around us starts to plan for us?
The real value of privacy is your ability to be in charge of your personal growth, and you can be a slightly different person at work, to your friends, to your lover, and to your family. With social media knowing full well our triggers – what to show us to keep us engaged, and to make us want to post – we hardly have that privacy, the complete power to make the decision to lead ourselves to where we want to go.
We don't get to dabble and experiment because every aspect of our lives are ruled by this segregation algorithm, Wylie says.
"Move slow and fix things," Wylie advises social media companies, referring to Facebook boss Mark Zuckerberg's infamous mantra of moving fast and breaking things.
Wylie has a few strong suggestions to fix social media. He calls for further leadership diversity because Facebook, for instance, has about a third of the world's population on its platform, and there's one man calling the shots, the American Mark Zuckerberg. He calls it digital colonialism.
Further, he stresses the need for ethics and regulation in software engineering. Engineers in construction, for instance, are relied on and held accountable for keeping buildings from falling. They are ruled by professional ethics that give them the capability to say no to a boss if the boss suggests something harmful, something that would bring the bridge down so to speak. There is currently none of that in software engineering, Wylie says.
The engineers and the designers have to hold their CEO to account, and so should a regulatory body hold the software engineers accountable for building something destructive.
Back to Trump's posts, both Twitter and Facebook label them, his baseless claims on election fraud, his continuing attacks on the 4th estate calling them "Fake News Media," and the supremely divisive announcement that he won the election. They're labeled but they are still getting reshared and liked hundreds of thousands of times. The labels are not working on those who have already swallowed the Trump pill.
This is how social media enables cognitive segregation. You have unchecked parties – verified accounts continuing to spread disinformation in support of the sitting president – amplifying their message, creating their own reality for the followers, and enhanced by an algorithm that will continue to pound a user with content similar to what they're already following. (READ: Conservatives flock to 'alt' social media in US election dispute)
Contrast this with our former reality where the truth isn't distributed until it is thoroughly vetted by a media institution, and recanted and accounted for, should there be factual inaccuracy.

In the US, the cognitive segregation is in full display, if not strengthened and reinforced now because this is the selection of a nation's leader we're talking about. The US is lucky that they have stronger institutions there. The Philippines will need more luck. – Rappler.com