This is AI generated summarization, which may have errors. For context, always refer to the full article.
Publisher 2K holds a local launch for the popular sports game title in the Philippines at the Mall of Asia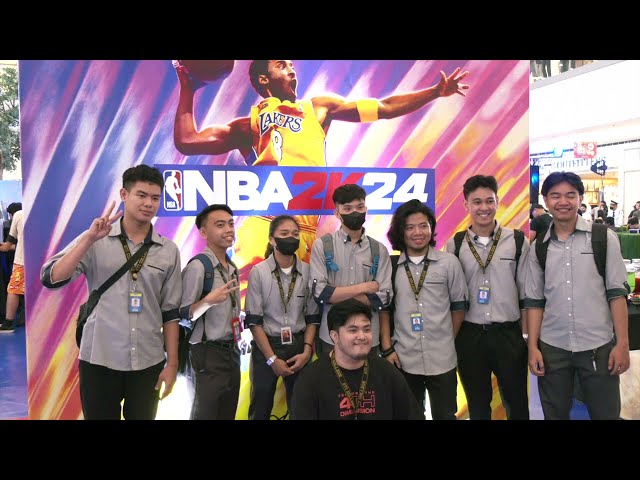 MANILA, Philippines – The next entry in the NBA 2K series, NBA 2K24, officially came out worldwide on Friday, September 8. A local Philippine launch was also held on the same day at a special event at the Mall of Asia in Pasay.
Aside from the annual roster updates, and incremental gameplay and visual improvements expected from an annual sports game, this year's version is notable for featuring former NBA superstar Kobe Bryant on the cover. Bryant wore the number 24 for the latter half of his career, and series publisher 2K took this year's game as an opportunity to celebrate the revered player.
"NBA 2K24 is a special entry for us because we get to celebrate one of basketball's greatest players of all time – Kobe Bryant – and the 25th anniversary of the series," said Greg Thomas in a press statement, president at Visual Concepts, the game's developer.
"We've ushered in a new era of 2K, thanks to the groundbreaking ProPLAY technology delivering the most authentic and realistic NBA 2K gameplay to date. NBA 2K24 also introduces new updates to our beloved modes with incredible details that will delight gamers and basketball fans alike."
2K24 will have a special "Mamba Moments" game mode, where players get to dive into Bryant's best career games, from his early days with fellow Laker superstar Shaquille O'Neal, to his still-captivating performances in his sunset days.
Watch our video above to see some of the happenings at the NBA 2K24 launch!
The game is now available on PS4, Xbox One, Nintendo Switch, PS5, and Xbox Series consoles, as well as on PC. – Rappler.com