'JaMill is now signing off,' tweets YouTuber Camille Trinidad. The YouTube page had more than 12 million followers.
The popular YouTube tandem and real-life couple Jayzam Manabat and Camille Trinidad have deleted their YouTube channel, which had more than 12 million followers at the time.
The tandem, known collectively as JaMill, was among the most popular Filipino vloggers on the platform, if not the most. They belong to what has become a YouTube subgenre of couple vloggers, featuring real-life partners documenting their day-to-day or performing pranks on one another.
Camille Trinidad made an announcement on Twitter on the early afternoon of Thursday, August 19, saying that "Jamill is signing off," and later clarifying, "Yes deleted na po ang channel." (Yes, the channel has been deleted.)
Trinidad in the tweet, said that they are picking the relationship over the channel, in reference to past personal problems that culminated in the couple's appearance in a Raffy Tulfo in Action episode.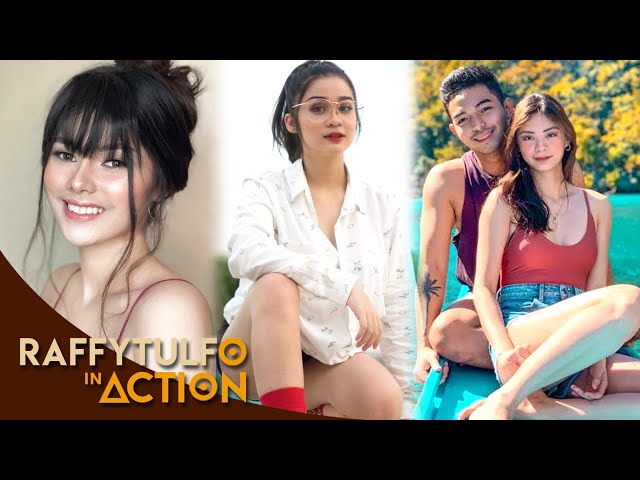 Jayzam Lloyd, the other half of the pair, later fired off a tweet in relation to their decision to remove the page:
On Manabat's Twitter thread, some fans expressed their gratitude while some felt sad over the deletion.
Trinidad also thanked YouTube:
The couple also uploaded a video on Facebook, with a post saying that "Deleted na talaga YT (YouTube) namin. Hindi joke o prank o kung ano." (Our YouTube has really been deleted. This isn't a joke or prank or any other thing.)
"Sobrang saya [ng] na-experience namin sa YouTube pero this time mas priority na namin ang relasyon naming dalawa. Gusto namin habang buhay talaga kaming nagmamahalan mga ka-igan. Share this video to spread the news, para di sila mabiktima ng fake news. Eto ang dahilan and I hope i-respeto 'nyo kami mga ka-igan," the post said.
(Our YouTube experience made us extremely happy but this time our priority is our relationship. We want to be together forever. Share this video to spread the news so they won't get victimized by fake news. This is the reason and I hope you respect us.)
The couple explained their decision to pull the plug on the channel, but hinted at its return as well, saying they've been in touch with YouTube as they want to upload the video they just uploaded on Facebook on YouTube as well.
But later in the video, Manabat said that YouTube had told them the platform would not be able to restore the account.
A quarrel between the two may have been a precipitating incident leading to the deletion of the YouTube channel, according to the video.
The JaMill page, which was housed at www.youtube.com/c/JaMillofficialyt/ now returns a 404 Not Found message.
According to social media analytics site Social Blade, the JaMill page, at the time of its deletion, had 12.5 million followers, good for top 9 in the Philippines in terms of follower count. It had a total of 1.3 billion views spread across a total of 567 videos.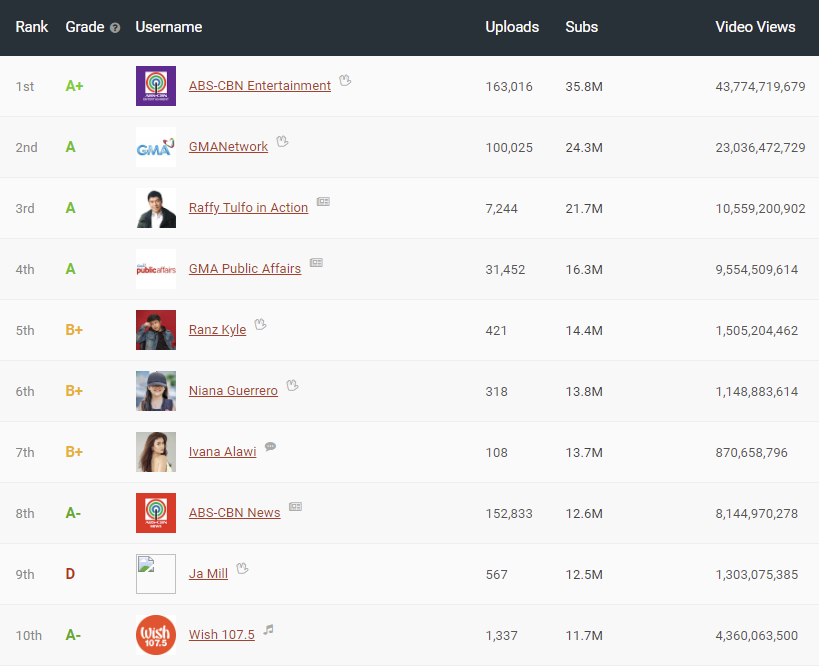 Over the last days before the deletion, the page was averaging daily views with a high of 332,296 on August 18, and a low of 54,904 on August 15. A negative count appears as a result of YouTube making view count correction or the deletion of a video, among other reasons.
Estimated daily earnings range wildly from a low of $19 to a high of $1,400, as shown in the chart below.
Social Blade explains in its YouTube earnings calculator page that the "range fluctuates this much because many factors come into play when calculating a CPM (cost per 1,000 impressions)" such as "quality of traffic, source country, niche type of video, price of specific ads, adblock, the actual click rate, etc." Social Blade explains further here.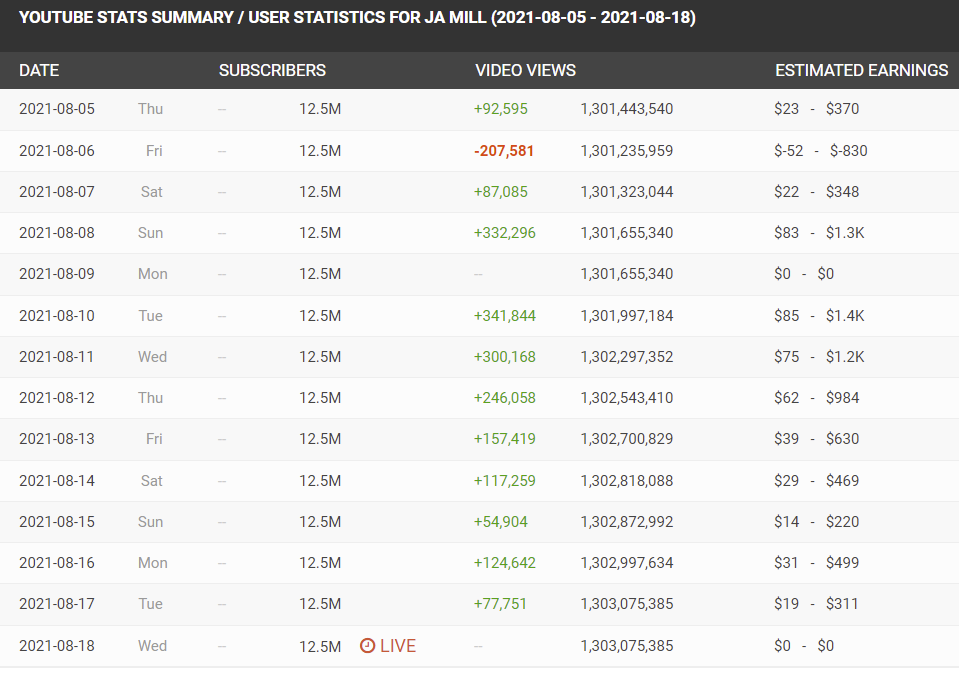 A few days earlier, the BIR had announced that it would be going after social media influencers and content creators. – Rappler.com