The phishing link plays on the idea the Facebook poster is mourning the death of a loved one, whose name is mentioned on a supposed Radyo La Verdad news report
UNTV Radyo La Verdad on Monday, December 28, warned Facebook users of a malicious phishing link that claims to be a legitimate link to a news report.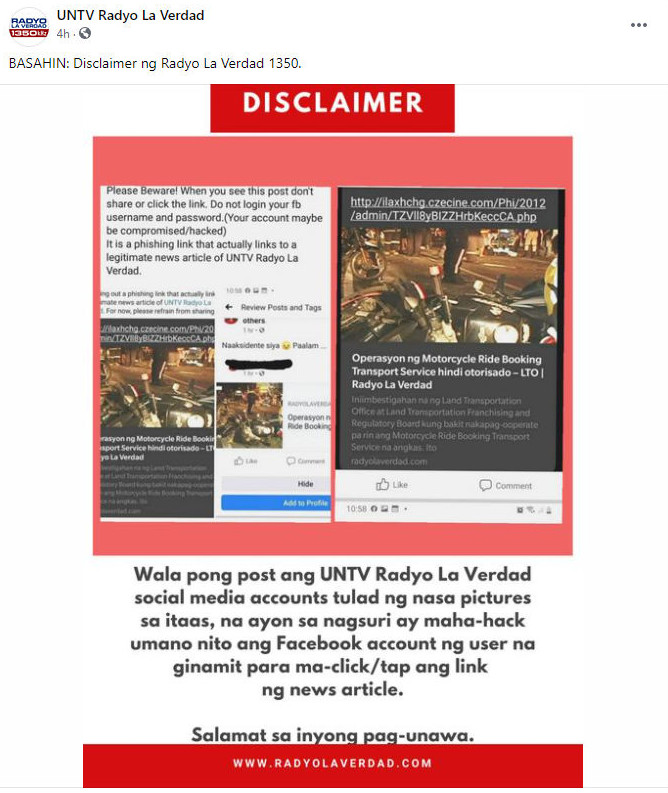 Rappler received initial reports of the scheme as affected users lost access to their accounts or saw posts on their accounts which they did not make.
The scheme plays on the idea that a Facebook poster is mourning the loss of a friend or loved one, whose death was said to have been reported through a link on Radyo La Verdad.
The link, however, has been altered in a way that it will try to trick users with a false Facebook login page to steal their information. Affected accounts will try to spread the false post further to steal the information of more users.
If you've think you may have been affected by this phishing scheme, it would be a good idea to change your Facebook password and enable two-factor authentication, in addition to forcibly logging out all devices connected to your account on Facebook's Settings page under Security and Logins.
Rappler also has a guide in the event of a hacking an online account, for more general purpose-actions you can take after a hack's already been done. – Rappler.com