This is AI generated summarization, which may have errors. For context, always refer to the full article.
How did President Aquino's term fare under the social media spotlight?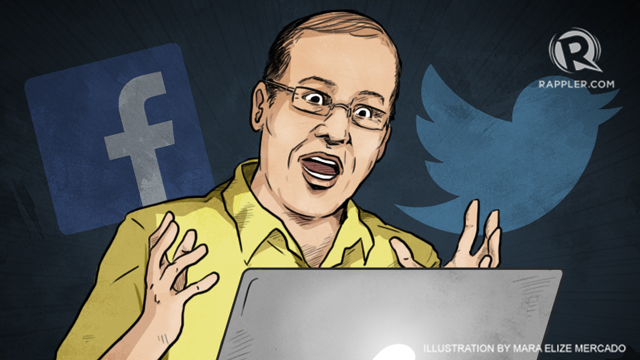 MANILA, Philippines  – President Benigno Aquino III's term coincided with the rise of social media in the Philippines. In 2010, citizens were only just learning to incorporate social media into their everyday lives but by the end of his 6-year term, his administration was fully under the social media microscope.
Every major event involving the government was put on public display and scrutinized in excruciating detail by a jury of netizens.
Let's take a look at some of the Aquino administration's biggest social media issues.
Metro Manila traffic
Heavy traffic in Metro Manila has been an issue for years, especially when the rainy season rolls in. Every time EDSA turns into a stagnant sea of cars, the Twittersphere is flooded with angry rants and wishes that the government would fix the long-standing problem.
The government got pats on the back for its successful hosting of the 2015 APEC Leaders' Summit. But it had a dark side – people in the national capital were plunged into a week of unimaginable traffic.
Sadly, throughout the duration of Aquino's presidential term, the traffic problems of the country did not go away.
Noy Aquino & Mar Roxas: Traffic is a sign of good economy (PH #1 Worst Traffic in the planet according to Waze) pic.twitter.com/W2eNpw3xrA

— Maxell (@maxell_lander) December 7, 2015
Pano alisin ang heavy traffic sa MetroManila? Tanggalin ang Aquino Administration. Matatapos yan! #PiliPinasDebate2016 #Halalan2016

— ⓡⓞⓜⓤⓛⓞ (@romejohn) April 24, 2016
Traffic is a sign of progress according to Noynoy Aquino. Saan ka pa. https://t.co/Qra9DSIpNE

— xxxriainxxx (@xxxriainxxx) February 5, 2016
Quirino Grandstand hostage crisis
The Aquino administration suffered its first crisis on August 23, 2010, when former cop Rolando Mendoza held hostage a bus with mostly Hong Kong tourists. It came to be known as the Quirino Grandstand or Luneta hostage-taking incident.
The incident, including the response of policemen, was broadcast live on local and international news. Mendoza himself watched the developments on a TV inside the bus. The situation quickly deteriorated when Mendoza's brother was arrested. The ex-policeman began shooting hostages.
In the end, 9 people died – Mendoza killed 8 hostages, while police killed the hostage-taker.
The newborn administration took a huge hit because of the failed negotiations and the botched police operation.
During the Manila hostage crisis, the tragedy is the blunder by the Pres. Noynoy Aquino govt. Incompetence and ineptness ruled the day

— Cesar Dalagan (@Cesar_Dalagan) August 26, 2010
President Aquino is full of pride. He didn't apologize to the victims of the Manila Hostage Massacre. He is one of those who made a mistake.

— Nardre Torres (@nardretor) August 23, 2011
Noynoy Aquino refused apology for Manila hostage massacre. Oh, so it was part of the tour, to be shot like Jose Rizal? Relive the history.

— Sean Melendres (@eVoluSEAN) August 24, 2011
Corona on trial 
From January to May 2012, then Chief Justice Renato Corona faced an impeachment trial for allegedly betraying the public trust and committing culpable violation of the Constitution for failing to fully disclose his assets as required by law, among other charges.
The administration is credited for handling the high-profile case with the proper tenacity and force. After the 44-day trial, which put the government in the spotlight, citizens felt justice was served when Corona was impeached.
Despite getting the ending they wanted, however, some citizens remained skeptical of Aquino's motivations behind Corona's impeachment.
Citizen journalists believe that the Aquino government is just wasting its money to continue the impeachment trial of Corona.

— Rodel Baldado Claro (@Writer2write) January 18, 2012
The #Corona #Impeachment Trial: A perfect facade to hide #Noynoy #Aquino's personal vendetta and schemes.

— AlimangoBeachResort (@italiansecksgod) January 17, 2012
i am not a big supporter of CJ Corona but obviously this whole impeachment trial is politically motivated by the Aquino administration

— Krizia Martin (@kriziacreeja) January 16, 2012
RH Law
In 2012, the RH bill became a hot issue in the Philippines. It seemed almost everyone was concerned with lobbying for or against the bill, from women's rights advocates to the Catholic Church.
Aquino had staked his name on the bill's success and the ruling Liberal Party was backing him.
The law was passed by December of that year. Filipinos expressed either approval or disdain for this highly controversial issue.
RH Law. Kudos to President Aquino & his allies for this historic achievement. If this is "Noynoying", heck, we need more of it! #RHlaw #RH

— Steven Baldesco (@StevenBaldesco) December 19, 2012
Hail to the Chief! >President Aquino signs RH bill into law http://t.co/RybNF4Y (signed document attached)

— Stella Arnaldo (@Pulitika2010) December 29, 2012
RH law was passed under Aquino admin after years of being on the back burner & despite strong resistance from the Catholic church

— Marlon Ramos (@iammarlonramos) May 24, 2016
Pork barrel scam
Another high profile case landed on the Aquino administration's lap in 2013, when the pork barrel scam was exposed.
The saga began when authorities rescued the would-be primary whistleblower, Benhur Luy, from illegal detention by his employer and cousin, Janet Lim-Napoles. He exposed Napoles' illegal deals with several government officials that ultimately siphoned public funds meants for development projects. 
Netizens were quick to react to the news, calling on the administration to put an end to the multi-billion peso scam that was robbing Filipinos blind.
Featuring the King & Queen of pork-barrel
Pres.Aquino as the king,Janet Napoles as the queen "Lovers in the Barrel" pic.twitter.com/9OLbFvxl9p

— MakieMak (@makie_mak) August 28, 2013
Aquino orders filing charges against Napoles but won't abolish Pork Barrel? you worthless President!

— Charley Urquiza (@iChawLey) August 19, 2013
Googled "Aquino, Napoles and pork barrel" to understand the level of corruption. Deaths that could have been prevented.

— CintaPym (@CintaArsenal) November 10, 2013
Super Typhoon Yolanda
On November 8, 2013, the Philippines was hit by the strongest tropical cyclone ever recorded, as well as the deadliest recorded typhoon to make landfall in the country. Filipinos looked to the government for assistance in the devastating aftermath.
At the outset, national and local government offices had difficulty with communications as regular lines were down in the affected areas.
As international aid rolled in, the government was once again criticized for allegedly mishandling funds meant for recovery operations.
The Filipinos' anger continued to grow as the rehabilitation process was slow moving, and victims continued to suffer long after after the storm had passed.
You know how fucked up our government is when the Yolanda victims start asking Obama for help, and not our own president. Way to go.

— Abby Yao (a745) (@abby745) November 14, 2013
Thank you Philippine Government for finally admitting that you did not prepare well enough for the coming of #TyphoonHaiyan "Yolanda"

— Tess Suarez (@TessSuarez) November 14, 2013
I honestly hope that all the donations that are going to the victims of the Typhoon Yolanda don't go to the Philippine government #realtalk

— mila j (@heathercsaints) November 14, 2013
Mamasapano clash
One of the biggest catastrophes to plague Aquino was the Mamasapano clash. It was a classified operation to find and kill foreign terrorists hiding in Mamasapano, Maguindanao – particularly Malaysian bomb maker Marwan.  The botched operation ultimately cost the lives of 44 Special Action Force soldiers, 18 members of the Moro Islamic Liberation Front, and 3 civilians.

The operation became the subject of a Senate hearing to determine accountability. It didn't take long for them to discover that the President was aware of Oplan Exodus.
Aquino inadvertently stoked national anger when he pushed through with his scheduled visit to a car plant inauguration in Laguna instead of joining the  welcome ceremonies for the the fallen soldiers at Villamor Airbase. #NasaanAngPangulo topped worldwide trends as citizens wondered why their President was a no-show at the event.
His overall unapologetic behavior fanned public outrage. Aquino said he wanted to give the families time to grieve and did not want to draw attention away from them by being at the event. He was also set to keynote the necrological services the following day, he said, and meet with the families.
This Mamasapano issue is one big mess and it reflects the true state of our government. Nakakahiya. Nakakalungkot. Nakakagalit.

— Jaslyn Nicolas (@JAS_thewayouare) February 9, 2015
Neither PR strategy nor media spin can save President Aquino's reputation. You are responsible for the lives lost in Mamasapano! Resign!

— Cleve Arguelles (@CleveArguelles) February 6, 2015
Purisima's resignation does not erase Aquino's accountability and leaves so many questions on #Mamasapano still unanswered.

— Rep. Luz Ilagan (@RepLuzIlagan) February 6, 2015
Mary Jane Veloso
Saving Mary Jane Veloso was one of Aquino's greatest victories during his term.
An overseas Filipino worker who was sentenced to be executed on April 29, 2015, Veloso had been incarcerated in Indonesia for 5 years before her case became a national topic in the Philippines.
With just weeks to go before her execution, Filipinos appealed to both the Philippine and Indonesian governments to spare her life. Her once unknown story was thrust into the limelight and numerous last-minute actions were taken to stay her execution. An online petition was launched and #SaveMaryJane trended worldwide.
When it seemed all hope was lost, the Aquino administration – in a quite dramatic sequence of events – found a way to stall the execution with only minutes to spare.
 Veloso was granted a reprieve. Filipinos rejoiced.
Saving Mary Jane Veloso would be a great legacy for Pnoy to end his presidency!

— TAMMY (@itsmechristianT) April 28, 2015
Give some credits where it's due. Aside from unending prayers, PNoy has done his part on Mary Jane Veloso's case. #SalamatPNoy

— Gwapong Geron (@Musicgeek_Geron) April 29, 2015
We Proud and Thankful to our President Aquino!!! You save our kabayan Mary Jane Veloso 🙂

— marialynduyag (@lyn010588) April 29, 2015
These individual events and more added up to an overall online sentiment towards Aquino.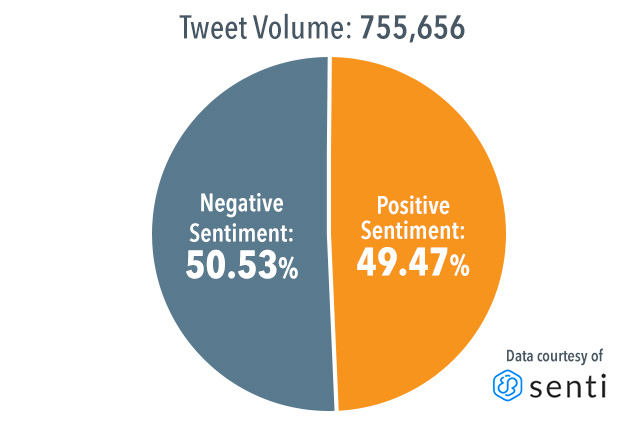 According to social media analysis tool Senti, Twitter data gathered throughout the President's term showed that negative sentiment towards him just about outweighs the positive sentiment.
Tweets using the keywords "PNoy," "Noynoy Aquino," "President Aquino," "President Noynoy," "SONA," and "SONA2015," between December 4, 2010, to April 26, 2016, numbered to roughly 755,656.
How was Aquino's performance rated on your social feed throughout the years? Write about your own assessment on X! – Rappler.com