Some netizens are not pleased with the line of questioning by members of the House justice committee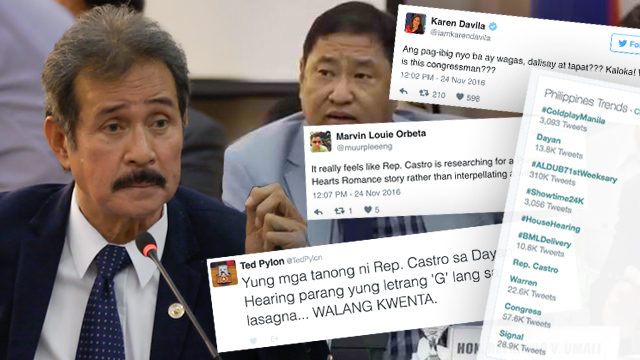 MANILA, Philippines – "Ang iyong pag-ibig kay Secretary [Leila] de Lima ay wagas, dalisay, at matatag?" (Is your love eternal, pure, and solid?)
Funny or crossing the line? The questions by Ilocos Norte Representative Rodolfo Fariñas and Capiz Representative Fredenil Castro about Senator Leila de Lima and her relationship with her former driver and bodyguard Ronnie Dayan drew numerous responses on Twitter. (READ: Lawmakers feast on De Lima-Dayan love affair)
The hearing in the House is supposed to probe into the proliferation of drugs inside the New Bilibid Prison. Dayan's relationship with his former employer, De Lima, is under the spotlight because he has been accused of being a bagman for the senator.
In comparing the relationship of the two to a typhoon, Fariñas asked: "Ano ba ang pinakamataas na signal ang inabot niyo? (What's the highest signal you reached?)"
Meanwhile, Castro asked questions like, "Ang iyong pag-ibig kay Secretary [Leila] de Lima ay wagas, dalisay, at tapat?" (Was your love for Senator De Lima eternal, pure, and true?) and "Sa tingin mo ba ay naging tapat sa 'yo si De Lima?" (Do you think De Lima was faithful to you?)
The questions by the congressmen elicited laughter from the people present during the hearing. Online, some netizens were not pleased with the line of questioning by members of the House justice committee.
Broadcast journalist Karen Davila asked: "Ang pag-ibig nyo ba ay wagas, dalisay at tapat??? Kaloka! Who is this congressman???"
Ang pag-ibig nyo ba ay wagas, dalisay at tapat??? Kaloka! Who is this congressman???

— Karen Davila (@iamkarendavila) November 24, 2016
Marvin Orbeta on Twitter said: "It really feels like Rep. Castro is researching for a Precious Hearts Romance story rather than interpellating a witness."


It really feels like Rep. Castro is researching for a Precious Hearts Romance story rather than interpellating a witness.

— Marvin Louie Orbeta (@muurpleeeng) November 24, 2016
Check out some of the reactions to the hearing below:
What did you think of the questions? – Rappler.com